Explained: How can we regulate stray dog population from overcrowding
1 December, 2022 | Pravina Srivastava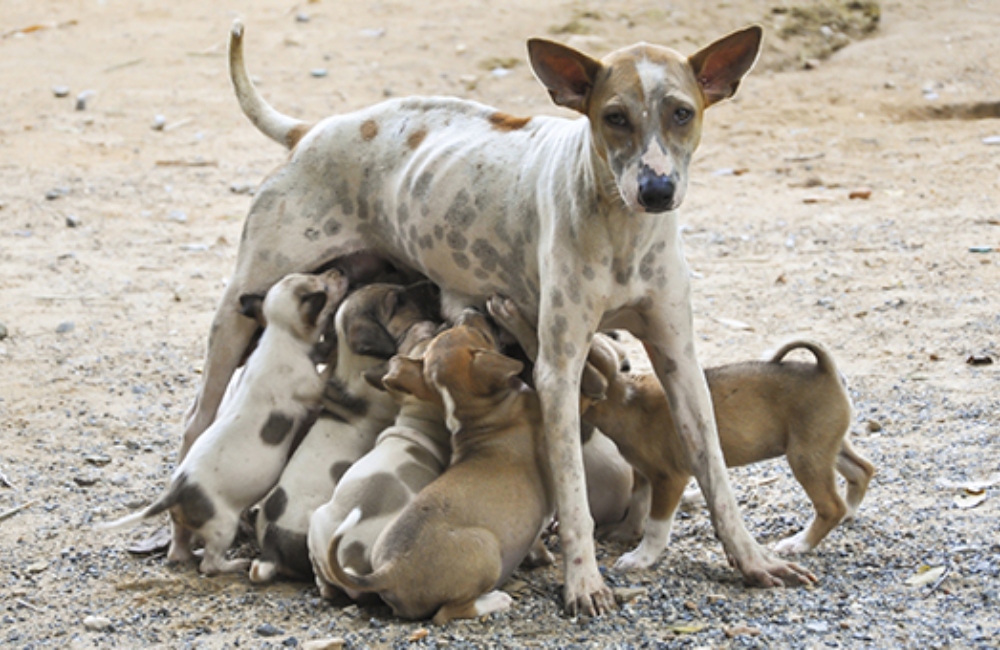 The demand for pedigree dogs exacerbates the situation when individuals buy them on a whim, then dump them on the street. Breeders, pet stores, and dog owners who do not sterilize their companion d...
In another shocking case against dog cruelty, an Instagram-based influencer was seen hurting a dog. In a viral video, the social media influencer Kajal is shown tenderly caressing the stray dog before kicking and abusing it. The dog is seen yelping when the influencer kicks the dog with her heels. She was also seen laughing after this heinous act.
Brutality against stray dogs has escalated in recent months, let's take a look at these:
1. A man was seen cruelly thrashing a dog with an iron pipe in Delhi's Paschim Vihar. As the video spread on social media, some claimed that the man was bitten by the dog and then beat up the animal in retaliation. The man was also seen bashing up the pet parents in the video.
2. A dentist in Nizamuddin East, became so enraged by seven dogs in his neighborhood that he snatched five of them before dumping them somewhere. After studying CCTV footage, the police identified the suspects and retrieved three canines. A complaint was filed on allegations of theft and violation of the Prevention of Cruelty to Animals Act.
3. In one of the most heinous crimes, a 24-year-old engineering student was nabbed in April for murdering multiple pups at Delhi's Green Park Metro station.
4. A Jodhpur doctor chains his dog to his car and pulls him around the city, prompting the police to file a report. The video of the event went viral, showing this cosmetic and plastic physician doing this horrific deed. The dog was spotted fighting to keep up with the vehicle's speed and incurred major injuries, including a leg fracture, throat damage, and neck injury, and was transferred to Dog Home Foundation.
5. Recently, Kerala has seen a mass culling of dogs due to an increase in dog attacks. People who are terrified of stray dogs are even poisoning them to prevent attacks. A video has emerged from Kerala's Kottayam district in which folks beat a dog to death after accusing it of attacking people.
6. Three men were detained in Bengaluru after being seen savagely abusing a dog in a viral video. The shocking footage shows them viciously whipping a caged dog with large wooden rods. When the person filming the video tried to interfere, one of the males shoved them. The males proceeded to pound the dog, who lay on the ground screaming in anguish, then walked away while the dog's owner's family tried to approach them.
7. Seven dogs – four domestic dogs and three stray dogs – have been slain in Noida, Sector 25. A resident of the area, Dimple stated: "I believe someone has been killing pets with a sharp weapon." In the month of May, two of my pets were killed. One of them was stabbed in the stomach with a knife, while the other was poisoned." Almost a year after a number of stray dogs were discovered dead and hanging on trees along NH-24 in Ghaziabad, another case of animal cruelty has been recorded from Sector 25, Noida.
Laws to prevent animal cruelty:
The Prevention of Cruelty to Animals Act, 1960, Section 11 (1) (a) through (o), regulates and enumerates many types of animal cruelty. However, it is the need of the hour to amend this act as a person may get away with being cruel to most animals by paying a fine ranging from Rs 10 to Rs 50.
If found guilty of causing grave harm to another human being, the culprit might face up to ten years in jail under Section 320 of the Code of Criminal Procedure. The same offence against an animal, on the other hand, carries a punishment of Rs 750.
Animal Welfare Board of India was established under Section 4 of the Prevention of Cruelty to Animals Act, 1960, with the primary goal of formulating and regulating animal laws in India, suggesting time-to-time changes in animal laws, and protecting animals from cruelty.
Municipalities fail to comply with the Animal Birth Control (Dogs) Rules, 2001, which require sterilization, as well as exposed trash and butcher waste.
Regulating stray dog population from overcrowding:
The demand for pedigree dogs exacerbates the situation when individuals buy them on a whim, then dump them on the street. Breeders, pet stores, and dog owners who do not sterilize their companion dogs are also to fault for the overpopulation issue.
Sterilization is a normal procedure that avoids overcrowding at the source: sterilizing one female dog can prevent 67,000 births over the course of six years.
Sterilized and rabies-vaccinated dogs that have been restored to their original location no longer have the strong impulse to fight with each other in order to mate or guard their young, and they are less likely to engage in territorial conflicts. This reduces their proclivity to be aggressive – as long as they aren't abused and made to fear for their lives.
If all of the dogs in a neighborhood have been sterilized and vaccinated, the population becomes infertile, non-aggressive, and rabies-free, and its number progressively diminishes over time.