Kyiv suffers power outages as Russia batters the energy grid
24 October, 2022 | Riya Girdhar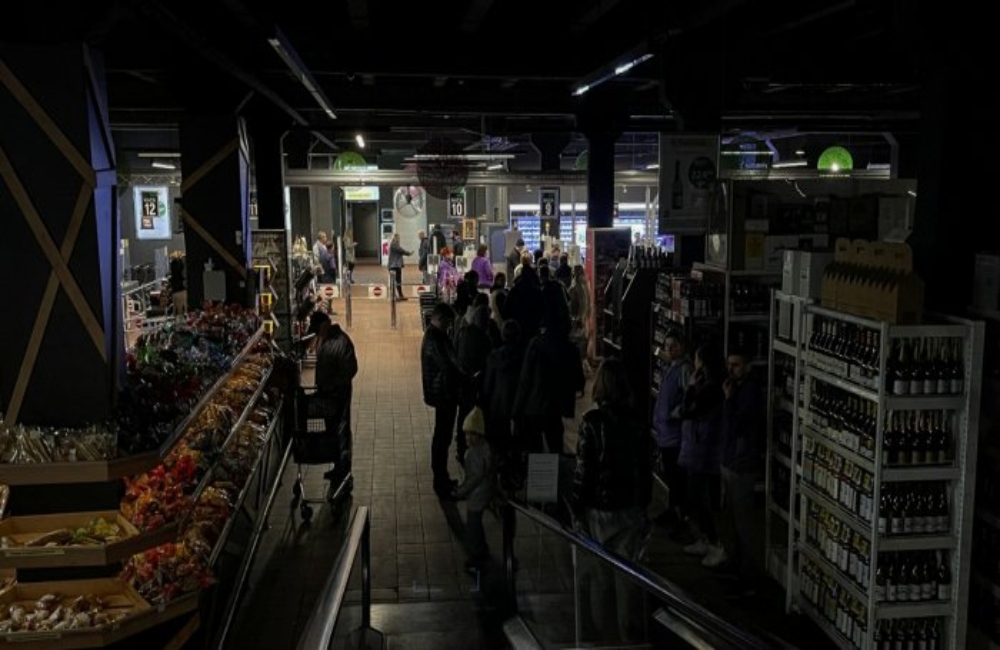 Considering that Russia has repeatedly attacked the country's power network, planned powercuts have been implemented in the Ukrainian capital, according to Kyiv's energy operator on Sunday.
According to the Ukrainian president, more than a million Ukrainian homes are without electricity as a result of recent Russian attacks, and at least a third of the nation's power plants were damaged just before winter.
On Sunday, Moscow declared a fresh invasion and claimed to have destroyed a storage in central Ukraine that was housing more than 100,000 tonnes of jet fuel.
Volodymyr Zelensky, the president of Ukraine, condemned "vile strikes on important assets" by Russia on Saturday evening after further attacks on energy infrastructure and power outages were reported around the country, especially in western Ukraine, which is distant from the frontlines.
In order to "prevent mishaps," the national electricity operator Ukrenergo implemented "stabilisation shutdowns" in Kyiv on Sunday, according to a statement on the website of the energy firm DTEK.
Three groups of consumers in Kyiv were split up and would be "disconnected for a particular amount of time," according to DTEK, as the blackouts began at 11:13 am (08:13 GMT).
The power outages should only last "no more than four hours," but they might continue longer "depending to the extent of damage to the power supply system," it was stated.
DTEK reiterated requests that companies reduce their usage of outdoor lights and that people use power "sparingly."
Sergiy Miliutin, the deputy mayor of Kryvyi Rig, a city in southern Ukraine, was managing crises and power outages from an underground bunker that was also being used as a location for a martial arts tournament for kids.
"I've come to the point where I barely get by on my driving. You need to maintain composure and conserve your energy. Nobody is certain of how long any of this will persist, he told AFP.
After an explosion earlier this month partially damaged the bridge connecting the occupied Crimea peninsula to mainland Russia, Russian attacks on Ukraine's energy infrastructure increased.
For Moscow's soldiers, who are struggling to contain a Ukrainian counteroffensive in the country's south and east, the episode was regarded as yet another significant setback.
Sergei Shoigu, the Russian minister of defence, spoke over the phone with his counterparts in France, Turkey, and the United Kingdom about Ukraine.
In all three calls, Shoigu expressed "concerns about potential Ukrainian provocations with the deployment of a 'dirty bomb,'" the Russian defence ministry stated.
According to the governor of the eastern Donetsk region, Ukraine confirmed three fatalities from a Russian artillery attack that occurred overnight in the Toretsk area.
In order to defend against a potential invasion, two lines of defence have been created in the Kursk area of Russia, close to the Ukrainian border, according to a local governor on Sunday.
The action was taken a day after the governor of Belgorod, a neighbouring region that shares a border with Ukraine, declared that defence structure work had started in several areas of the territory.
The region's Saturday airstrikes claimed the lives of two civilians, according to governor Vyacheslav Gladkov, who also noted that 15,000 people were left without electricity.
New allegations of potential collaboration were made by Ukraine's SBU intelligence service, which claimed to have detained two representatives of Ukrainian aviation engine manufacturer Motor Sich on account of possible Russian participation. The SBU said that the management of the company's facility in the Zaporizhzhia area of southern Ukraine, which is partially under the control of Russian forces, "operated in cooperation" with the Russian state-owned Rostec defence conglomerate.
According to the SBU, "the suspects constructed transnational channels for the unlawful delivery of wholesale batches of Ukrainian aircraft engines to the aggressor countries," citing Russia as the country that utilised them to build and maintain attack helicopters.
The lethal attacks and power outages occurred as pro-Moscow officials in Kherson, a province of southern Ukraine that Russia claims to have annexed, encouraged locals to flee "immediately" on Saturday due to a "tense situation" at the front.
The biggest city in the area, Kherson, was the first to fall to Russian forces, and recapturing it would be a significant victory for Ukraine in its counteroffensive. Around 25,000 people have evacuated Kherson city for the left bank of the Dnipro River, according to Kirill Stremousov, a Moscow-installed official in Kherson, who spoke to the Russian news agency Interfax on Saturday. The departure of Kherson people has been referred to as "deportations" by Ukraine.