SC Grants Satyendar Jain Extended Medical Bail Until September 12 in Money Laundering Case
1 September, 2023 | Akshara Tyagi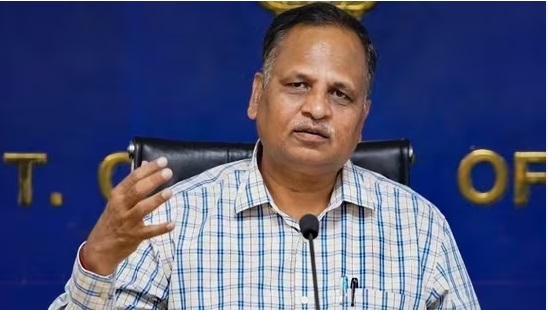 Supreme Court extends interim medical bail for former Delhi Minister Satyendar Jain until September 12 in money laundering case
The Supreme Court has extended the interim medical bail of former Delhi Minister Satyendar Jain until September 12 in a money laundering case. Justice Prashant Kumar Mishra of the Supreme Court recused himself from hearing the case. The matter was initially listed before a bench consisting of Justice AS Bopanna and Justice Prashant Kumar Mishra, but the latter recused himself.
Subsequently, Justice AS Bopanna scheduled the matter for September 12 after obtaining orders from the Chief Justice of India to have it heard by another bench. Jain had undergone surgery on July 21. On May 26, the Supreme Court granted him six weeks of interim bail in the money laundering case but imposed several conditions, including restrictions on media interaction and leaving Delhi without permission.
The court also allowed Jain to select a hospital of his choice for medical treatment, emphasizing that interim bail is granted based on medical conditions.
Satyendar Jain, facing a money laundering case, had appealed to the Supreme Court after the Delhi High Court rejected his bail request. His lawyer told the Supreme Court that he had lost 35 kg and had deteriorated significantly due to his health condition.
The Delhi High Court had dismissed Jain's bail plea on April 6, citing concerns that he might tamper with evidence as an influential figure and that he couldn't meet the conditions of the Prevention of Money Laundering Act (PMLA).
In his bail plea, Jain stated, "I appeared before the ED on seven occasions. I have cooperated and participated in the investigation. I was arrested five years later, in 2022.
The Enforcement Directorate's case against Jain is rooted in a Central Bureau of Investigation (CBI) complaint. It alleges that Jain acquired movable properties in various individuals' names between February 14, 2015, and May 31, 2017, which he couldn't account for satisfactorily.
Jain was arrested on May 30, 2022, under sections of the Prevention of Money Laundering Act (PMLA) by the Enforcement Directorate and is currently in judicial custody.
Also Read: Georgia Has Proclaimed October to be "Hindu Heritage Month"
Catch all the Latest Business News, Breaking News Events, and Latest News Updates on NewsX