Working to strengthen "cultural, civilizational links": Rajnath at SCO Defence Ministers' meet
28 April, 2023 | Anupam Shrivastav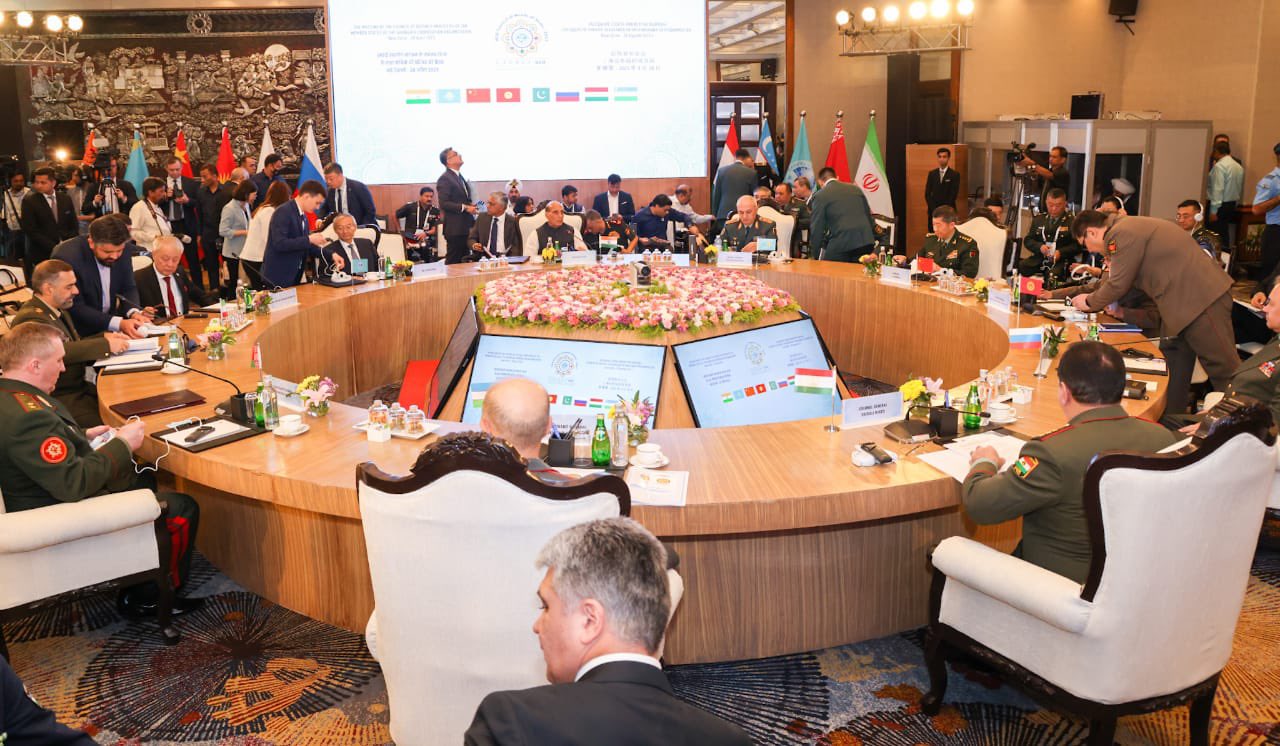 India is currently holding the chair of Shanghai Cooperation Organization and has pledged jointly work on cultural and civilizational links.
On Friday, the Shanghai Cooperation Organization or the SCO Defence Ministers conference began in New Delhi, presided over by Defence Minister Rajnath Singh.
In his opening remarks, he emphasized the SCO states' cultural and civilizational links. "We have cultural and civilizational links. For ages, we have had people-to-people connect and have exchanges in the field of commodities, and ideas–due to which we have grown in economic and cultural terms. With changing times, we will work to strengthen those linkages. SCO has evolved into a strong regional organization," Defence Minister said.
The Defence Ministers of the SCO also posed for the group photograph in New Delhi.
General Li Shangfu of China and Sergei Shoigu of Russia both spoke during the  the SCO Defence Ministers' Meeting in Delhi. Pakistan on the other hand has decided to attend the meet 'virtually' after previously deciding to skip the meeting.
Chinese Defence Minister Li Shangfu, Tajikistan's Colonel General Sherali Mirzo, Iran's Brigadier General Mohammad Reza Gharaei Ashtiyani, and Kazakhstan's Colonel General Ruslan Zhaksylykov arrived in the capital on Thursday, a day before the SCO Defence Ministers' meeting.
SCO Defence Ministers meeting to focus on regional security situations
The meeting is also attended by Russian Defence Minister Sergei Shoigu and his equivalents from Uzbekistan and Kyrgyzstan. According to individuals engaged in the meeting's preparations, the meeting's main focus will be regional security situations, including events in Afghanistan. They also stated that improving collaboration among SCO member nations to effectively tackle terrorism and extremism will be a priority.
India is hosting Shanghai Cooperation Organization (SCO) as the Chair and is holding the SCO Defence Ministers' Meeting on 28 April 2023 in New Delhi. SCO is a intergovernmental organization which was founded in 2001. Member states of the SCO include Kazakhstan, China, Kyrgyzstan, Pakistan, Russia, Tajikistan and Uzbekistan along with India.