Rajnath Singh holds bilateral meet with Russian Defence Minister General Sergei K Shoigu
28 April, 2023 | Anupam Shrivastav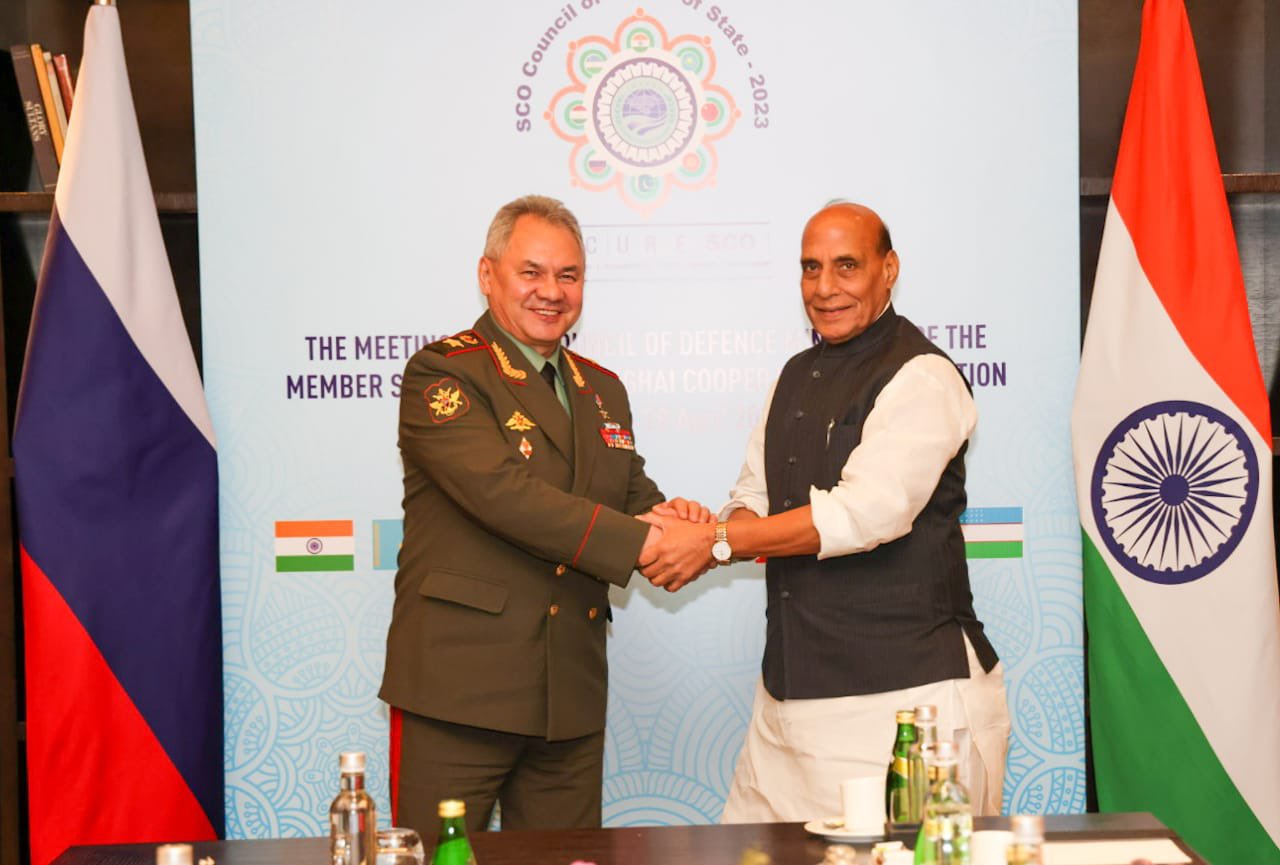 Both Defence Ministers discussed a range of bilateral issues, including industrial collaboration and military-to-military interactions.
On Friday, Defence Minister Rajnath Singh met with his Russian counterpart General Sergei K Shoigu on the sidelines of the Shanghai Cooperation Organisation (SCO) Defence Ministers' conference in Delhi.
The two Defence Ministers discussed an array of bilateral defence cooperation topics, including industrial collaboration and military-to-military interactions. They also talked about the Russian defence industry's involvement in the 'Make in India' initiative and methods that would provide it greater impetus, according to an official statement from the Ministry of Defence.
As the two ministers discussed matters of regional peace and security. Both sides also recognized the distinctive long-lasting and time-tested relationship between India and Russia.
Both Rajnath and Sergei K Shoigu jointly expressed contentment with the two countries continuing to share sustained trust and mutual respect, notably in defence, and reaffirmed their commitment to expanding the alliance.
They also expressed satisfaction over the continued trust and mutual respect between the two countries, particularly in defence and reiterated their commitment towards strengthening the partnership, according to the official statement.
India believes in preserving peace and security, hold those aiding terror accountable :Rajnath Singh in SCO Defence Minister meet
Earlier in the day, Rajnath Singh addressed the SCO Defence Ministers meeting in New Delhi stated that India believes in preserving peace and security based on UN Charter provisions, and he urged coordinated efforts to ensure win-win cooperation for larger benefit.
In addition, Indian Defence Minister mentioned the two defense-related initiatives unveiled by India as the SCO chair to enhance interoperability among member states. A workshop on 'Humanitarian Assistance and Disaster Relief (HADR)' and a conference on 'defence think tanks of SCO countries' are among them. All SCO nations participated enthusiastically in the two events.
Singh also expressed India's commitment in enhancing the defence capacity of SCO member states through training and co-manufacturing and co-development of products. He noted that because security concerns are not limited to any one country, India is taking a collaborative approach in the sphere of defence partnership, keeping common interests in mind.
The meeting was attended by Defence Ministers of China (General Li Shangfu); Russia (General Sergei K Shoigu); Iran (Brig Gen Mohammad Reza Gharaei Ashtiani); Belarus (Lt Gen Khrenin VG); Kazakhstan (Col Gen Ruslan Zhaxylykov); Uzbekistan (Lt Gen Bakhodir Kurbanov); Kyrgyzstan (Lt Gen Bekbolotov Baktybek Asankalievich) and Tajikistan (Col Gen Sherali Mirzo).
During the meeting, the Ministers discussed issues of common concern, including regional and international security under the SCO charter. Rajnath has urged Shanghai Cooperation Organisation (SCO) member states to come together and eliminate all forms of terrorism and hold those who aid or sponsor such activities accountable.
Before meeting Sergei K Shoigu, Rajnath also met with his counterpart from Uzbekistan, Lt Gen Kurbanov Bakhodir Nizamovich on the margins of the SCO Defence Ministers' meet in the national capital.