Step Down CCP Chanted in Shanghai Against China's Zero-Covid Policy
27 November, 2022 | Pranay Lad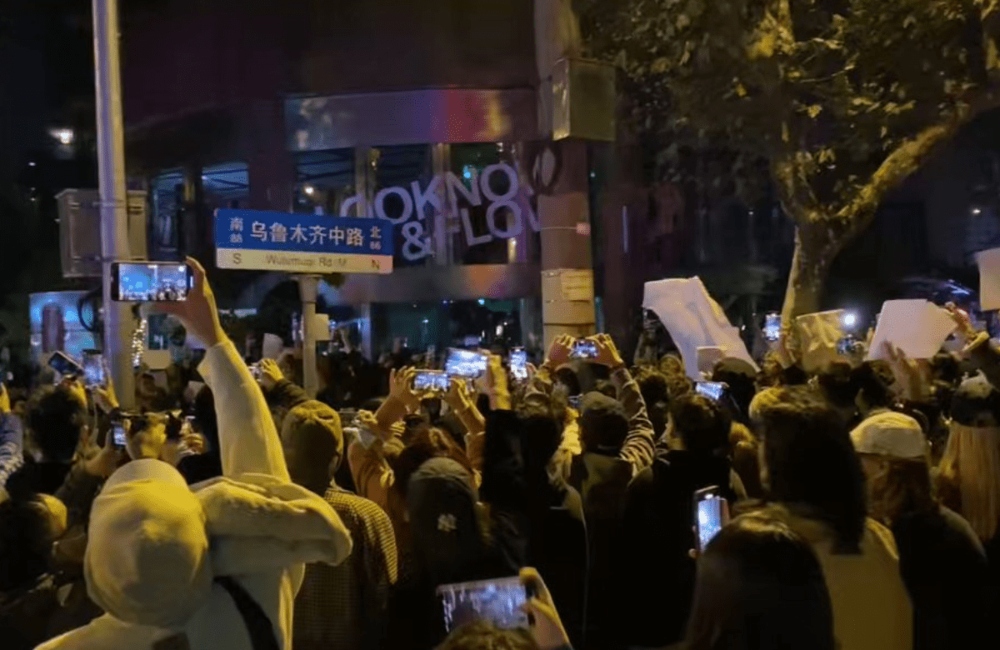 On Saturday night, protests over Beijing's harsh COVID-19 policy broke out in Shanghai, China.
Shanghai, China saw demonstrations against Beijing's strict COVID-19 policy on Saturday night. Videos of protesters yelling against limitations put in place by the Chinese government to stop the spread of Covid have surfaced on social media.
Ten people were killed and nine more were injured in an apartment fire in Urumqi, which sparked the demonstrations. On Saturday, protests broke out in Shanghai with calls for the COVID-19 limits to be loosened nationwide. Chinese residents protested in the streets in huge numbers against the strict Covid regulation. People at 'Urumqi Road' organised a demonstration against the Xi Jinping-led Chinese Communist Party (CCP), shouting "Step down the Communist Party" and "the Communist Party, Step down. Xi Jinping, step down," according to a video released by media outlet journalist William Yang on Twitter.
William Yang said in a series of tweets on the protests in Shanghai that a large crowd gathered on Urumqi Road and screamed, "I don't want PCR test, I want freedom." People in "Urumqi Road," according to William Yang, also demanded that the lockdown in Xinjiang be lifted in another tweet.
Yang said on Twitter, "Citizens shouting #Xinjiang, end lockdown, #Xinjiang, end lockdown."
In keeping with the theme, he stated that a fight between protesters and police took place in Shanghai. William Yang said in a tweet that "police encircled the final few hundred demonstrators at the spot in Shanghai and some ladies were apparently hauled away."
An earlier fire on Friday in Urumqi, where many residents are under lockdown, sparked popular outrage and raised concerns about China's zero-Covid policy. The protest started after a fire in the area claimed the lives of ten people, according to Chang Che, a freelance journalist who focuses on Chinese technology and society, and Amy Chang Chien, who covers news in mainland China and Taiwan.
Chinese commenters on social media shared news articles and videos of the fire in Urumqi, the capital of Xinjiang, which claimed the lives of 10 people and injured nine others. They demanded to know if Covid restrictions had hampered the rescue efforts or prevented residents from leaving their apartments or the building. Videos of Urumqi people screaming "stop lockdowns" as they march toward a government building went viral late Friday on the Chinese internet.