Music Maestro Sheykhar Ravjiani Mentors GIIS Students
25 April, 2023 | Vaishali Sharma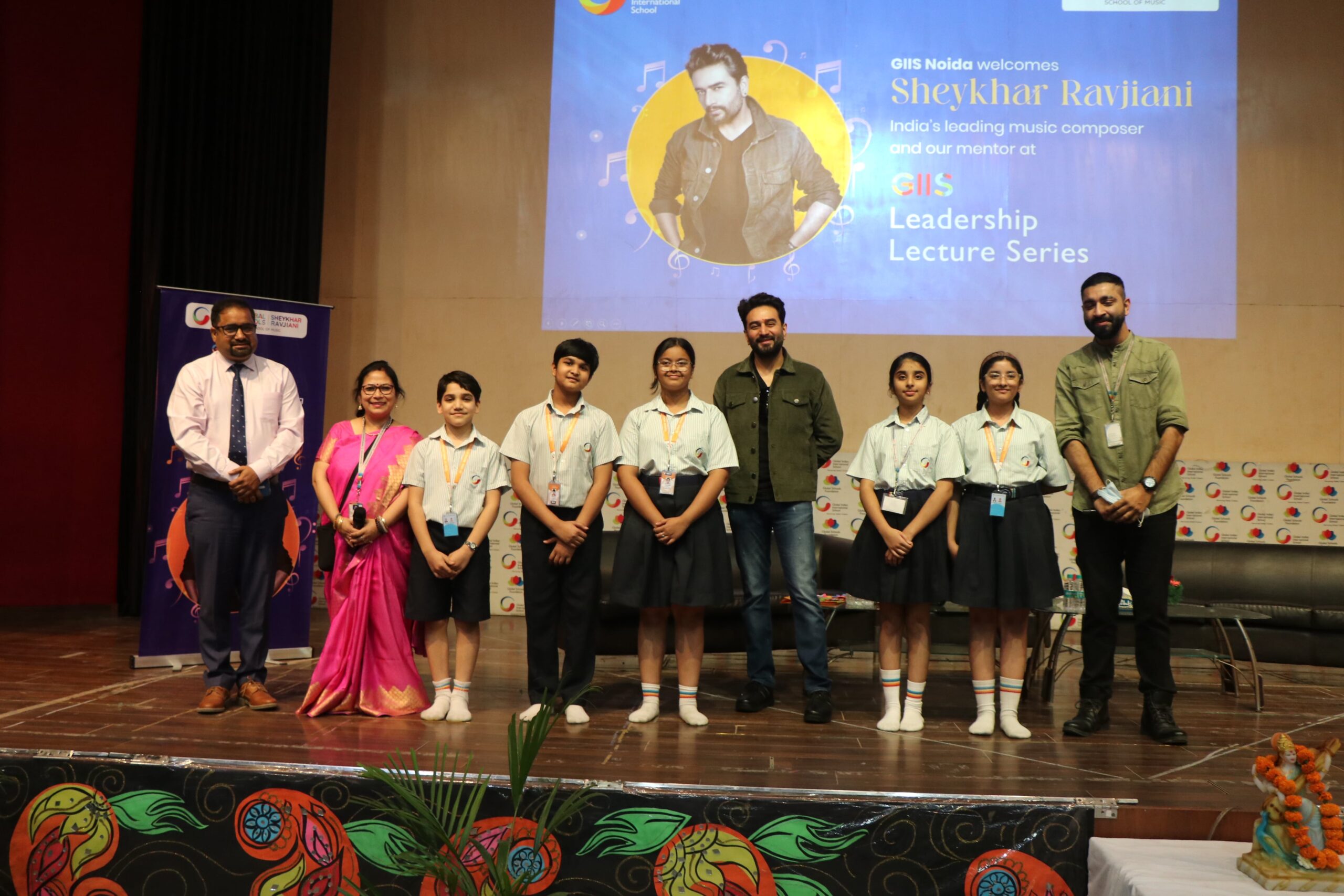 Renowned Musician Sheykhar Ravjiani Visited Students at Global Indian International School's Noida Campus as Part of the Leadership Lecture Series Initiative.
Renowned Indian music composer, singer, and mentor, Sheykhar Ravjiani, visited the Global Indian International School's (GIIS) Noida campus on Monday as part of the Leadership Lecture Series – an initiative that brings about meaningful interaction between industry leaders and students for overall student development. The event culminated in Sheykhar overseeing an in-house talent show and handpicking two talented singers to be part of the Global Schools Sheykhar Ravjiani School of Music. 
The GIIS schools' Leadership Lecture Series has become a noteworthy platform for inspiring creativity, passion, and direction among students. The series offers a unique opportunity for students to meet people of remarkable calibre and skills from different industries and learn from their journey of hard work and success. The primary objective is to provide insights into the process and requirements for becoming a global leader. 
Sheykhar, who is part of the Vishal-Shekhar music-duo group based in Mumbai, is an acclaimed music composer in the Hindi music industry, having won several Indian and international awards for his work. He has been a part of the industry for over two decades now. He has also been a judge and mentor on several singing reality shows, guiding and nurturing young talent. His visit to the GIIS campus was eagerly awaited.
The Global Schools Sheykhar Ravjiani School of Music, a collaboration between India's leading composer Sheykhar Ravjiani and the Singapore-based Global Schools Foundation, is a first-of-its-kind association between a global education institution and an Indian musician. The programme provides mentorship to talented students among a pool of 35,000 using the school's state-of-the-art infrastructure and futuristic technology.
Speaking on the occasion, Sheykhar Ravjiani said, "Music has the power to connect people, heal hearts, and inspire minds. It is always an honour to mentor and engage with budding young singers. As a musician, it's a privilege to create something that can have such a profound impact on people's lives. I feel content when I see how committed, enthusiastic, and hard-working students are, and I am grateful for the opportunity to mentor them on their journey to becoming exceptional singers."
Rajiv Bansal, Director-Operations, Global Indian International School, India, expressed his delight at having Sheykhar Ravjiani for the Leadership Lecture Series initiative by GIIS Noida. He said, "GIIS' 9 Gems pedagogy focuses not only on academics but also on excelling in co-curricular activities, and mentors like Sheykhar help our students achieve excellence. Lectures from experts give them the much-needed guidance and exposure required to excel in their chosen interests."
The carefully planned event began with a beautiful lamp lighting ceremony and a prayer recited by the students, supported by Haimontee Bhowmick and Punit Bharadwaj. Ganesh Sharma, Principal, Global Indian International School, Noida then welcomed the special guest. Rajiv Bansal, Director-Operations, Global Indian International School, India along with other dignitaries felicitated Sheykhar Ravjiani with a planter and a shawl. Sheykhar delivered an inspiring speech on leadership, success, and motivation. The students were captivated and left with much to ponder as he directly engaged in a conversation during his speech.
A panel discussion by students followed, showcasing their talent and passion, and an open discussion allowed the audience to participate and learn. The talent show was a treat for the senses, with students showcasing their creativity. Sheykhar joined in and sang along with the students. Mrignayni Magotra, the Vice-Principal, GIIS Noida delivered a heartfelt vote of thanks, expressing gratitude to everyone involved. Two students, Olivia Baugh, a class 8th student and Aryamann Chhabra, a class 6th student were selected by Sheykhar on the spot from the talent show to be a part of the Global Schools Sheykhar Ravjiani School of Music. The event concluded with the national anthem, leaving everyone feeling proud and inspired.
GIIS has continuously conducted singing competitions such as Global Indian Stars and Jhankaar to provide budding artists a platform. The school follows a holistic 9GEMS framework of education, which emphasises on nine areas of academic and non-academic excellence. Skills development is a big part of the school's educational philosophy, and it uses savvy technology and great infrastructure to provide platforms to students who want to excel in a skill.
Sheykhar's visit to the GIIS Noida campus was truly an unforgettable experience for the students, who had the rare opportunity to learn from and interact with one of India's most talented musicians. The event was a resounding success, and it has set the tone for future collaborations between GIIS and Sheykhar Ravjiani.