South Korea issues air raid alert after North Korea fires short-range missiles
2 November, 2022 | Pranay Lad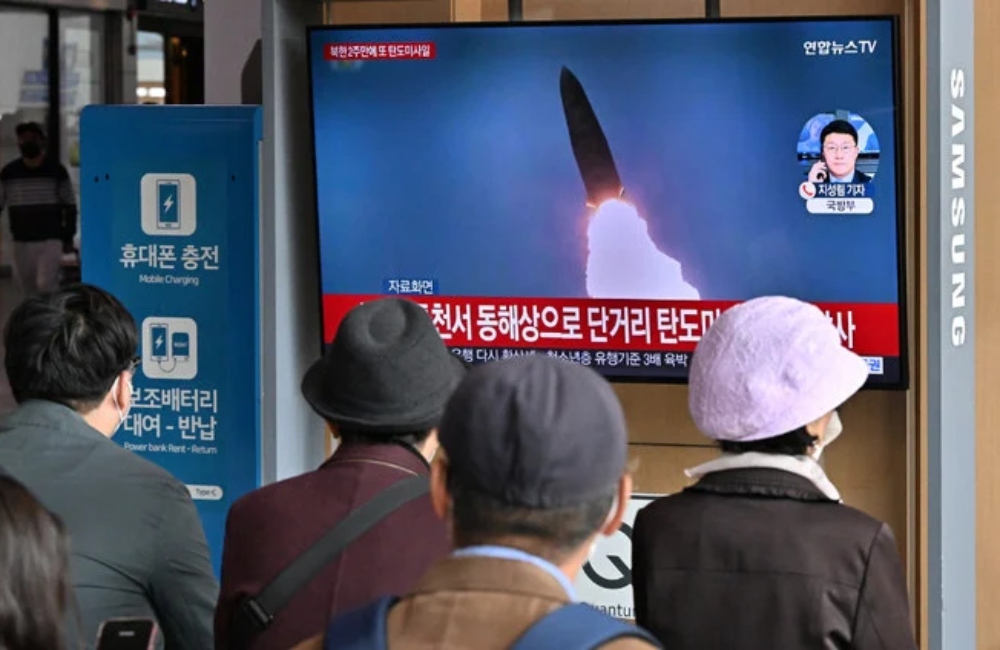 After North Korea launched short-range missiles that for the first time touched down close to South Korean waters, Seoul declared an air raid warning on Wednesday.
An official on the island was cited by the South Korean news agency as stating that after the air raid warning for Ulleung was announced on national television, workers took refuge in a basement. Invoking national grief for the 156 people who died in the Itaewon crowd crush at the weekend, President Yoon Suk-yeol called a meeting of the National Security Council and denounced the "unprecedented" launches.
He was cited as stating in a statement released after the NSC meeting that firing a missile south of the NLL amounted to "territorial infringement."
According to a news source, Pyongyang then issues a warning over ongoing military drills between South Korea and the United States after North Korea launches a missile.
South Korea's military referred to North Korea's firing of its first missile into territory close to the South's territorial seas since the peninsula was divided more than seven decades ago as a "intolerable" conduct.
The missile, one of at least 10 launched on Wednesday morning, was seen by the Japanese coast guard and the South Korean military, and it landed fewer than 60 kilometres (37 miles) from the South Korean shore.
According to South Korea's Joint Chiefs of Staff (JCS), the missile was one of several short-range missiles fired from the vicinity of Wonsan on North Korea's eastern coast at approximately 8.51 am (23:51 GMT), and an air raid warning for the island of Ulleung was issued immediately after.
The JCS said that at least one of the missiles made its first landfall since the peninsula's division 26 kilometres (16 miles) south of the Northern Limit Line, which acts as an unofficial sea boundary between the two Koreas.
The JCS stated that the launch was "extremely uncommon and very inappropriate" and that it would react "decisively."
According to the news agency, the missile came down 167 kilometres (104 miles) and 57 kilometres (35 miles) from Ulleung, respectively, on the east coast of South Korea.
There are concerns that North Korea may soon begin nuclear testing after conducting an unprecedented number of weapons tests this year – more than double the launch record established in 2019.
Two allegedly fired ballistic missiles, one heading east and the other southeast, were spotted, according to Japan.
Yasukazu Hamada, Japan's defence minister, told reporters in Tokyo on Wednesday that North Korea had been firing missiles frequently at an unprecedented rate and in novel methods.
These acts are completely inappropriate and endanger the peace and stability of Japan, the surrounding area, as well as the larger international community.
He noted that Japan had protested the launches through diplomatic channels in Beijing.
According to the media outlet, Pyongyang claims its weapons are required for "self-defense" and that recent tests are a warning to Washington and Seoul over joint military exercises that it sees as an invasion rehearsal.
Vigilant Storm, this week's exercises, started on Monday and are among the biggest the two partners have ever conducted. They involve roughly 240 aeroplanes from each sides simulating assaults 24 hours a day.
These exercises, according to the White House, are a regular element of US-South Korean training.