Sri Lankan Prez says Govt won't oppose Bill to decriminalise homosexuality
12 September, 2022 | Pranay Lad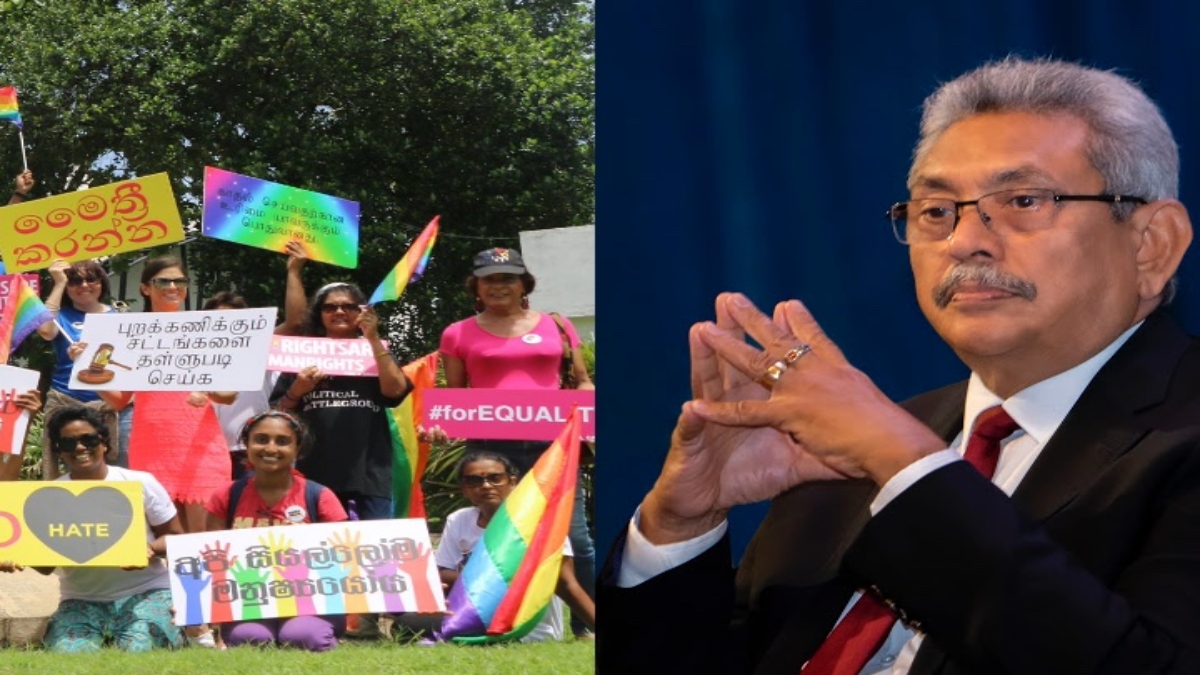 The government will not oppose the Private Member's Law to legalise homosexuality that was introduced to Parliament, according to Sri Lankan President Ranil Wickremesinghe on Sunday. However,...
The government will not oppose the Private Member's Law to legalise homosexuality that was introduced to Parliament, according to Sri Lankan President Ranil Wickremesinghe on Sunday. However, the bill would need the backing of individual members of Parliament.

"We support it, but you must win over each individual member. It concerns their individual conscience," he said. The President shared similar opinions with Samantha Power, the administrator of the United States Agency for International Development (USAID), in Colombo, according to a daily newspaper.
Premnath C. Dolawatte, an attorney and parliamentarian, presented President Ranil Wickramasinghe with a measure last month that would modify the Penal Code to safeguard the rights of the LGBTQ+ populations in Sri Lanka.

Dolawatte also presented the Penal Code (Amendment) (19th Act) Bill as a Private Member's Bill to the Parliament.

Despite the Private Member's Bill introduced by MP Premnath Dolawatte, the LGBTQI community in Sri Lanka had doubts about the government's dedication to addressing the problems the group faced.
In a statement, the LGBTQI+ community of Sri Lanka and its allies applauded the Private Member's Bill by Dolawatte to change sections 365 and 365A of the Penal Code to decriminalise same-sex sexual behaviour between consenting adults.

The LGBTQI community did point out that the Bill comes amid a series of unsettling occurrences that have a direct influence on Sri Lanka's LGBTQI+ population, according to a story in the daily newspaper.

A United Nations treaty council urged Sri Lanka's government to change its rule that makes adult, consenting same-sex behaviour, even between women, illegal earlier this year.
A Human Rights Watch report claims that Rosanna Flamer-Caldera, an advocate for LGBT rights who experienced harassment and discrimination because of her sexual orientation and work on behalf of sexual and gender minorities, filed the case under the Convention on the Elimination of All Forms of Discrimination Against Women (CEDAW).

At least 38 nations explicitly outlaw sexual activity between women or same-sex relationships, whereas several solely punish same-sex relationships between males. Since 1986, at least 10 nations have officially passed laws criminalising sex between women and men, often misconstruing this as an effort to promote equality, as in Sri Lanka's instance.
As courts and governments throughout the world understand that these laws are discriminatory and detrimental, laws that criminalise same-sex relationships are being overturned. In 2018, the Indian Supreme Court struck down Section 377 of the Penal Code.

Human Rights Watch said in 2016 that Sri Lanka's criminal law has a negative impact on the lives of LGBT people, making it harder for them to acquire housing and healthcare and placing pressure on them to hide and conform to their identities.

Samantha Power, the US administrator, arrived in Sri Lanka on Saturday for a two-day visit. According to the US Embassy in Sri Lanka, the visit's objectives are to deepen the bilateral development relationship and talk about the current economic situation.
Powar visited individuals from Sri Lanka dealing with the effects of the present complicated situation, as well as leaders from the commercial sector, civil society groups, and the government. The Administrator reiterated the United States' commitment to working alongside the Sri Lankan people to create long-term economic stability and prosperity as well as to assist them through this trying period.

According to a news release from USAID, the Administrator visited Ja-Ela, a town outside of Colombo, and rice paddy areas. There, she spoke with farmers to learn about how they were coping with fertiliser shortages, inflation, and declining salaries.

After that, the Administrator addressed the media and said that, pending congressional approval, an additional USD 40 million in USAID development assistance will be provided to provide almost one million Sri Lankan farmers with fertiliser.
They talked about how their harvest and their families were being impacted by the shortage of fertiliser.

In order to discuss Sri Lanka's path to economic revival and the crucial role of public-private partnerships, the Administrator then went to a working dinner with representatives from the private sector from the country's finance, technology, pharmaceutical, and renewable energy sectors, the release added.
Read more: US President Joe Biden honours 9/11 victims at Pentagon