NewsX Exclusive: Noida's 300-ft-high Supertech twin towers demolished; video surfaces
28 August, 2022 | Pranay Lad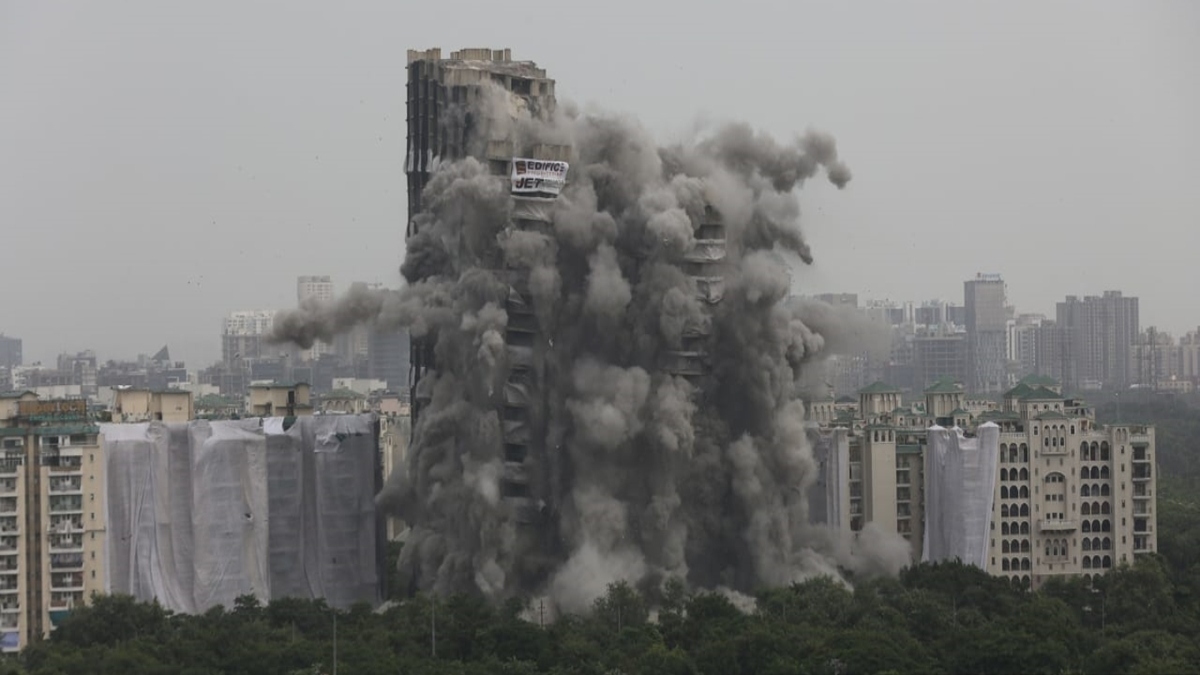 A building taller than the Qutub Minar rubbled into debris in just 6 seconds. It wasn't just the twin tower that turned into debris, it was the dream of a home buyer which was obliterated alo...
A building taller than the Qutub Minar rubbled into debris in just 6 seconds. It wasn't just the twin tower that turned into debris, it was the dream of a home buyer which was obliterated along with the illegal high rise.
Where people were seen celebrating the cloud of rubble, there were house-owners still anxious about whether they will get their hard-earned money back or not. NewsX asks #justiceforhomebuyers.
The Supertech's twin towers (namely Apex and Ceyane) came crashing down nearly nine seconds after the use of 3700 kilograms of explosives on Sunday, thus ending a nine-year-long legal battle in just nine seconds. The towers, Ceyane (29 floors) and Apex (32 floors) were part of Supertech Ltd's Emerald Court project consisting of 915 flats and were found to be in violation of numerous construction regulations.
The nine-second-long crashing down of a 100 metre tall building, generated a cloud of dust just at the touch of a button. To diminish the after-effects that will take a toll on the environment, the Environment Department of Uttar Pradesh had installed six special dust machines at the demolition site to monitor pollution levels.
Even though the demolition site became the centre of attraction for hundreds, precautionary steps were already kept in mind. Nearby, hospitals like Jaypee Hospital sector 128 and Felix hospital had kept eight emergency bed units ready and 12 dedicated ICU beds for today. Also, an ACLS ambulance with all the necessary equipment and medications was on standby for any mishappening.
Impact on Residents
Dr. Mrinal Sircar, Head of Pulmonology and Critical Care at Fortis Noida, stated, "When you demolish a large structure like that, there will be dust and smoke because explosives are used. As a result, the direction of the air is important. The wind direction should also be taken into account. This type of demolition, or rather an explosion in the open air, is far safer than, say, underground mines." Dr. Sircar stated that if this was something that would not dissipate underground, such as underground mines and explosions, they would use various exhaust techniques to sew it out in the ambient air.
The dust and gases will be diluted and dispersed in the air. "All of these things will be taken care of by the experts involved in such large demolitions," Dr Sircar said.
"So those are the precautions taken." I believe people have taken precautions such as putting sheets on top of buildings and so on. On precautions, Dr Sircar stated that "the direct impact of dust falling on that will probably be the only thing that will stop."
Twitter users were quick enough to capture the spectacle of this demolition
As per media sources, there was 560 police personnel stationed at the demolition site, 100 people from reserve forces, 4 Quick Response Teams & NDRF team deployed. Traffic diversion points activated, Noida- Greater Noid Expressway only to be closed right before the blast at around 2.15 pm. It will be opened half an hour after the blast, soon as the dust settles down. The instant command centre has 7 CCTV cameras.
A doctor from Felix hospital stated, " it is my suggestion to people in surrounding areas is to stay indoors, close doors & windows of houses, turn on air purifiers, wear N-95 mask if going out."
A combined force of NGOs is working to rescue dogs at the last moment before the Supertech Twin-Towers demolition today. "We have today saved almost 30-35 dogs, we're working on getting out each & every one of them," said NGO member.
Noida Authority CEO Ritu Maheshwari stated on Sunday that no damage was done to nearby housing societies following the demolition of Supertech's twin towers. She added that while debris had hit parts of the road, the situation would be clearer in a short time.
Read more: Explained: WHY, HOW, AND WHEN surrounding the demolition of Noida's Supertech twin towers