Justice Prashant Mishra and KV Viswanathan take oath as new Supreme Court Judges
19 May, 2023 | Anupam Shrivastav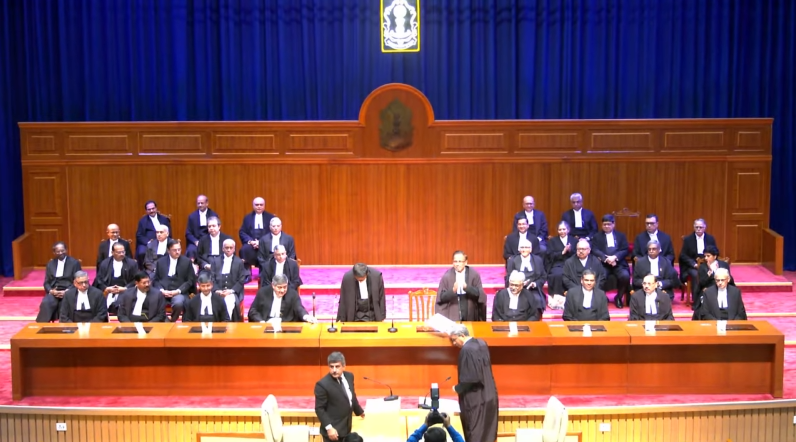 With Justice Prashant Mishra and KV Viswanathan sworn in as Judges, the Supreme Court will be working at its full sanctioned strength of 34 Judges.
The Supreme Court on Friday got two new Judges, Justice Prashant Mishra and Justice KV Viswanathan as they were sworn in the oath of office by Chief Justice of India DY Chandrachud.
On May 16, the Supreme Court Collegium recommended that Chief Justices Mishra and Viswanathan of the Andhra Pradesh High Court be raised to the position of justices of the supreme court, and the Centre on Thursday cleared their names.
The decision to propose Justices Mishra and Viswanathan for appointment as justices of the supreme court was made by the Collegium, which was presided over by Chief Justice Chandrachud and Justices SK Kaul, KM Joseph, Ajay Rastogi, and Sanjiv Khanna.
A close look at the Career of two new Supreme Court Judges
Viswanathan, who was born on May 26, 1966, would hold the position of SC judge from the day he was appointed until May 25, 2031. Viswanathan would be next in line to become Chief Justice of India after Justice JB Pardiwala retires on August 11, 2030, and hold the position until his retirement on May 25, 2031.
Viswanathan is now the eleventh name on the list of solicitors who have been appointed directly from the Bar to the Supreme Court. He will follow Justices SM Sikri, UU Lalit, and PS Narasimha as the fourth such individual to hold the position of Chief Justice of India.
In 1988, Viswanathan registered in the Bar Council of Tamil Nadu after completing the five-year integrated legal programme at Coimbatore Legal College, Bharathiyar University. He has been representing clients before the Supreme Court for more than 20 years. In 2009, he received the designation of senior advocate.
Former Additional Solicitor General, Viswanathan has testified in several instances on a variety of topics, including criminal law, commercial law, bankruptcy law, and arbitration. In various cases when he was chosen to support the court as an amicus curiae, the Supreme Court noted his standing as a prominent member of the Bar.
The Collegium highlighted in its resolution that the High Court of Chhattisgarh is not represented in the Supreme Court of India's current membership. According to the resolution, Justice Mishra has been a judge of the High Court for more than thirteen years and is listed as serial number 21 on the All-India Seniority List of judges of the High Courts.
The apex court currently has a sanctioned strength of 34 judges and was functioning with 32. Now, the top court will be at full strength. Four vacancies are going to arise by the second week of July.
The Supreme Court was operating with 32 judges before it was sanctioned to have 34. The Supreme Court will now be fully staffed. By the second week of July, there will be four openings.
Read Also : India's fame spreading across globe because of PM Modi: Amit Shah
Follow us : Twitter