Tamil Nadu: Amit Shah arrives in Madurai, set to flag off BJP padayatra in Rameswaram
28 July, 2023 | Srishti Ruchandani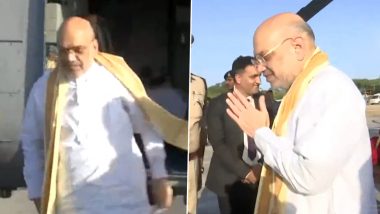 Shah arrived in Madurai on a two day visit to Tamil Nadu. During which he would flag off BJP's state wide padayatra to be led by Party state President.
The Union Home Minister Amit Shah, arrived in Madurai on Friday ahead of the BJP's six-month padayatra "En Mann, En Makkal" (My Land, My People), which will begin in the State's Rameswaram town.
The yatra comes ahead of the 2024 Lok Sabha election and seeks a decisive mandate to install party leader Narendra Modi as Prime Minister for a third term. The padayatra that will begin from Rameswaram aims to cover all 234 assembly constituencies across the state and is scheduled to conclude on January 11 next year ahead of the Lok Sabha polls, BJP Tamil Nadu President K Annamalai who will lead the yatra had told reporters earlier.
Shah will inaugurate the opening ceremony at the ground opposite the Rameswaram bus stand later today.
"Leaving for Rameswaram, Tamil Nadu. Today will flag off the "En Mann En Makkal" (My Land My People) Padyatra organized by @BJP4TamilNadu, which will carry the message of change, set forth by PM @narendramodi Ji, to every constituency of the state," Shah had posted ahead of his arrival in the southern state.
BJP State President Annamalai comments on the Padayatra

"This Yatra 'My Soil My People'… All of us are embarking on a long journey for 168 days across 234 constituencies, meeting beneficiaries interacting with them, and taking their good wishes for PM Modi…" Annamalai said.
The BJP state president said that at least one central minister would address each of the 10 major rallies that have been planned during the yatra.
"The second part of the Yatra will invoke the spirit that this land and this people belong to us and we have a very unique Tamil spirit with Bharatiya culture and we will not allow the forces inimical to Tamil culture to swindle our precious resources… When Modi Ji comes back to power for the third straight time, Tamil Nadu has to give more MPs… We will talk about the corruption of the DMK…" Annamalai said
The yatra aims to cover 1068 Km on foot and the rest of the area by vehicle, the BJP state leader said.
Annamalai said, "There is anti-incumbency in the state. People are very clear, they don't want DMK or any party that DMK is supporting."