Tamil Nadu CM Stalin Accuses BJP Government Of Targeting Non-BJP States With UCC
7 July, 2023 | Malvika Vardhan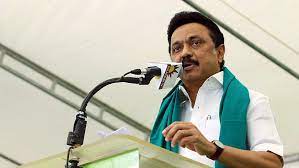 Tamil Nadu CM MK Stalin alleged that those speaking against the proposed legislation were being threatened with raids by the central investigating agencies.
MK Stalin, the chief minister of Tamil Nadu, claimed on Thursday that the BJP-led federal government was using the Uniform Civil Code (UCC) as a weapon against non-BJP states and that those who opposed the legislation were being threatened with repercussions by the federal investigative agencies.
"They (BJP-led NDA at the Centre) want to impose the UCC and use it against the non-BJP states. Those opposing it are being threatened with CBI, ED, and IT raids," CM Stalin told reporters in Chennai on Thursday.
Bringing the UCC back to the front and centre of the national discourse, Prime Minister Narendra Modi said recently the country cannot run on two sets of laws, adding that the Uniform Civil Code was in keeping with the founding ideals of the Constitution.
"Today people are being instigated in the name of the UCC. How can the country run on two (laws)? The Constitution also talks of equal rights…Supreme Court has also asked to implement the UCC. These (Opposition) people are playing vote bank politics," PM Modi had said.
The Parliamentary Standing Committee on Law and Justice met in Parliament on Monday to hear concerns about the proposed Uniform Civil Code.
Earlier, Union Minister of Commerce and Industry Piyush Goyal said in an exclusive interview with ANI that "It is the need of the hour that a law should be made by uniting and including all the people of the country."
The Union Minister expressed optimism that the BJP will receive bipartisan party support for the UCC.