Temple in Australia's Sydney vandalised by pro-Khalistani elements
5 May, 2023 | Vaishali Sharma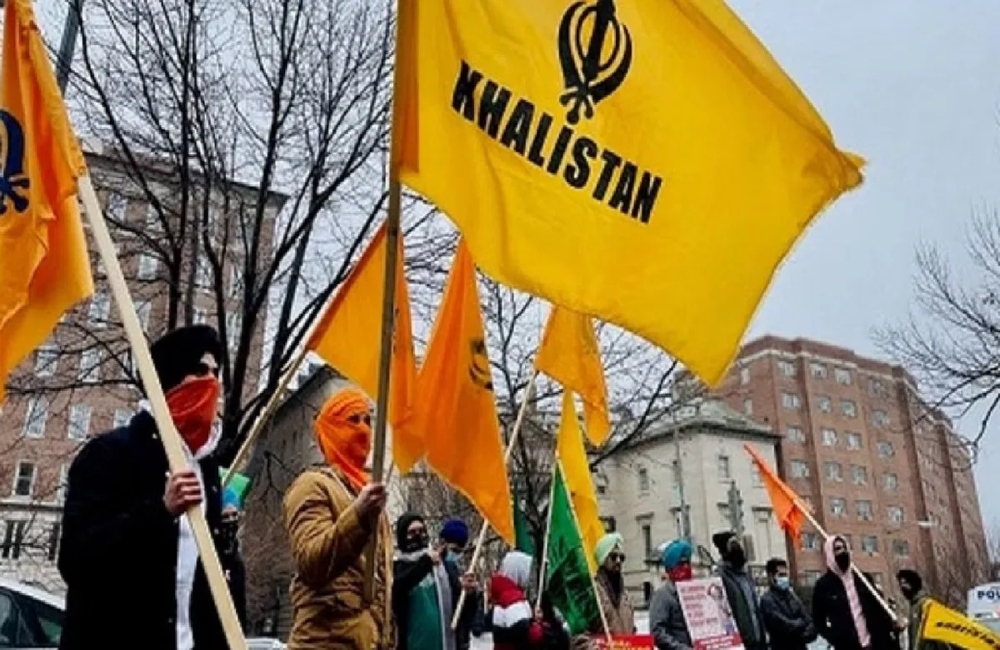 The BAPS Swaminarayan temple in Sydney, Australia, was discovered vandalised early on Friday (local time), according to The Australia Today.
The BAPS Swaminarayan temple in Sydney, Australia, was discovered vandalised early on Friday (local time), according to The Australia Today.
Nearly two months have passed since pro-Khalistan supporters vandalised temples in Melbourne and Brisbane. Authorities at the temple in Western Sydney's Rosehill suburb claimed they discovered offensive graffiti on the building's front wall and a purported "Khalistan flag" hanging on its gate, according to The Australia Today, a news source specialising in multicultural communities and the Indian subcontinent.
"When I went this morning for prayers I saw ugly vandalism on the front wall," a local resident of Harris Park and a daily visitor to the Swaminarayan temple told the Australian media outlet.
According to the Australia Today media report, the management of the temple notified the local police as early as 7 am, and the latter has informed the media outlet that NSW Police officers have visited the temple and have been given CCTV footage to aid them in their investigations.
There were also reports of temple vandalism in Australia earlier this year. Supporters of Khalistan vandalised two temples in Brisbane and three in Melbourne.
A few days before Prime Minister Narendra Modi is scheduled to attend in person the Quad Leaders' Summit scheduled for May 24 in Sydney, the most recent incident of temple vandalism by anti-social elements occurred.
A day before the QUAD Leaders' Summit, the Indian Australian Diaspora Foundation will host a large community reception in PM Modi's honour. The safety of the Indian community is a top priority, as Prime Minister Narendra Modi had earlier expressed concerns to his Australian counterpart.
"I gave him the assurance that Australia is a country that respects people's faith. That we don't tolerate the sort of extreme actions and attacks that we've seen on religious buildings, be they Hindu temples, mosques, synagogues, or churches. This has no place in Australia," Albanese said addressing a press conference during his recent India visit, which was reported by ANI on March 11
After police in India launched a manhunt for radical Amritpal Singh, pro-Khalistan supporters also made several attempts to vandalise temples and Indian diplomatic facilities in the US and Canada. After being on the run for more than a month, the radical separatist preacher turned himself into Punjab Police on April 23 from Moga. Later, he was flown to the Dibrugarh jail in Assam, where several of his assistants were detained and charged with violating the strict National Security Act.
Deep Sidhu, an activist and actor, founded "Waris Punjab De," which is run by Amritpal Singh. Deep Sidhu passed away in a car accident in February of last year.
On March 18, a month after his supporters stormed a police station in Ajnala to demand the release of one of his aides, the Punjab Police launched a crackdown on him and members of his group, "Waris Punjab De."
A propaganda meeting was organised by supporters of Khalistan in Brisbane, Australia, the day after Indian police began their operation to arrest Amritpal. They called it a referendum, but it was a resounding failure. The propaganda meeting failed to gain traction because so few people showed up.
A handful of Khalistani supporters who attended the propaganda meet were trying to mobilise people to join in, but their outreach attempt too had failed.
Read Also : India's COVID-19 cases dip further; 3,325 new infections recorded in last 24 hours
Follow us: Twitter