Union Minister Piyush Goyal inaugurates 41st India International Trade Fair
15 November, 2022 | Pranay Lad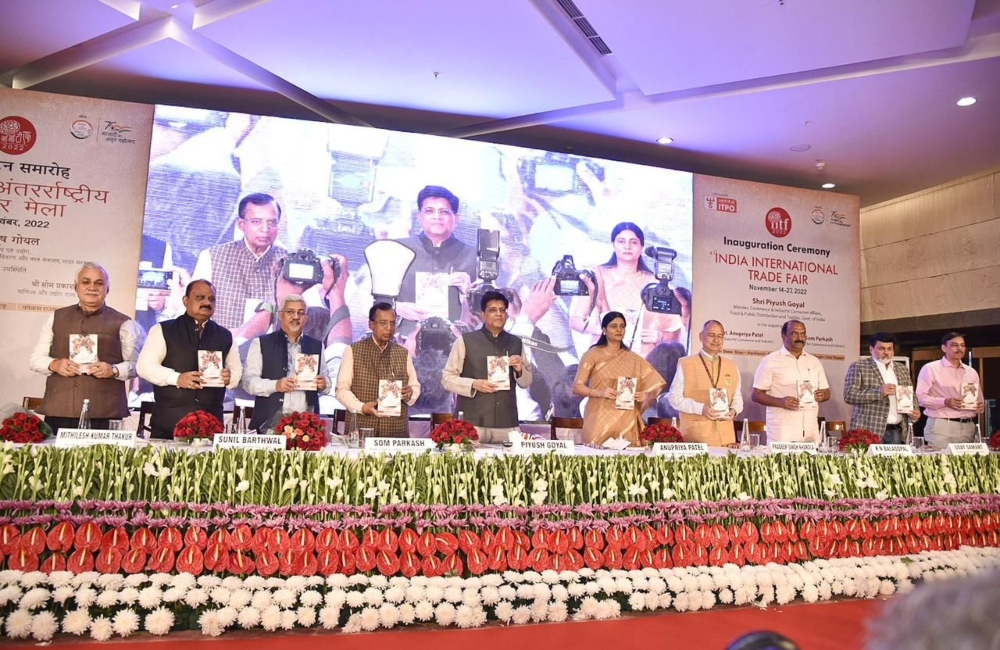 UM Piyush Goyal advocated for the expansion of trade shows at the national and state levels to enhance the ecosystem and to advance business, industry, and regional arts and crafts.
According to the press release, he spoke to the crowd after officially opening the 41st India International Trade Fair (IITF) in New Delhi today. The Minister proposed holding the Trade Fair twice a year, with the second event focusing on the subject of "Athmanitbhar Bharat," exhibiting India's swadeshi potential and its burgeoning strength. "Women, MSMEs, small business owners, exhibitors from the service sector, and new exhibitors must be encouraged to attend this Swadeshi exhibition. Affordability is also necessary to encourage greater involvement "he declared.
Shri Goyal believed that in order to promote regional handicrafts and handlooms, regional fairs needed to be held all throughout the nation, particularly in conjunction with holidays and busy travel times.
He continued, "These regional fairs must also concentrate on enhancing packaging and design components."
The event was attended by Shri Som Parkash, Minister of State for Commerce and Industry, Ms. Anupriya Patel, Ministers from Focus states, top officials, and other guests.
Quality and professionalism, according to the Minister, must be the IITF's main priorities. He noted that IIFT had effectively established itself as a global brand and was not just an object of pride for Indians. We need to make sure that only top-notch goods are offered at the show, and all exhibitors must be required to have quality certification, he continued.
According to Shri Goyal, IITF was effective in bringing the globe India's limitless opportunities. He said that it is a potent platform for showcasing the variety of the country.
The Minister added that India's fintech industry was one of the strongest in the world and that attempts might be made to move all financial transactions at the fair to digital platforms. The Minister stated that 600 crore digital transactions were conducted in India last month. He said that holding virtual fairs may be an option.
The Minister quoted Prime Minister Shri Narendra Modi as saying, "The new India that we are envisaging would interact with speed and size. Speed is a goal and scale is our strength." Scale, according to the Minister, affected the significance and impact of such events.
Shri Goyal suggested that ITPO and IIFT take into consideration co-developing certain courses in the physical, hybrid, or virtual modes in order to train specialists who will help us make such fairs cutting-edge, post-modern, and much more appealing to companies and the general public.
The Minister stated that "gati" and "shakti" must be supplied to the trade show ecosystem. He suggested that fairs and shows may be planned all around the nation using the PM GatiShakti Master Plan.
In order to further India's progress toward becoming a developed country, Shri Goyal requested that the Center and the States cooperate and compete among themselves to design and implement projects like the IITF. India would eventually serve as the global development engine, he continued.