Tripura Assembly Election: BJP President JP Nadda, CM Manik Saha releases BJP's manifesto
9 February, 2023 | Amish Mahajan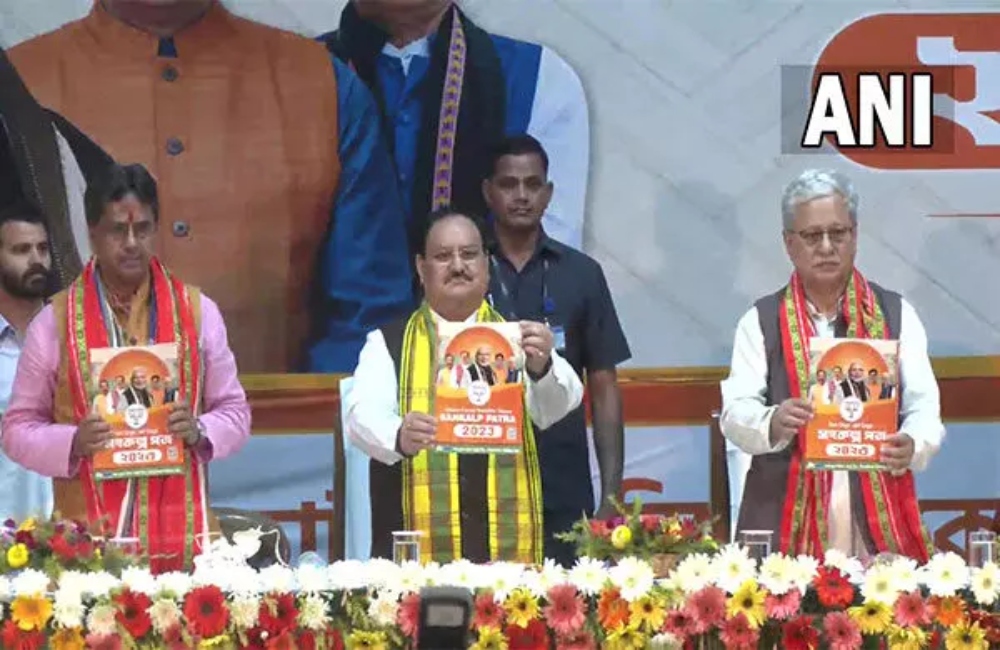 BJP President JP Nadda and Chief Minister Manik Saha released the party's manifesto on Thursday.
On Thursday, Bharatiya Janata Party President JP Nadda and Tripura Chief Minister Manik Saha released the party's manifesto. Addressing a public meeting, Nadda said, "When BJP brings 'Sankalp Patra', it is a vision document, and not just a piece of paper, it is BJP's commitment towards the people." Nadda further said, "Tripura was once known for blockade and militancy, but now the state is known for peace, prosperity and development."
Adding further, Nadda said, "so far, 13 lakh Ayushman Bharat health cards have been given in the state, in which Rs 107 crore has been given,". Earlier on Thursday morning, JP Nadda and Tripura Chief Minister Manik Saha offered prayers at Mata Tripura Sundari Temple in Udaipur.
Nadda said, 'Today I got the opportunity to offer prayers at Mata Sundari temple. Every time I come here, I get new energy. Under the leadership of PM Modi, we are taking society forward with the mantra of 'Sabka Saath Sabka Vikas'.
According to sources, before this, the party has added many new points to the manifesto. The source said, "Many new points have been added in the manifesto, which is important for the development of the state. The Modi government always thinks about the development of the Northeast. His vision is the development of the state and, most importantly, the youth." Since coming to power in 2014, Prime Minister Narendra Modi's government has given special attention to the northeastern region with its Act East policy. While PM Modi has made over 50 visits to the region, there is a major focus on developing a safer Northeast.
Apart from security, law and order, the main focus of the manifesto for the election is expected to be on the welfare of the people through infrastructure, development, recognition of indigenous tribes, and the welfare of tribals. The development of the Northeast still dominates the BJP's agenda. With Assam electing BJP governments twice in 2016 and then in 2021, and then Manipur in 2017 and 2022, the Northeast region has turned into a saffron belt. We are hopeful that we can form the government for another consecutive term.