Trump surrenders at New York courthouse for alleged role in hush money payment
5 April, 2023 | Pragati Singh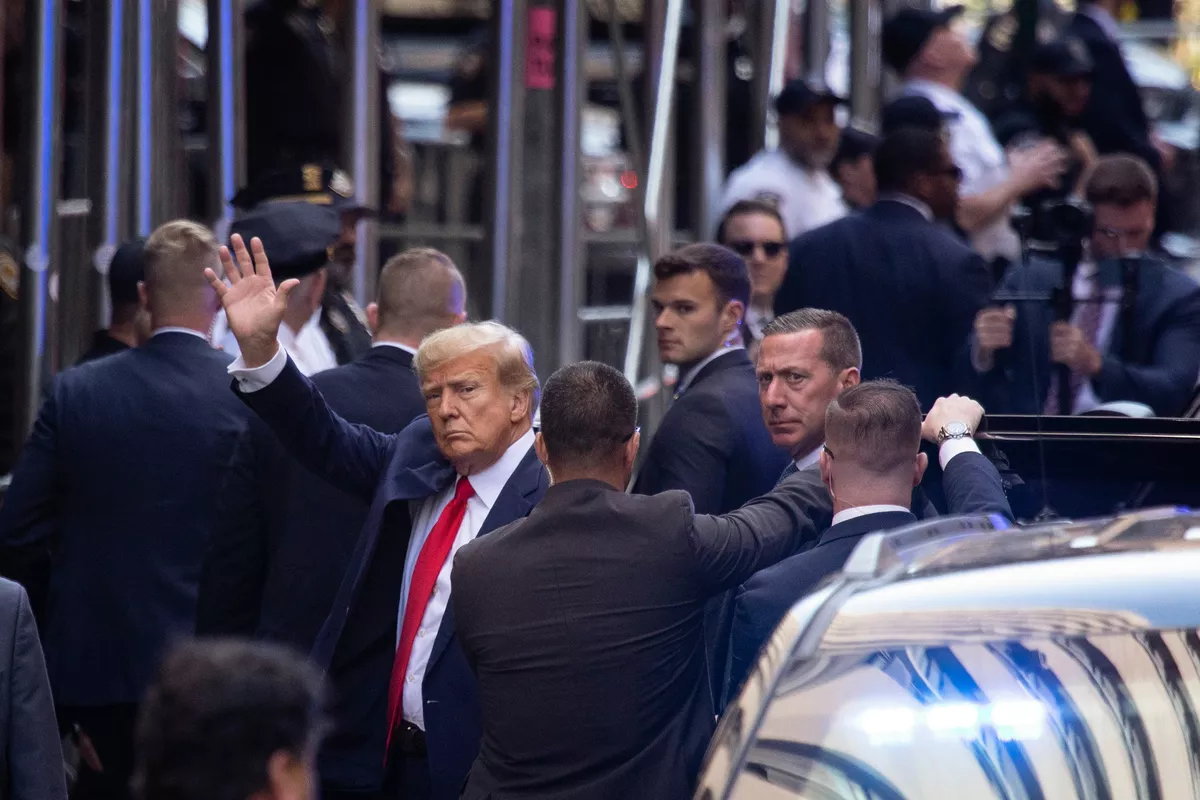 Trump is scheduled to be fingerprinted as part of the formal arrest.
According to The Washington Post, former US President Donald Trump surrendered to authorities on Tuesday at a court in Lower Manhattan ahead of his arraignment. Trump is facing criminal charges for his alleged role in a hush money payment made to adult film star Stormy Daniels during his 2016 campaign to conceal an alleged romance with Daniels, which he has repeatedly denied.  As Trump arrived at the Lower Manhattan court, he shared a cryptic post on social media saying that the experience is "SURREAL," adding, "WOW, they are going to ARREST ME. Can't believe this is happening in America."
Trump is scheduled to be fingerprinted as part of the formal arrest, according to CNN. Yet, it is uncertain whether his mugshot will be taken. He will then be taken to a courthouse to be arraigned, which is expected to be a fast and routine appearance but symbolises a bizarre and historic moment in US history.
CNN reported that Donald Trump landed at New York's La Guardia Airport on Monday, ahead of his expected arraignment in a Manhattan courthouse. After meeting Trump in New York, Alina Habba, who represents him in many civil proceedings, stated, "He's in a terrific mood. To be honest, he's acting normally. He's prepared to go in and do his job."
Habba remarked on Trump's chances of getting a fair trial in Manhattan, "No, no. I believe it will be really difficult. I'd like to believe in this state, but I've been practising for him for a couple of years and going to court in New York for a few years, and it's not the same as representing anyone else."
Earlier, after landing in New York City on Monday, the former US President met with his attorneys Susan Necheles and Joseph Tacopina at Trump Tower, according to CNN.
Trump, who is competing for the Republican presidential nomination next year, has denied any wrongdoing and termed the investigation and indictment a politicised attack. Bragg is a registered Democrat. On Friday, a team of Secret Service personnel and New York Police Department officials examined the courthouse and its entrances, evidently mapping the former president's movements through it.
According to ABC News, the FBI is informing local and state police departments across the country about fears about a possible Trump indictment, and New York City officials intend to close critical roadways in lower Manhattan as a security precaution.