Twin Tower demolition: Stay indoors, wear N-95 mask, says expert
28 August, 2022 | Pravina Srivastava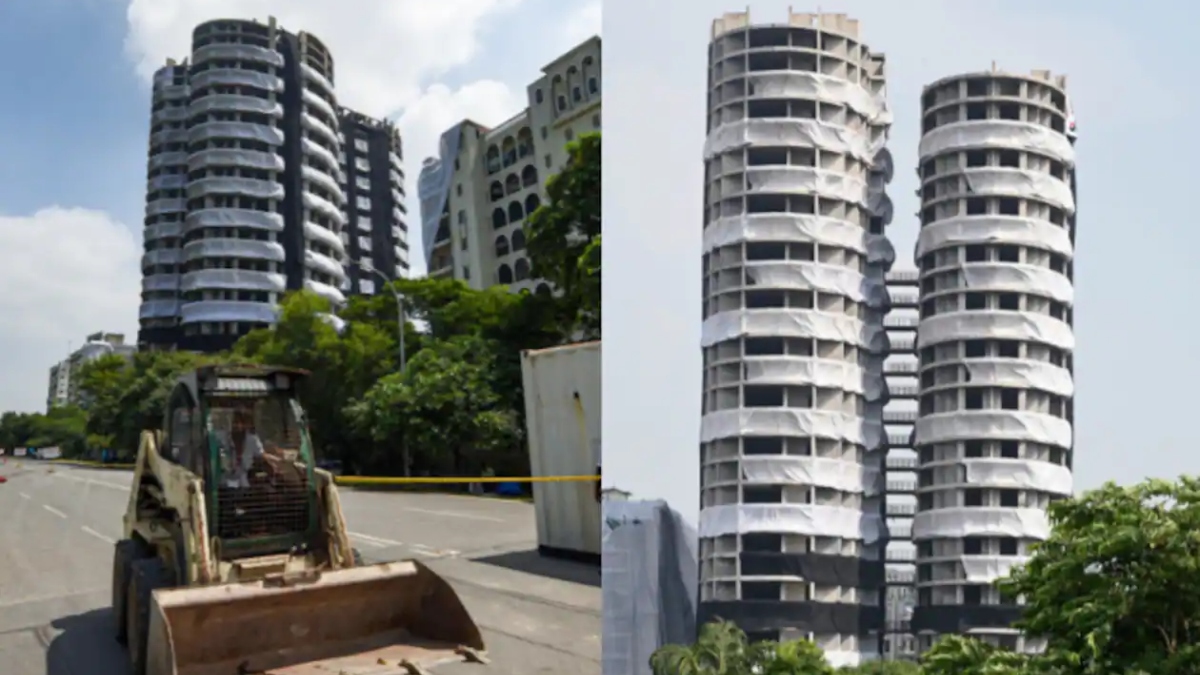 Supertech Twin Towers in Noida, Uttar Pradesh, were recently demolished, and a cloud of dust has since covered the neighbourhood.
Supertech Twin Towers in Noida, Uttar Pradesh, were recently demolished, and a cloud of dust has since covered the neighbourhood. A health expert has advised residents in the vicinity to stay indoors, close their windows and doors, use air purifiers, and wear N-95 masks when they venture outdoors.
After the Supertech Twin Towers were dismantled, their remains were exposed, and a cloud of dust was there. The hospitals close to Sector 93A have taken precautions and are ready to provide emergency medical services should the need arise.
Doctors, paramedics, and nurses at Noida's Felix Hospital are all completely prepared for any emergency event, therefore the hospital is likewise on high alert.
The hospital and the demolition site are just 4 miles apart.
Dr. Rashmi Gupta, director of Felix Hospital in Noida said that facility is adequately equipped to handle any emergency.
When questioned about the measures taken in the event that an emergency arises during demolition, Dr. Rashmi Gupta said, "We are equipped to handle any circumstance. There are 50 beds available in the hospital for individuals who need emergency care. Because we have ventilators and oxygen support available in case someone has a serious condition, some beds are in emergency rooms, some are in ordinary wards, and others are in ICUs with all the amenities. We have different places for different types of patients."
She further went on to say that "Ambulances equipped with both basic and sophisticated life support systems are available. All emergency services are provided by emergency medical technicians (EMTs), and all ambulance drivers have received training and are prepared for any circumstance."
Dr. Gupta gave advice to residents of the neighbourhood, saying, "I would want to recommend folks in the neighbourhood is to stay indoors, cover doors and windows of houses, switch on air purifiers, and use N-95 mask if going out."
After the detonation of 3,700 kg of explosives on Sunday, the Supertech twin buildings in Noida collapsed within a period of over nine seconds, putting an end to a nine-year legal dispute.
Towers Apex (32 stories) and Ceyane (29 floors), which were 100 metres tall and taller than the Qutub Minar in the national capital, were taken down using explosives in the largest ever planned tower demolition attempt.
The buildings collapsed shortly after the explosion that was triggered by pressing a button, creating a tremendous cloud of dust that contaminated the surrounding air.
To track pollution levels, the Uttar Pradesh government's Environment Department has placed six Special dust machines at the demolition site.