Musk Warns Twitter Users Against Doxing of Live Locations
16 December, 2022 | Pranay Lad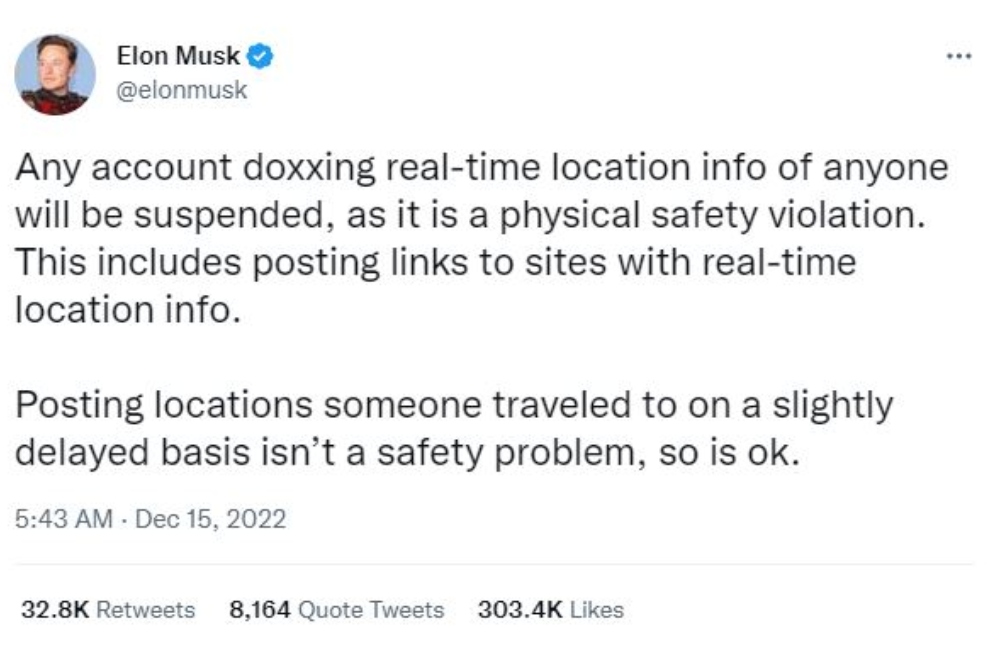 The CEO of Twitter has made it clear that he supports greater online security on the microblogging platform.
The CEO of Twitter has been very vocal about the need for enhanced cyber security on the microblogging platform.
Elon Musk elucidated on his official Twitter account that accounts engaging in doxing—that is, posting identity-related information in the public domain, particularly real-time locations—will face sanctions.
"Any account that divulges another person's current location will be suspended since it violates their physical safety. Links to websites that provide real-time location data are included in this "the CEO of Tesla wrote.
It is acceptable to post locations that someone visited with a small delay because doing so poses no safety risks.
Users tweeted responses in support of Musk's action, viewing it as an additional safety precaution on the platform.
Doxxing someone's actual location isn't considered to be free speech, a user claimed.
Another person commented, "It is a safety problem, and fully agree with the restriction, no matter whether it was to monitor him or anyone else."
After the second volume of the so-called "Twitter Files" revealed how the firm built blacklists and intentionally blocked the appearance of specific accounts, Musk had earlier proposed a fresh modification to the micro-blogging network.
According to the second chapter of Elon Musk's "Twitter Files," which revealed the secretive procedures of the former management at the firm, Twitter staff aggressively blocked the visibility of entire accounts and created blacklists.