Ukrainian Officials Slam Elon Musk Over Tweets On Russia
4 October, 2022 | Pranay Lad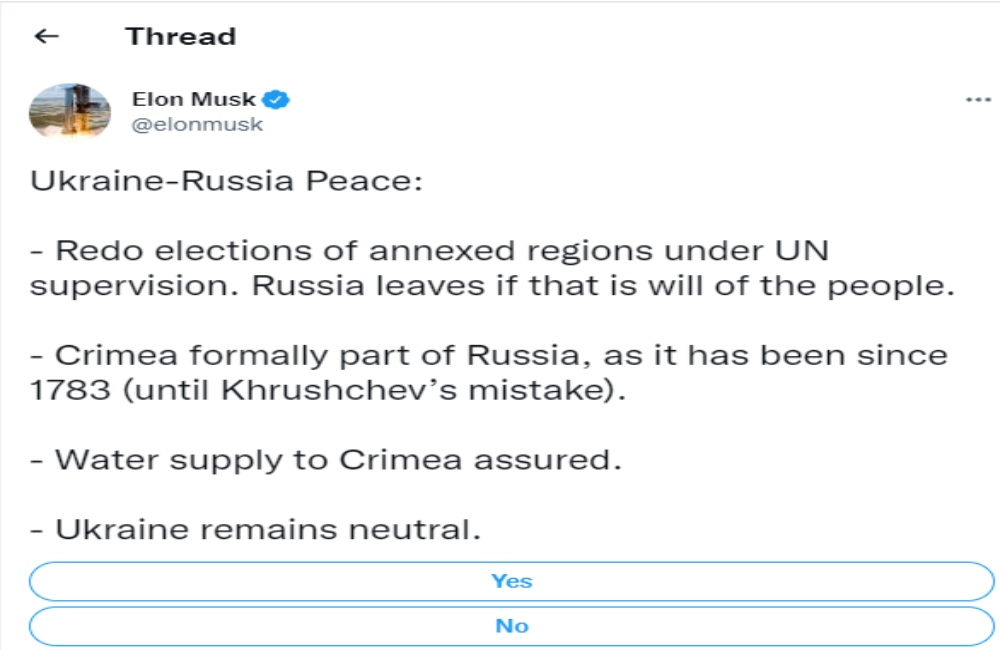 Tesla CEO Elon Musk faced flak from Ukrainian officials, including Ukraine President Volodymyr Zelenskyy, for his Tweets proposing suggestions on how to create "peace" during the ongoing confrontat...
Elon Musk, the CEO of Tesla, received criticism from Ukrainian politicians for his Tweets offering advice on how to achieve "peace" during the current conflict between Moscow and Kyiv, including Ukraine President Volodymyr Zelenskyy.
Musk tested out a Twitter poll to stop Russia's actions in Ukraine using its official Twitter account. The CEO of Tesla proposed a number of solutions to the issue, asking his supporters to support or reject them. One of his options was to legally recognise Russia's annexation of Crimea.
Musk, who also serves as SpaceX's CEO, stated: "Russia is partially mobilising.
Under the event that Crimea is in danger, they mobilise for war fully. Devastating deaths on both sides will result. Since Russia has more people than three times as many as Ukraine, a comprehensive military triumph for Ukraine is unlikely. Seek peace if you care about the Ukrainian people.
Andrij Melnyk, a former Ukrainian ambassador to Germany, was enraged by the billionaire's remarks and criticised Musk.
My very civilised response to you is to f**k o**," Melnyk wrote in a Tweet. The sole result is that no Ukrainian will ever purchase your f Tesla trash. So, best of luck to you," he said in a subsequent tweet.
The annexation of four regions—Donetsk, Luhansk, Kherson, and Zaporizhzhia—was formally declared by Russian President Vladimir Putin last week. He said that "this is the choice of millions of people."
Russia launched a special military operation in Ukraine on February 24 in response to a request for assistance from the Donetsk and Luhansk People's Republics to protect themselves. Following the military action, the western nations enacted a number of sanctions aimed at the Russian economy.
Read more: J-K DG Prison Found Dead, Police Suspect Murder