Union FM presents Budget 2023, major launches & announcements by govt
1 February, 2023 | Pragati Singh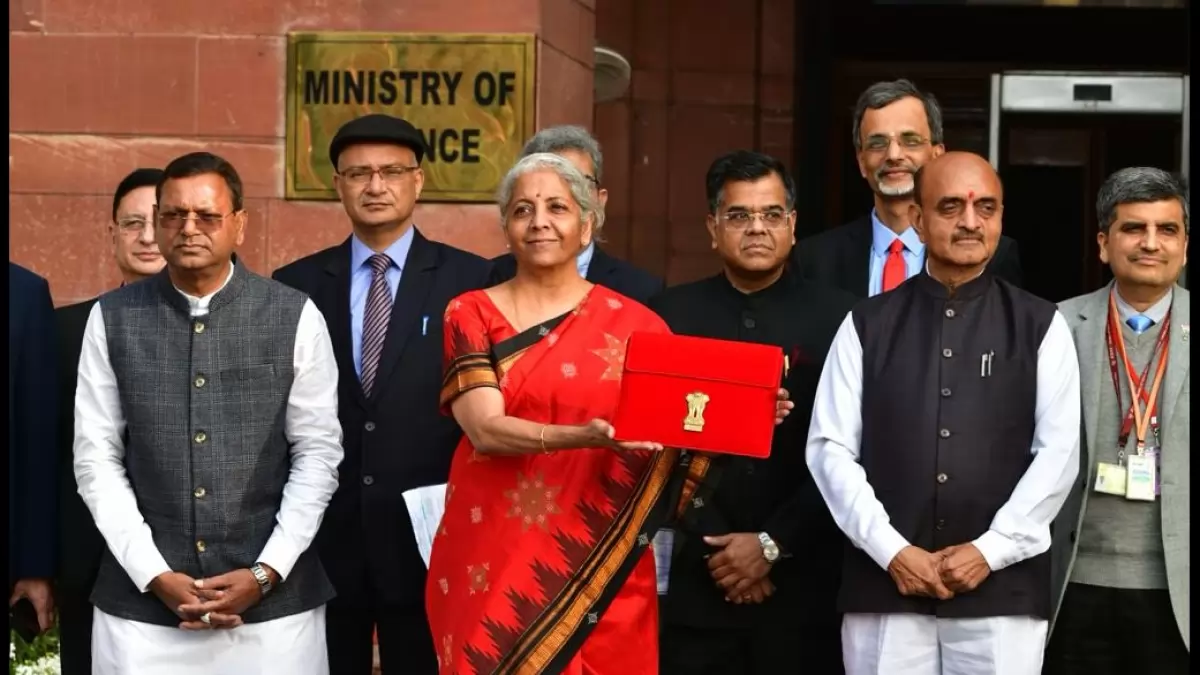 This is the first Budget in Amrit Kaal. Indian economy is going on the right track, and heading towards a bright future, Union Minister for Finance Nirmala Sitharaman said.
"This is the first Budget in Amrit Kaal. Indian economy is going on the right track, and heading towards a bright future" said Finance Minister Nirmala Sitharaman while presenting the Union Budget for the year 2023-24. "The world has recognized India as a bright star, our growth for current year is estimated at 7.0%, this is the highest among all major economies, in spite of massive global slowdown caused by pandemic and the war," she added.
"During the COVID pandemic, we ensured that nobody goes to bed hungry with a scheme to supply free food grains to over 80 crore persons for 28 months," said FM Nirmala Sitharaman.
"During the Covid-19 pandemic, we ensured that no one goes to bed hungry, with a scheme to supply free food grains to over 80 crore persons for 28 months. Continuing our commitment to ensure food and nutritional security, we are implementing, from 1st January 2023, a scheme to supply free food grain to all Antyodaya and priority households for the next one year, under PM Garib Kalyan Anna Yojana (PMGKAY). The entire expenditure of about ` 2 lakh crore will be borne by the Central Government," Finance Minister stated.
"Govt's efforts since 2014 have ensured for all citizens, a better quality of life & life of dignity. The per capita income has more than doubled to Rs 1.97 lakh. In these 9 years, the Indian economy has increased in size from being 10th to 5th largest in the world," said FM Sitharaman.
"Our vision for the Amrit Kaal includes a technology-driven and knowledge-based economy, with strong public finances and a robust financial sector. To achieve this 'janbhagidari' through 'sabka saath, sabka prayaas' is essential,' says FM Nirmala Sitharaman.
"Priorities of Budget 2023-24 – (i) inclusive development, (ii) reaching the last mile, (iii) infrastructure & investment, (iv) unleashing the potential, (v) green growth, (vi) youth and (vii) financial sector" said Finance Minister Nirmala Sitharaman.
"Capital investment outlay being increased by 33% to Rs 10 lakh crores, which would be 3.3% of GDP," FM Sitharaman said.
She said "The outlay for PM Awas Yojana is being enhanced by 66 per cent to over ` 79,000 crore."
Pradhan Mantri PVTG Development Mission
To improve socio-economic conditions of the particularly vulnerable tribal groups (PVTGs), Pradhan Mantri PVTG Development Mission will be launched. This will saturate PVTG families and habitations with basic facilities such as safe housing, clean drinking water and sanitation, improved access to education, health and nutrition, road and telecom connectivity, and sustainable livelihood opportunities. An amount
of ` 15,000 crore will be made available to implement the Mission in the next three years under the Development Action Plan for the Scheduled Tribes.
iGOT Karmayogi
Under Mission Karmayogi, Centre, States and Union Territories are making and implementing capacity-building plans for civil servants. The government has also launched an integrated online training platform, iGOT Karmayogi, to provide continuous learning opportunities for lakhs of government employees to upgrade their skills and facilitate people-centric approach.
GOBARdhan scheme
500 new 'waste to wealth' plants under GOBARdhan (Galvanizing Organic Bio-Agro Resources Dhan) scheme will be established for promoting circular economy. These will include 200 compressed biogas (CBG) plants, including 75 plants in urban areas, and 300 community or cluster-based plants at total investment of ` 10,000 crore. I will refer to this in Part B. In due course, a 5 per cent CBG mandate will be introduced for all organizations marketing natural and bio gas. For collection of bio-mass and distribution of bio-manure, appropriate fiscal support will be provided.
PM-PRANAM
"PM Programme for Restoration, Awareness, Nourishment and Amelioration of Mother Earth" will be launched to incentivize States and Union Territories to promote alternative fertilizers and balanced use of chemical fertilizers.
Green Hydrogen Mission
The recently launched National Green Hydrogen Mission, with an outlay of ` 19,700 crores, will facilitate transition of the economy to low carbon intensity, reduce dependence on fossil fuel imports, and make the country assume technology and market leadership in this sunrise sector. Our target is to reach an annual production of 5 MMT by 2030.
National Apprenticeship Promotion Scheme
To provide stipend support to 47 lakh youth in three years, Direct Benefit Transfer under a pan-India National Apprenticeship Promotion Scheme will be rolled out.
Mahila Samman Bachat Patra
For commemorating Azadi Ka Amrit Mahotsav, a one-time new small savings scheme, Mahila Samman Savings Certificate, will be made available for a two-year period up to March 2025. This will offer deposit facility upto 2 lakh in the name of women or girls for a tenor of 2 years at fixed interest rate of 7.5 per cent with partial withdrawal option.