Vande Bharat train inaugurated: New features, upgrades
1 October, 2022 | Pranay Lad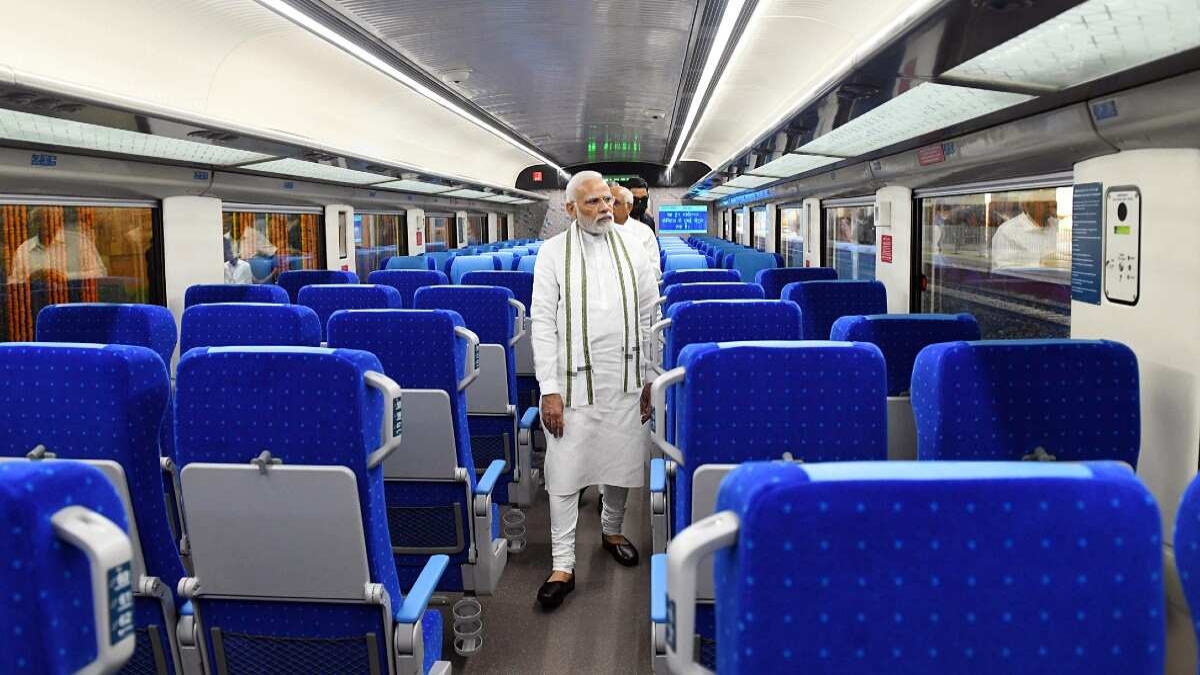 On Friday, Prime Minister Narendra Modi rode the brand-new Vande Bharat trainset from Gandhinagar to Kalupur in Gujarat for around 30 minutes. In 2019, when the Vande Bharat was initially introduce...
On Friday, Prime Minister Narendra Modi rode the brand-new Vande Bharat trainset from Gandhinagar to Kalupur in Gujarat for around 30 minutes.
In 2019, when the Vande Bharat was initially introduced in Delhi, Modi also inaugurated it. But at that point, he had not ridden in it.
Despite sharing the same name, the third train in the Vande Bharat series has been given the moniker "Vande Bharat 2.0" due to improvements over the two trains that have already travelled from Delhi to Varanasi and Katra.
According to Railway Minister Ashwini Vaishnaw, the Vande Bharat would receive updates and a new "version" with each run of manufacture, even if the name will not change.
The new trainset is around Rs 115 crore more expensive than the previous model, or Rs 15 crore. After three years of operation, input from the trains was taken into consideration while revising the requirements.
What are the main improvements?
First off, this train accelerates to its peak speed of 160 km/h in 129 seconds, some 16 seconds quicker than its forerunner. This is due to the fact that this train needs to travel about a mile less to reach its peak speed because it weighs 392 tonnes, which is 38 tonnes less than the previous train.
Additionally, it has a better riding index than the previous model, down from 3.87 to 3.26 at 180 km/h. Its riding index is 3.26 at a conventional speed of 115 kilometres per hour, which is higher than the prior version's 3.62 at the same pace. An international standard for rolling stock, the riding index is determined through testing by measuring vertical and lateral acceleration.
Safety measures:
The automated anti-collision system Kavach, which the earlier trains lacked, is installed in the new train's safety features. Disaster lights are equipped with coaches, and their battery backup has been enhanced from one hour to three hours.
There are now eight flatform-side cameras on the outside, up from four. Coaches also include a passenger-guard communication system with an automated voice recording option.
The new trainset is taller, increasing its protection from flooding from 400 mm to 650 mm.
What travellers may anticipate:
One difference from earlier models, which had fixed backseats in the lower class, is that all the seats now recline. 180-degree rotating chairs are an extra bonus for executive coaches.
The Railways states that the inside air is filtered using a photo-catalytic ultraviolet air purification system with UV light, which renders 99.9% of microorganisms inactive. This feature was missing from older trainsets.
Another recent addition to the coaches is a centralised coach monitoring system, which uses CCTV cameras. The internal network now supports data at a far faster rate of 1 gigabit per second than it did previously—a vast improvement. This translates to audiovisual content streaming of higher quality.
Additionally, each coach now features a 32-inch LCD monitor instead of the previous 24-inch screen and has an integrated infotainment system with wifi capability.
Food alternatives made from ragi, bhagar, cereals, oats, muesli, and other "health conscious and low calorie" ingredients would be offered, according to Railways' catering arm, Indian Railway Catering and Tourism Corporation. Sabu dana, bhagar, and fruit-based dishes will also be available.
The Vande Bharat's customised cuisine is also in line with 2023's theme, which is set to be recognised as the International Year of Millets. The UN General Assembly adopted a resolution in April 2021 designating 2023 as the International Year of Millets under the leadership of India, according to the Railways.
For the first time, kids' malt drinks will be available on the luxury train. According to the Railways, the typical chocolate bar will be replaced with "Peanut Chikki," which will use peanuts that come from nearby farmers and adhere to the "Be Vocal, Go Local" philosophy.
Future Plans:
400 Vande Bharats will be distributed as part of an initiative by India. 75 such trains will be introduced by the nation by the end of August 2023. In order to meet the goal, it is planned that this third trainset will continue its commercial service while at the same time the Railway manufacturing units continue to produce more each month.
Planned is the introduction of Vande Bharat with sleeping beds for overnight trips. These trainsets might potentially have an aluminium body, which would make them lighter.
Read more: Pak Floods: World Bank to provide $323 bn to farmers in flood-hit areas of Sindh