"Gehlot's statement a conspiracy…": Vasundhara Raje counters Rajasthan CM's claim
8 May, 2023 | Vaishali Sharma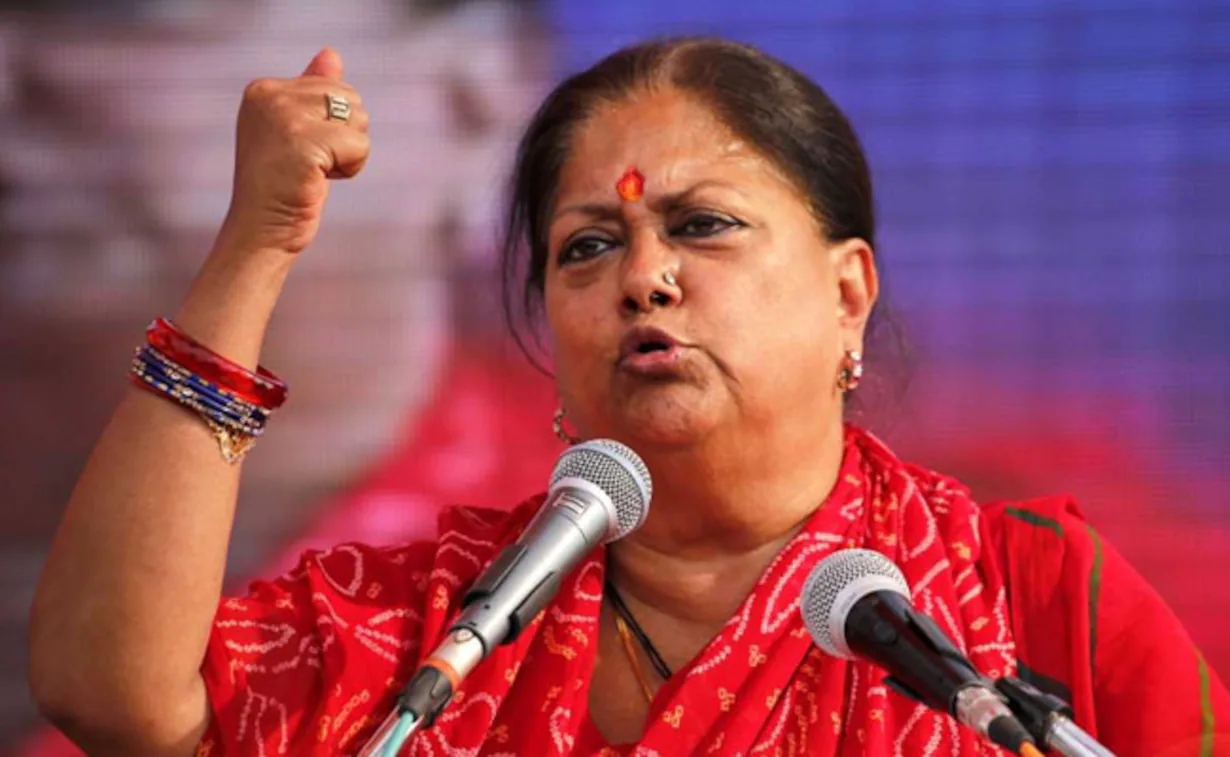 Former CM and BJP leader Vasundhara Raje countered Ashok Gehlot's claims, saying he is lying out of fear of losing the 2023 Assembly elections.
Vasundhara Raje, the former Rajasthan chief minister and prominent member of the Bharatiya Janata Party, refuted Ashok Gehlot's assertions, claiming that the chief minister of Rajasthan is lying out of a fear of losing the 2023 Assembly elections and that his false accusations demonstrate how alarmed he is by the uprising in the state Congress unit.
Targeting rivals within the Congress, Rajasthan's chief minister Ashok Gehlot expressed gratitude to two other BJP leaders, including former chief minister Vasundhara Raje, for their assistance in preserving his administration during the crisis of 2020, when some Congress MLAs attempted to overthrow him.
Vasundhara Raje said, "Gehlot's statement against me is a conspiracy. Nobody can insult me as much as Gehlot has done. He is lying out of fear of losing the 2023 Assembly elections and has made such false allegations as he is rattled by the rebellion in his own party".
Speaking at a programme in Dholpur on Sunday, Gehlot revealed that BJP government union ministers had planned the 2020 crisis and asserted that Vasundhara Raje, former Assembly Speaker Kailash Meghwal, and MLA Shobharani Kushwaha were opposed to overthrowing the elected Congress government.
Gehlot said, "Former Chief Ministers of Rajasthan Vasundhara Raje Scindia, Shobha Rani and Kailash Meghwal knew their party people were toppling the government. Vasundhara Raje Scindia and Kailash Meghwal had said that it has never been our tradition to topple the elected government on the basis of money. They did not support those who toppled the government due to which our government survived."
Targeting rivals within the party, CM Gehlot said he had requested the MLAs, who revolted to return the money they had taken from the BJP so that they could perform without any pressure.
"Amit Shah, Dharmendra Pradhan, and Gajendra Shekhawat conspired together and distributed the money inside the Rajasthan government. I advised our MLAs (who revolted) that even if some of the money taken has been spent by them, they should inform us. I will give you money and tell AICC, but don't take BJP's money. If you will keep their money, they will scare you later, threaten you… They took away 25 MLAs. Amit Shah plays a very dangerous game, give his money back," Gehlot said while exposing the BJP's gameplan of toppling his government.
In July 2020, Ashok Gehlot claimed that the BJP was attempting to topple his government by paying off Congressmen, but the BJP denied any involvement. Since before 2020, Pilot and Gehlot have been at odds, and Pilot was fired as state unit chief and deputy CM as a result.
By claiming that the state government in Rajasthan did not look into cases of alleged corruption while the Bharatiya Janata Party was in power, Pilot once more opened a fresh front against Gehlot, his longtime political rival within the party. He also announced his intention to hold a day-long fast on April 11 to demand action.
According to ANI quoting party sources, the Congress party convened a meeting to address the issue involving Sachin Pilot and Rajasthan Chief Minister Ashok Gehlot.