Vedanta-Foxconn chooses Gujarat to set up semiconductor plant worth Rs 1.54 lakh cr
14 September, 2022 | Pranay Lad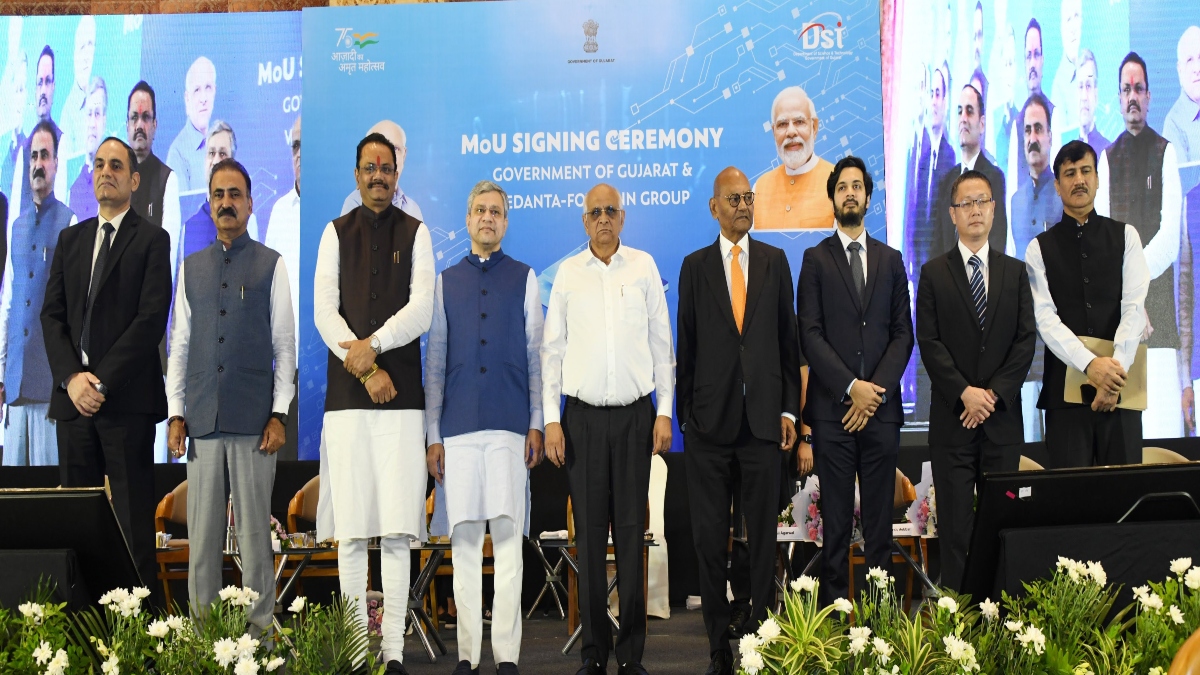 According to Vedanta group chairman Anil Agarwal, Vedanta-Foxconn chose Gujarat as the location for their semiconductor plant in order to establish a strong manufacturing base in India. With the st...
According to Vedanta group chairman Anil Agarwal, Vedanta-Foxconn chose Gujarat as the location for their semiconductor plant in order to establish a strong manufacturing base in India.

With the state government, a memorandum of understanding was inked in order to build the semiconductor plant, which will cost approximately Rs 1.54 lakh crore.
Agarwal wrote in a series of tweets, "History is created! Happy to announce that the new Vedanta-Foxconn semiconductor plant will be built in #Gujarat. Vedanta's landmark investment of Rs 1.54 lakh crores will help create India's #Atmanirbhar Silicon Valley."

In addition to creating 1 lakh direct skilled employment, this project is anticipated to lower India's electronic imports, according to another tweet he sent. It would also benefit the nation's manufacturing industry.
According to Prime Minister Narendra Modi, Vedanta-proposed Foxconn's investments of Rs 1.54 lakh billion to build semiconductor manufacturing plants in Gujarat will "make a huge impact to promote economy and jobs."

A Memorandum of Understanding (MoU) was inked by the Anil Agarwal-led Vedanta Limited and Taiwan's Foxconn on Tuesday with the Gujarat government for the establishment of a semiconductor and display FAB manufacturing unit in the state. The investment of Rs 1.54 lakh crore would have a substantial influence on boosting the economy and creating jobs, the Prime Minister of India stated in a tweet. "This MoU is a crucial step in furthering India's chip manufacturing goals."
Vedanta-proposal Foxconn's to build the semiconductor plant in Gujarat, according to Home Minister Amit Shah, is a significant accomplishment for the state. Bhupendra Patel, the chief minister of Gujarat, was hailed by Shah for bringing significant investments to the region.

Shah said at a gathering to lay the groundwork for various development projects, "Bhupendra Patel has completed one year of his term. Various people doubted his capabilities saying that he had never been a minister, but today I can proudly say that Bhupendra Patel has shown how development work can be done without speaking. In this one year, Gujarat has reached new heights.
CM Patel recently visited the state following the signing of the MoU between the Gujarati government and the Vedanta-Foxconn company, which is a significant accomplishment for the region. According to the Home Minister, Gujarat has earned the top spot nationally for good governance, demonstrating the impact of Bhupendra Patel's efforts.

Together, Vedanta Limited and Foxconn of Taiwan have decided to invest more than Rs 1.54 lakh crore in Gujarat.

Vedanta Semiconductors Limited will invest Rs 60,000 crore in Gujarat to build an integrated Semiconductor Fab Unit and OSAT facility, and Vedanta Displays Limited will invest Rs 94,500 crore to build a Display Fab Unit there.
In the presence of Union Minister for Electronics and Information Technology Ashwini Vaishnaw and Gujarat Chief Minister Bhupendra Patel on Tuesday in Gandhinagar, MoUs were signed for both projects.
According to a formal statement issued by the Gujarati government soon after the two MoUs were signed, they will jointly contribute more than Rs 1.54 lakh crore in investment and create about 1 lakh new job opportunities in the state.

Vedanta and Foxconn Group's proposed investment will support the growth of upstream and downstream electronics manufacturing clusters as well as the fostering of strong trade ties by enabling the establishment of India's first display manufacturing fab unit and an integrated semiconductor fab unit with OSAT facility.
The semiconductor fab unit will revolutionise the economy in addition to elevating India to a major player in the supply chain. It will produce income for the state and provide youth with major employment prospects. The proposed semiconductor fab unit would use 300mm-wide wafers with 28nm technology nodes, while the display unit will create Generation 8 displays for use in small, medium, and large applications.
Vedanta Limited is a highly diversified Indian multinational corporation with a sizable presence in the oil and gas, mining, and power generation industries. It brings in more than $20 billion annually.
The 22nd-ranked company in the 2021 Fortune Global 500 is Taiwan's Hon Hai Technology Group, popularly known as Foxconn worldwide.
Read more: Russia to consider visa-free entry to Indian tourists