India's democracy "most functional" on any global parameters: Vice President Dhankhar
6 May, 2023 | Pragati Singh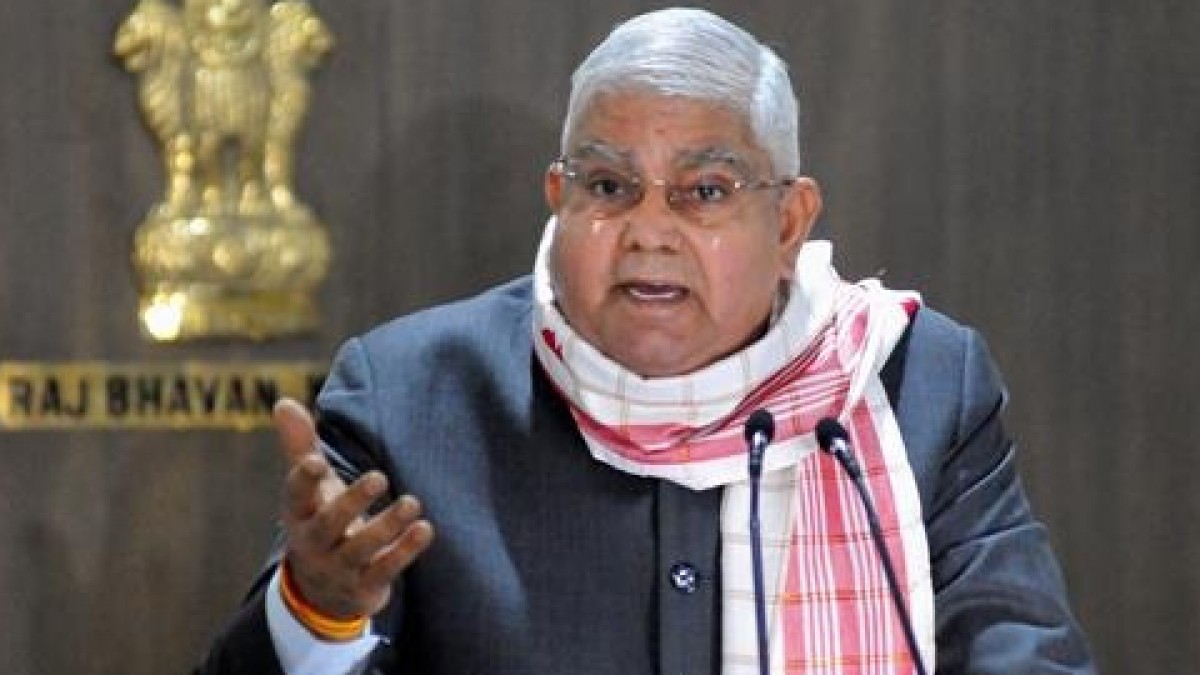 India at the moment is the democracy that is most functional on any global parameters, if you look at the three wings of the state - the legislature, the judiciary, and the executive.
As he spoke with the Indian community in the UK on Saturday, Vice President Jagdeep Dhankhar praised the community's contributions to society and praised India as the "democracy which is most functional on any global parameters" at the moment. He also praised the relationship between India and the UK.
He said, "India is proud of its diaspora. They are 24X7 ambassadors of Bharat – 1.7 million here and 32 million all over the world. They can be complemented for exemplifying and that exemplification is considered by every quarter that they remain fully committed to their karmabhoomi and also to janmabhoomi. This wholesome balance they strike with amazing capability."
"India at the moment is the democracy that is most functional on any global parameters, if you look at the three wings of the state – the legislature, the judiciary, and the executive, you will find that executive, headed by Prime Minister Narendra Modi has transformed one-sixth of humanity to an unimaginable level of all societal parameters and elements that go to alleviate the suffering of the people. Empowering the common man is taking place. Infrastructure growth, which could never be dreamt of earlier, is a ground reality. You see it in road, rail, air, or technological connectivity," Vice President Jagdeep Dhankhar said.
According to him, India will experience 1.5 trillion in digital payment transactions by 2022. He emphasised that there are 700 million Internet users in India and that they have revolutionised service delivery to an extent that was previously unimaginable.
"I had indicated to the Honourable members of Parliament and just to give an illustration, digital payment transactions amounted to 1.5 trillion in 2022 in India. 1.5 trillion in 2022, if I take these statistics in relation to US, UK, France, and Germany took together, it is four times," Dhankhar said.
"We have 700 million internet users and not just users, they have transformed India's service delivery system to a level which could never be imagined earlier. A sense of transparency, accountability, and delivery system is the new mantra," he added.
He claimed that without the use of a middleman, 110,000,000 farmers currently receive amounts totaling two lakh 20,000 crores three times per year directly into their accounts. "Look at the kind of transformation, revolutionary change that has taken place. Power corridors have been sanitized of power brokers."
According to Jagdeep Dhankhar, an ecosystem is developing that allows every young person to fully express their energy and potential. He claimed that the new norm at every stage is skill development and capacity building. After 34 years, he claimed, education policy had evolved.
" There is the evolution of an ecosystem and that enables every youth to fully unleash his or her energy and potential. And there are no fiscal constraints. If I look at mudra loans, look at the amount that has been distributed and each loane, most of them are women, has turned out to be job creator," Jagdeep Dhankhar said.
"Skill development and capacity building is the new norm at every stage. National education policy has evolved after 34 years. I am a product of education. If I had not got a scholarship, I would not have been what I am today. Education is the most effective, potent transformational mechanism. It is education alone that takes care of inequities in society, brings about the emancipation of the vulnerable, and empowerment of youth. That is something that is happening in this country," he added.
Jagdeep Dhankhar praised the Indian judiciary, claiming that it is "strong" from the supreme court on down the line. He emphasised that the Indian judiciary's reach for the average person is unparalleled.
"We have at the moment one of the most enlightened souls as Chief Justice of India, a man who brings on the table huge experience, commitment, passion, mission, enormously talented. But look at the orders. It takes him no time to grant relief to an ordinary man," he said.
"There shall always be issues in dynamics of governance. There will not be a day that henceforth, there will be no issues, there will be. To examine our judiciary is spinally strong from the apex court down the line. Looking around the reach of the Indian judiciary for the common man has no parallel. Imagine how outstanding achievement it is," he added.
According to him, Indian democracy is currently operating at a level that is unmatched anywhere else in the world. He commended the Indian Election Commission and emphasised how it can serve as a "lighthouse for the rest of the world on how to conduct elections fairly efficiently in the shortest time."
"Look at our parliamentarians. Those who get elected to the House of the People. It's the toughest test. Those who are in the upper house, very talented. We are proud of our parliamentarians. In the process, if we examine a brief limited area and be judgmental about it will not be appropriate. So, I have no difficulty in saying that Indian democracy is functioning at the moment at a level that is unmatched anywhere in the world. Can you name any other democracy on earth where the Constitution provides constitutional mechanisms at the village level, the municipal level, the state level, the central level, and the cooperative level, in Bharat all this is structured? Our institutions are spinally independent," Dhankhar said.
Indians, according to Dhankhar, ought to be proud of their illustrious past. Dhankhar praised India for successfully combating the COVID-19 pandemic and noted that the vaccination dose was administered to individuals in a calibrated manner and that the certification was accessible via smartphone.
While interacting with the Indian community in the UK, Dhankhar said, "The moment of glory for India has come. The moment of glory of India is being reflected by ground reality. The world is recognizing it by all standards. Bharat is a land of opportunity, a favored destination of investment, and among the large economies even in a stressful period, the fastest-growing that is being seen on the ground. And the reason for this is affirmative governance."
He emphasized that more governance is the new mantra in India. He claimed that the world is feeling optimistic about India's rise.
"A new mantra was the minimum government, more governance. We are in times in Bharat now where an idea is not parked. There is no parking space for an idea. If the idea is good, it has to be executed fast. And that execution is taking place with big-ticket investments in infrastructure, airports, ports, and village development. Therefore, every one of you has to be 24X7 an ambassador of Bharat," Jagdeep Dhankhar said.
"A thought was indicated. Do we approve everything? We don't approve of everything in the family. We don't approve everything with our progeny, our children. But it has to be collaborative. It has to be cooperative. It has to be with a mindset so that things look up. There is no scope for humanity if it has to develop in a peaceful environment and bring about global order to be in a state of confrontation. The world is feeling positive with the rise of Bharat at the moment. It will be a positive factor for the stability of the world. 75th year of independence of Bharat "amritkaal" has been fully used. Every nook and corner has been subsidized. Heroes, unsung heroes of our freedom fighters have been identified and honoured ," he added.
He emphasised that every hardworking Indian worker, farmer, and successful government policies deserve credit for India's current ranking as the world's fifth largest economy.
"India has been rediscovered in an authentic manner. Firm foundation has been laid for what India will be in 2047 when centenary of its independence is to be celebrated. I said we are the fifth largest economy at the moment. By turn of the decade will be third. This achievement was beyond our dreams a few years ago. Credit goes to every hard-working Indian worker, farmer and effective governmental policies. Their honest execution in transparent and accountable manner. And look at our historical perspective in the world economy there was a time when India's share was more than that of any other country and that lasted for a fairly long period. We are retrieving it. Our development trajectory is geometrical, unstoppable. All these factors will tell you where India is heading," Jagdeep Dhankhar said.
Ministry of External Affairs official spokesperson Arindam Bagchi in a tweet wrote, "Connecting with the living bridge between India and the UK! VP Jagdeep Dhankhar @VPIndia interacted with members of the Indian Community in London, UK. VP appreciated the community members for their contributions to the society and lending strength to India Britain relationship."
Additionally, he spoke with current and former Members of Parliament from India in London. Dhankhar and his wife Sudesh arrived in London on Friday for a two-day visit to witness King Charles lll's coronation.
Bagchi tweeted, "VP Jagdeep Dhankhar @VPIndia had engaging conversations with Indian-origin Members of the UK Parliament belonging to various parties. Discussions touched upon multiple aspects of bilateral ties. VP lauded the support extended by the MPs in bringing the two countries closer."
During King Charles III's reception at Buckingham Palace in the United Kingdom on Saturday, Vice President Jagdeep Dhankhar spoke with the leaders of Israel, Brazil, and Italy, including Presidents Isaac Herzog of Israel, Luiz Inacio Lula da Silva of Brazil, and Sergio Mattarella of Italy. Additionally, he spoke with King Charles III.
Dhankhar also attended a special gathering of Commonwealth leaders that King Charles III hosted at Marlborough House in London. During King Charles III's reception at Buckingham Palace, he also got to know US First Lady Jill Biden and UK Prime Minister Rishi Sunak's wife Akshata Murty.
To attend King Charles III's coronation, Jagdeep Dhankhar and his wife Sudesh Dhankhar arrived in London on Friday. Eight months after his accession to the throne, King Charles III is set to be crowned on May 6.