Wakanda Forever Stays No. 1 for 4th Straight Weekend
5 December, 2022 | Pranay Lad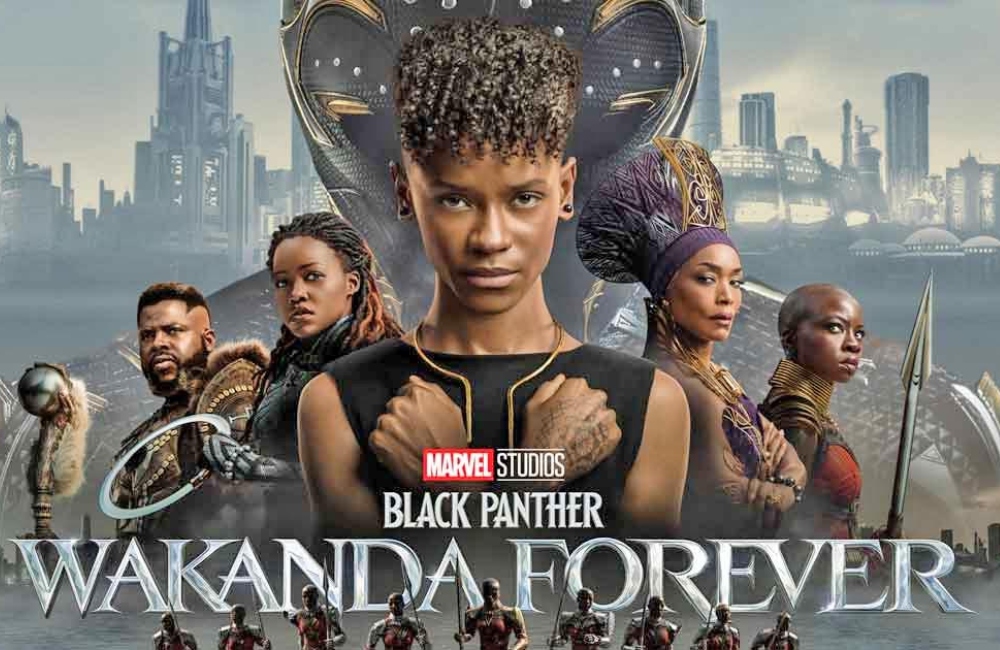 Black Panther: Wakanda Forever has dominated the box office for the past four weeks. The worldwide gross for Ryan Coogler's Marvel film is $733 mil, including $339 mil from sales abroad
According to studio predictions made on Sunday, Violent Night, a comedic Christmas thriller, began with $13.3 million while Wakanda Forever maintained its dominance at the box office for a fourth consecutive weekend. However, a movie that was glaringly missing from cinemas was the topic of conversation this past weekend.
Rian Johnson's whodunit sequel Glass Onion: A Knives Out Mystery would have been one of the weekend's top draws if Netflix had allowed it to remain in cinemas. Glass Onion was launched last weekend by the streamer in around 600 cinemas as part of its first agreement with North America's biggest chains. The Netflix movie allegedly made roughly $15 million, which is a commendable sum for a medium-sized release even if it is substantially less than the 4,000+ theatres most blockbuster movies debut in.
Netflix withheld information on ticket sales and yanked Glass Onion on Tuesday in favour of keeping the film's theatrical run to just one week before its Dec. 23 streaming premiere. The goal of Netflix, according to its officials, is to increase the number of streaming service users. Netflix's CEO, Reed Hastings, acknowledged that the firm left "loads" of money on the table by making the move on Wednesday.
Therefore, this weekend's moviegoers were served largely leftovers as opposed to dining on Glass Onion, as ticket purchasers did in 2019 after Thanksgiving when Lionsgate debuted Knives Out.
Wakanda Forever from the Walt Disney Co. has dominated the box office for the past four weeks. The worldwide gross for Ryan Coogler's Marvel film is $733 million, including $339 million from sales abroad.
The sole brand-new broad release in theatres was Violent Night. The Universal release, which starred David Harbour as a less-than-holy Saint Nick, got off to a strong start. The production of Violent Night, which received a B+ CinemaScore from viewers, cost roughly $20 million.
Though Christmas blockbusters like Puss in Boots 2, Babylon, and I Wanna Dance With Somebody, as well as Avatar: The Way of Water, loom in the upcoming weeks, there are still fewer films in broad distribution than there were before the epidemic.
According to David A. Gross, who runs the box office weekly FranchiseRe, just 32 franchise movies have been released so far in 2022, compared to 58 in 2019.
There haven't been many family-friendly movies released recently. After a subdued opening weekend, Strange World, a high-profile animated fantasy adventure from Disney, fell to third place with just $4.9 million in its second week. Instead, you may view some of the best family-friendly films of the season.
Emma Thompson stars in the Roald Dahl adaption Matilda the Musical, which was co-produced by Netflix, Sony Pictures, and Working Title Films. With the exception of the United Kingdom and Ireland, where Sony released the movie into theatres last weekend, Netflix controls the worldwide distribution rights to the movie.
The top movie at the UK box office for the past two weeks has been Matilda, which has made $9.7 million during that time. Matilda starts to stream in the US on Christmas.
1. Wakanda Forever, $17.6 million.
2. Violent Night, $13.3 million.
3. Strange World, $4.9 million.
4. The Menu, $3.6 million.
5. Devotion, $2.8 million.
6. I Heard the Bells, $1.8 million.
7. Black Adam, $1.7 million.
8. The Fabelmans, $1.3 million.
9. Bones and All, $1.2 million.
10. Ticket to Paradise, $850,000.