Was only answering to Nupur Sharma's questions: says Ajmer Dargah cleric's son
14 July, 2022 | Pravina Srivastava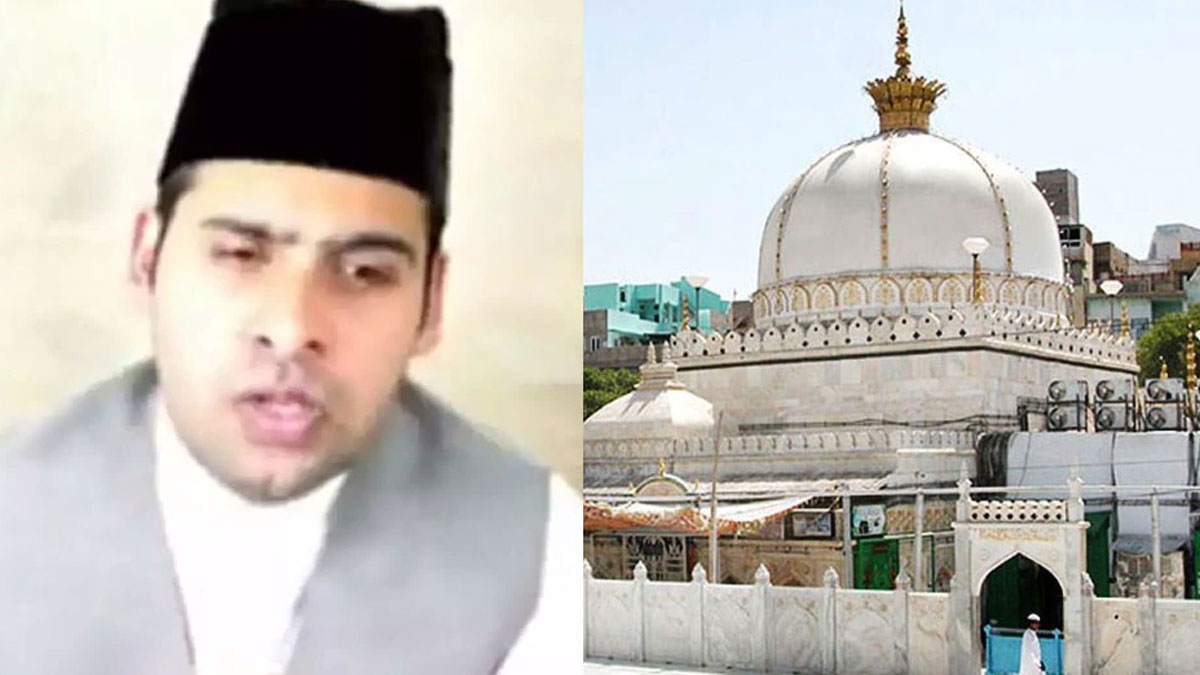 Syed Aadil Chishti, the son of Ajmer Sharif Dargah Khadim Sayed Sarwar Chishti, has apologized for his statements on Hindu gods and beliefs
Syed Aadil Chishti, the son of Ajmer Sharif Dargah Khadim Sayed Sarwar Chishti, has apologized for his statements on Hindu gods and beliefs, saying that he didn't want to offend anyone's religious views or sensibilities.
Syed Aadil Chishti is shown in a video apologizing for his statements and explaining that he was only expressing his viewpoint on those made by banned BJP politician Noopur Sharma.
He referred to remarks made by suspended BJP Spokesperson Nupur Shamra, whose remarks about the Prophet had caused an uproar, saying, "My purpose was not to criticise the Hindu faith or disrespect it, I was only replying to Nupur Sharma's queries."
Chishti said, "It is plainly stated in the Quran that do not speak ill of individuals of other religions."
In addition to denouncing the murder of Udaipur tailor Kanhaiya Lal, Syed Aadil Chishti demanded that those responsible for the crime face harsh punishment.
He further stated that "Every religion has some beliefs that defy common sense, yet we hold them because of our religious convictions. I apologize if my comments caused anyone's sentiments to be harmed."
In the meanwhile, on Wednesday, Vishva Hindu Parishad denounced the act and requested that the Rajasthani authorities detain him right now.
"The whole world is aware about the toxic statements of Chishti, due to which a climate of hatred was generated in the country and slogans were raised… and Kanhaiya was slain in Udaipur," stated VHP Joint General Secretary Surendra Jain.
He declared, "We would not accept the type of video published by his son Aadil Chishti in which he is shown disrespecting Hindu deities.
Surendra Jain, the leader of the VHP said, "Have people lost sight of the goals of civilization? I urge that the Rajasthani government take action against all of the Chishtis of Ajmer Sharif and put Aadil and his father Sarwar in jail if they are sincere about ensuring the safety of Hindus."
Additionally, he remarked, "You should start developing excellent manners and stop insulting Hindus."
A few days prior, Anjuman Committee secretary Sarwar Chishti had issued a warning of a movement that would "shock India." He had predicted that Muslims would start a movement that would shock India if the Prophet Mohammad were disrespected.
Gauhar Chishti, the nephew of Sarwar Chishti, made derogatory remarks against Nupur Sharma last month and shouted "sar tan se juda" in front of the Ajmer Sharif Dargah.