UK: 4 Detained For Vandalising King Charles' wax statue
25 October, 2022 | Pranay Lad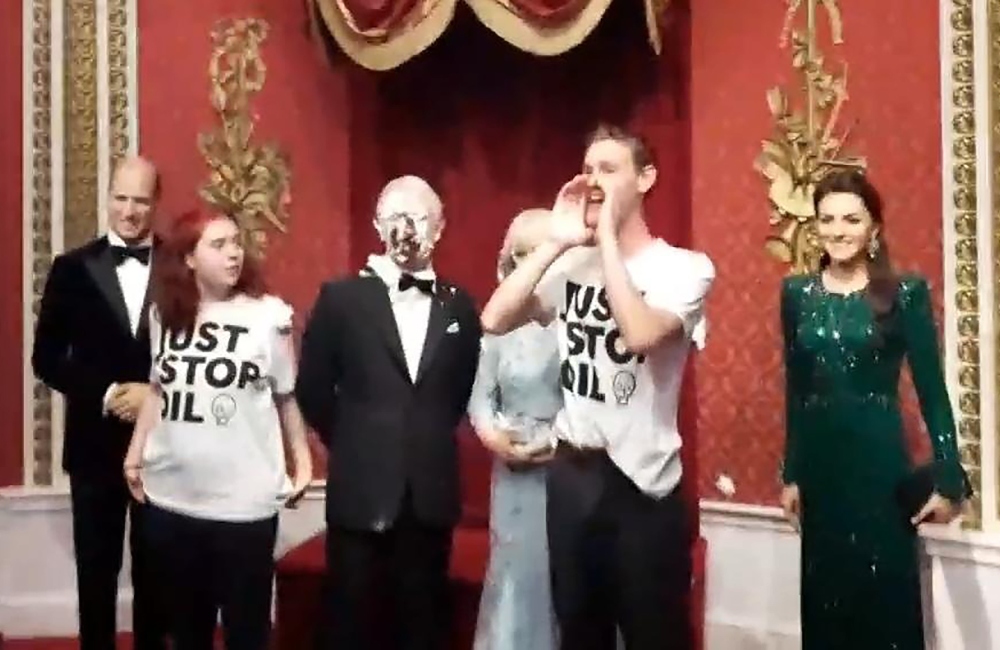 Four individuals were detained when two climate activists daubed chocolate cake on a wax replica of King Charles III of Britain at the Madame Tussauds Museum in London.
A man and a woman were seen spreading cake over the wax replica of the British monarch in a video posted on the Twitter account of the campaign organisation Just Stop Oil.
Before smashing the cake against the wax replica of the British monarch, the protestors could be seen in the film stripping off their black attire to expose white T-shirts with the slogan "Just Stop Oil." They could also be heard yelling, "Time for action!"
Four persons have been detained for criminal damage connected to this event, the police continued.
The two are "demanding that the Government cease all new oil and gas licences and consents," according to a statement from Just Stop Oil.
This is not the first time that protest organisations have sought to highlight the contribution of fossil fuels to climate change in Europe.
According to news sources, two anti-climate change demonstrators threw mashed potatoes at Claude Monet's "Haystacks" painting at the Barberini Museum in Potsdam, Germany this week.
Tomato soup was hurled onto Vincent van Gogh's "Sunflowers" in London's National Gallery earlier this month by Just Stop Oil protesters.
According to the media source, Keir Starmer, the head of the British opposition Labour Party, criticised the "arrogant" Just Stop Oil campaigners' conduct and claimed that their strategies harmed their cause.
According to the media outlet, he said to a caller on LBC Radio, "I believe they're wrong, I think their behaviour is wrong."
I particularly think of the pictures of ambulances trying to cross a road but being unable to do so because people had stuck themselves to the pavement, the speaker added.
"I believe it is conceited of those glueing themselves to the road to believing they are the only ones with the solution. They don't know the solution, "Added he.
Following the vandalism of Van Gogh's "Sunflowers," the Public and Commercial Services Union in Britain, which represents many workers in the arts and culture industry, released a statement saying that while they support the goals of climate change protests, "attacking our shared national heritage is not a constructive way to achieve these goals."
"We cannot support these excessive and risky actions that put our members in danger while they attempt to work," the union continued.