Will announce on Indian soil new vision on Free and Open Indo-Pacific: Japan PM Kishida
20 March, 2023 | Pragati Singh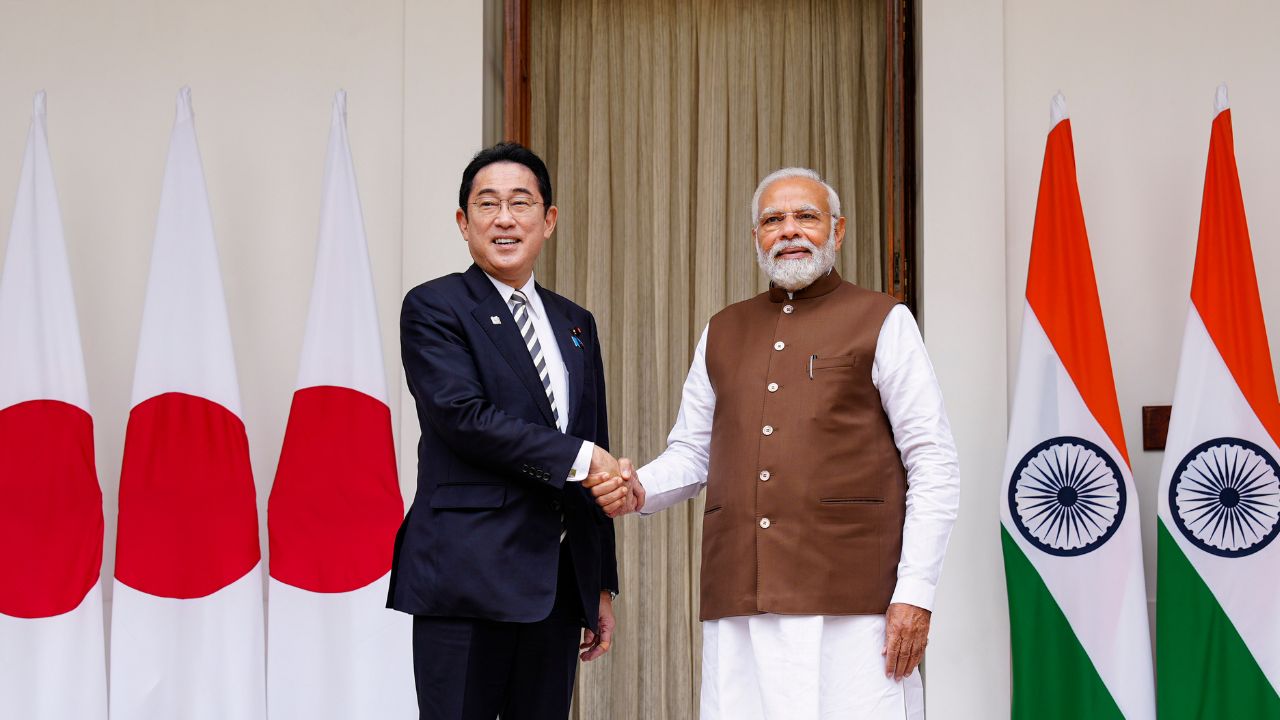 PM Modi shared his thoughts on various themes in the international community.
Japan Prime Minister Fumio Kishida said on Monday that he will unveil his new Free and Open Indo-Pacific (FOIP) strategy on Indian territory, calling India an "indispensable partner" for his nation.
"It gives me great pleasure to be able to unveil my new vision on the soil of India which is our indispensable partner in realising FOIP": Kishida said during a joint press statement after holding delegation-level bilateral talks at Hyderabad House here.
In addition, the visiting Japanese Prime Minister will deliver the 41st Sapru House Lecture on Indo-Pacific strategy. In fact, the late Japanese Prime Minister Shinzo Abe first addressed Indo-Pacific cooperation on a visit to Delhi fifteen years ago.
"I also intend to further strengthen the Special Strategic and Global Partnership between India and Japan. In addition, during my stay in India, I will announce a new plan related to the Free and Open Indo-Pacific (FOIP)," Kishida said in a tweet before departing for India.
The Japanese Prime Minister also invited Prime Minister Modi to the G7 Hiroshima Summit, which is set to take place in May of this year. He stated that PM Modi "immediately accepted" the offer and that both nations will work together to ensure a successful G7 Hiroshima Conference and G20 New Delhi Summit.
During the joint press statement, the Japanese Prime Minister said, "I formally invited PM Modi to G7 Hiroshima Summit and on the spot, my invitation was immediately accepted."
The two presidents discussed the difficulties confronting the world community and agreed to tight collaboration between the G7 and G20 summits, as the two nations held the summit presidencies, respectively. Kishida went on to say that Japan reaffirmed its strong commitment to upholding the international system.
"PM Modi shared his thoughts on various themes in the international community, especially in areas of development finance, food & security, and climate energy, Kishida added.
About the improvement of bilateral relations between India and Japan, Kishida stated that New Delhi is Tokyo's unique strategic global partner, and that several consultations have taken place.
"Our economic cooperation with India which continues to grow rapidly will not only support the further development of India but also create significant economic opportunities for Japan. In this regard, we welcome that steady progress is being made towards realising 5 trillion yen of public & private investment in financing from Japan to India in 5 years," Kishida said further during the joint statement held in Hyderabad House in New Delhi on Monday.
Kishida stated that 2023 will be the year of Japan-India tourist exchange. It will encourage tourism interactions between India and Japan.
"2023 will be the year of the Japan-India tourism exchange to promote our exchanges through tourism. I welcome the renewal of our MoC on Japanese language education," the Japanese PM said.
Japan's Prime Minister also stated that the country will continue to collaborate with India on decarbonization and energy. Kishida landed in India this morning and paid a floral homage to Mahatma Gandhi at the Rajghat Mahatma Gandhi monument. Following that, he went to Hyderabad House, where the two leaders conducted delegation meetings.
"Delegation level talks led by PM @narendramodi and PM @kishida230 of Japan commence. Wide-ranging agenda on the table with a focus on cooperation in economy & commerce, climate & energy, defence & security, P2P, skill development," the official spokesperson of MEA, Arindam Bagchi wrote on Twitter.
Kishida's visit provided a crucial chance for both countries to interact bilaterally after the previous Summit meeting between India and Japan in March 2022.
In terms of commercial and economic connections, India and Japan had the highest-ever bilateral trade volume of USD 20.75 billion last year. Japan is India's closest ally, and the two nations have an annual summit as well as a 2+2 Foreign and Defense Ministers Conference.