Wrestlers invite "all political parties" to join their protests demanding action against WFI chief
24 April, 2023 | Anupam Shrivastav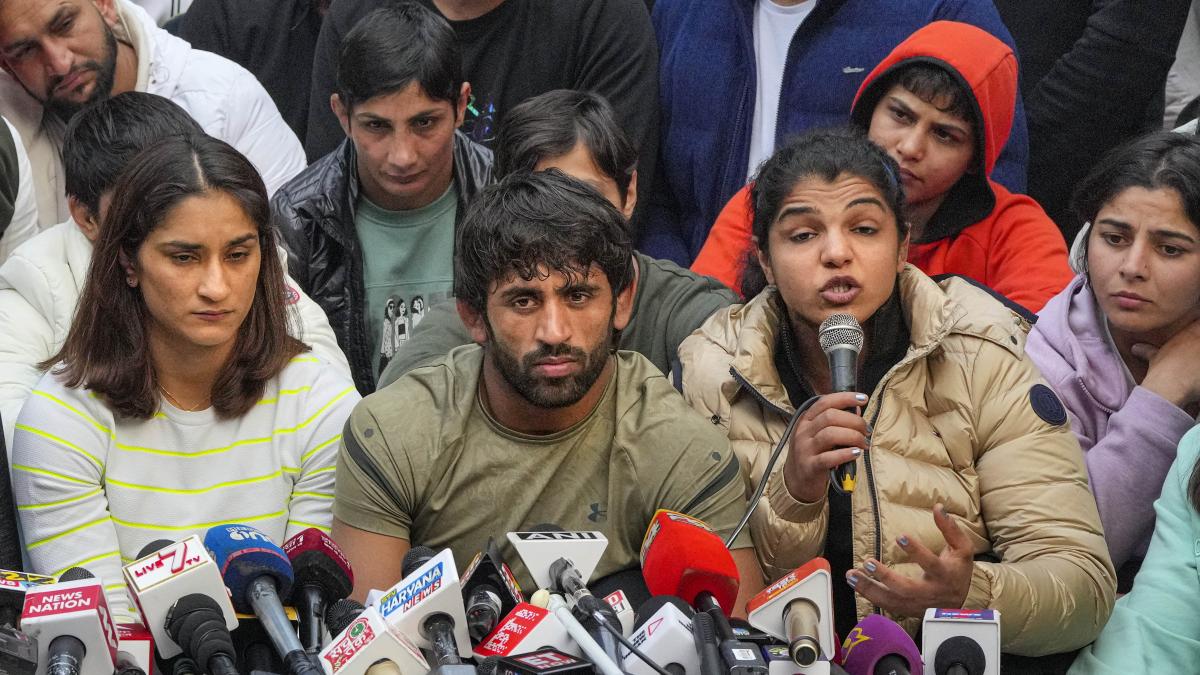 The sit-in-protests were restarted by top wrestlers after inaction against the WFI chief Brij Bhushan Sharan Singh.
Olympic medalist wrestler Bajrang Punia on Monday called upon all political parties to join their protests against WFI chief at Jantar Mantar as the top wrestlers resumed their sit-in protest demanding the arrest of Brij Bhushan Sharan Singh. The Olympian said that "all parties are welcome" to join them this time and that they will not back down until action is taken against the WFI chief.
Wrestlers including Bajrang Punia, Vinesh Phogat, Ravi Dahiya, and Sakshi Malik, among others had previously called off their Jantar Mantar protest in January after being guaranteed that a committee would investigate charges of sexual harassment and misbehavior against the WFI chief.
The wrestlers said they filed a case at the Connaught Place police station on Friday (April 21), alleging that Brij Bhushan, in his capacity as WFI chief, harassed and abused seven female wrestlers, including one minor. "It's been more than 48 hours since the complaint was made, but an FIR has not been filed yet," Punia told the reporters.
The ace wrestler stated that they will not turn anyone away this time, and that anyone who want to support their protest is welcome to join them. "…This time, all parties are welcome to join our protest whether it is BJP, Congress, AAP or any other party…..we're not affiliated with any party…," Bajrang said.
Earlier, Delhi Commission For Women (DCW) chief Swati Maliwal issued a notice to Delhi Police to register an FIR on the WFI chief. Another wrestler Vinesh Phogat put out a photograph that showed that the protesting wrestlers had been on the footpath entire night as she shared the tweet captioned "Podium se footpath tak"
During the protests in  January, Senior Communist Party of India (Marxist) leader Brinda Karat, who had arrived to express sympathy and join the wrestlers' protest, was asked to leave the stage because demonstrators did not want to politicize the matter. Following which the wrestlers agreed to end their protest in January after meeting Union Sports Minister Anurag Thakur. To investigate the wrestlers' accusations, the sports ministry appointed a five-member team led by Olympic medalist boxer MC Mary Kom.
Although ace wrestler Sakshi Malik said that despite several guarantees, the Committee did not fulfil a single the demand. "A committee was formed 2.5 months ago and we were given multiple assurances. We waited for months for the report and not a single demand was fulfilled. Seven girls have a sexual harassment case against Brij Bhushan still no action has been taken," Malik said.
Wrestlers determined, demand resolute action against WFI chief
Sakshi Malik also stated that they will not deny any political party's assistance this time. "It was our mistake that last time when people wanted to support us we did not let them, we will not repeat the same mistake. This time everyone is welcome, any party can come and support us," Malik added.
Wrestler Vinesh Phogat broke down on Sunday and declared that the wrestling community will continue to protest. "We will sit here day and night. Till the time we don't get justice. We will sit here," she said.
"It is about our safety and if we international medal-winning female wrestlers are not safe then who is safe? We are from a wrestling family and we are trying to save it till our last breath," Vinesh stated.
When questioned about the committee's operations, Vinesh stated that she is unaware of the committee's operations. "We don't know what the committe is doing. We are asking for justice and we came in front of the entire public to ask for justice and here we are again."
Talking about the issue of DCW issuing a notice to Delhi Police Vinesh Phogat said "It's been three months, and we haven't got justice, that's why we are protesting again. We demand justice, FIR has not been registered yet. We are grateful that DCW is supporting us."
Top Indian wrestlers such as Bajrang Punia, Vinesh Phogat, Ravi Dahiya, and Sakshi Malik staged a sit-in protest in Jantar Mantar in January this year, demanding that Brij Bhushan Sharan Singh be ousted from the Wrestling Federation of India's head office and the Wrestling Federation of India be disbanded.
They accused the WFI body and its president of sexual harassment and maltreatment of wrestlers.