"It hurts to see athletes on streets demanding justice": Neeraj Chopra lends support to wrestlers
28 April, 2023 | Anupam Shrivastav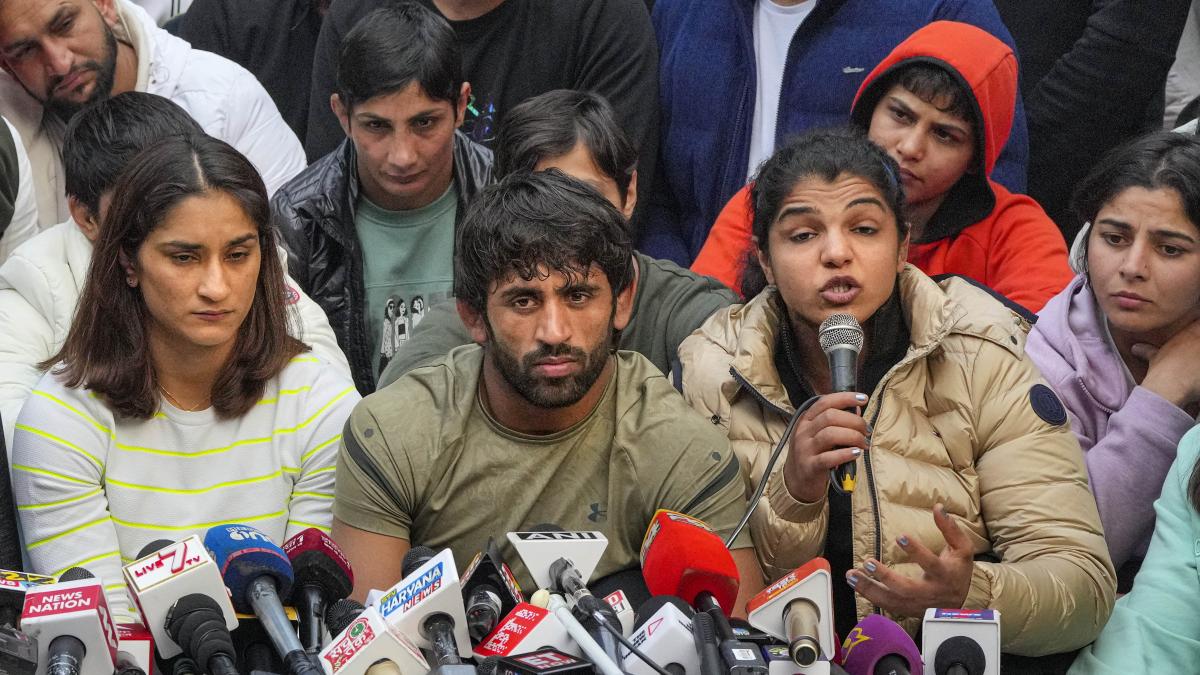 Neeraj Chopra has joined his voice to support the ongoing wrestlers protest after first Olympian Abhinav Bindra tweeted in support.
India's gold medalist javelin thrower Neeraj Chopra has come out in support of wrestlers protest in the WFI harassment row. The track and field athlete in a tweet said that he was 'hurt' to see athletes demanding justice on the street.
"It hurts me to see our athletes on the streets demanding justice. They have worked hard to represent our great nation and make us proud," Tokyo Olympics gold medalist said in a tweet on Friday. He said," As a nation, we are responsible for safeguarding the integrity and dignity of every individual, athlete or not." Neeraj said.
"What's happening should never happen. This is a sensitive issue, and must be dealt with in an impartial and transparent manner. Pertaining authorities must take quick action order to ensure that justice is served," he added.
Indian wrestlers have been holding protests at Jantar Mantar in New Delhi against Brij Bhushan Sharan Singh President of the Wrestling Federation of India (WFI) over sexual harassment allegations.
Top Indian wrestlers including Vinesh Phogat, Sakshi Malik, Bajrang Punia, and many others have joined the protest against the WFI chairman. After three months of waiting, star wrestlers Vinesh Phogat, Sakshi Malik, and Bajrang Punia resumed their protest against WFI chief Brij Bhushan Sharan Singh on Sunday, claiming that no action had been taken in the matter and that no FIR had been filed against the WFI chief.
Ace India wrestler Sakshi Malik grieved in the presence of the media as wrestlers continued their protests at Jantar Mantar.
"We wanted to file a sexual harassment FIR against Brij Bhushan Sharan Singh. We got a complaint filed two days ago but FIR has not been registered yet. There are seven female wrestlers and one of them is a minor. We want the investigation to happen fast. It is a sensitive matter. We are being framed as liars which we cannot bear. We are waiting for two and a half months now but no one is listening. People are saying we are spent force that is why we are protesting. We just won a medal at CWG 2022," Sakshi told the reporters.
"It is being heard that we are finished, that is why we are protesting. For two and a half months the government has not taken any action. We cannot reveal the name of a minor. Otherwise, her name and career will get spoilt," she said.
Previously in January this year, India's top wrestlers Bajrang Punia, Vinesh Phogat, Ravi Dahiya, and Sakshi Malik, organized a sit-in protest in Jantar Mantar, demanding that Brij Bhushan be removed from the Wrestling Federation of India's head office and the Wrestling Federation of India be dissolved.
They accused the organization and its leader of sexual harassment and abuse of wrestlers.
After the protests in January, Ministry of Youth Affairs and Sports has made announcement for the formation of an 'oversight committee' to investigate the claims levied against WFI and its President Brij Bhushan Sharan Singh and several other coaches. The committee was tasked with delivering a report to the Ministry on the matter.
Abhinav Bindra tweets in support of the Wrestlers
On Wednesday, Abhinav Bindra, India's first individual Olympic gold medalist and member of the Olympics Athletes Commission, conveyed solidarity with Indian wrestlers protesting at Jantar Mantar in the national capital against Wrestling Federation of India (WFI) president Brij Bhushan Sharan Singh over sexual harassment charges.
On Wednesday, Abhinav Bindra responded to the wrestlers' protest with a heartfelt tweet. "As athletes, we train hard every day to represent our country on the international stage. It is deeply concerning to see our athletes finding it necessary to protest on the streets regarding the allegations of harassment in the Indian wrestling administration," Bindra said in a tweet.
"My heart goes out to all those who have been affected. We must ensure that this issue is handled properly, with the athletes' concerns heard and addressed fairly and independently. This incident highlights the crucial need for a proper safeguarding mechanism that can prevent harassment and ensure justice for those affected. We must work towards creating a safe and secure environment for all athletes to thrive in," he shared.