JP Nadda Criticizes Mamata Over Election Violence, Vows to Uphold Democracy in Bengal
13 August, 2023 | Anupam Shrivastava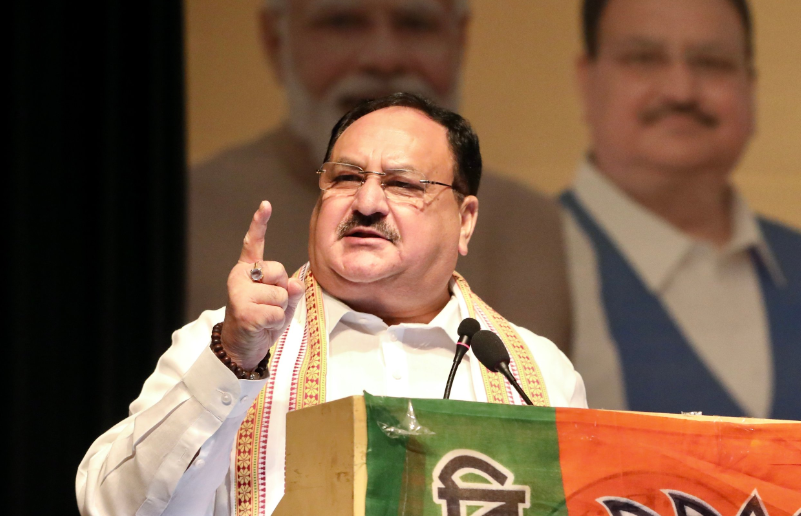 JP Nadda lamented the Democracy is being suppressed in West Bengal and the state is undergoing a difficult phase.
The BJP National President, JP Nadda, met with successful candidates of the panchayat elections on Saturday, commending them for their accomplishments amid challenging circumstances. He took a dig at Chief Minister Mamata Banerjee, suggesting that while she voiced concerns about other states, violence was unfolding in Bengal.
Nadda also expressed his condolences for the individuals who lost their lives during the panchayat polls. He launched a scathing criticism against West Bengal's Chief Minister, Mamata Banerjee, blaming her for the violence that marred both the Vidhan Sabha and Panchayat elections.
JP Nadda remarked, "The instances of violence during the Vidhan Sabha and panchayat polls reminded me of the bloodshed that occurred on August 14 during the partition of West Bengal and Kolkata. It's disheartening that such violence from the past is recurring now. Our party, with its 18 crore members, stands in support, and we will contest the elections in a democratic manner to secure victory."
He went on to describe how three committees were dispatched to West Bengal. These committees visited the homes and villages of state residents to evaluate the situation. "One committee, led by Ravi Shankar Prasad and including parliamentary members, was sent. Another committee, under Vinod Sonkar's leadership, and a third delegation led by Rajya Sabha MP Saroj Pandey, were tasked with assessing the plight of women affected by the atrocities. The findings of these three committees have been presented to the Home Minister, and the truth will be revealed soon."
Nadda affirmed, "While we will engage in a democratic fight, we will persist until we achieve a definitive resolution. Our aim is to safeguard democracy in Bengal."
He also emphasized his deep connection with Bengal, stating, "We proudly declare that what Bengal experiences today, India will experience tomorrow. Bengal has progressed in art, traditional values, language, and literature. The region played a significant role in the struggle for independence and produced religious leaders who guided the nation. It also produced leaders who battled social injustice."
Nadda lamented the current difficult phase that Bengal is undergoing. "Democracy is being suppressed. TMC supporters are propagating violence within the state. BJP members faced obstacles in submitting their nomination papers. The police stood by as passive bystanders. BJP members encountered threats, met with silence from the police, and still persevered through the elections. During the counting process, BJP agents were forcibly ejected. Despite this, the voters' verdict was clear: they wanted the lotus to flourish."
JP Nadda concluded, "If there is a government that prioritizes the people, the poor, and responsiveness, it is Prime Minister Modi's administration. His leadership has bolstered democracy. In contrast, CM Mamata Banerjee has dismantled and suppressed democracy."
Also Read: Change Hindi names to English: DMK on bills to revamp criminal laws