"Democracy Will Continue To Deliver", PM Modi Champions India's Rich Democratic Heritage at Vaishali Festival of Democracy
16 September, 2023 | Anupam Shrivastava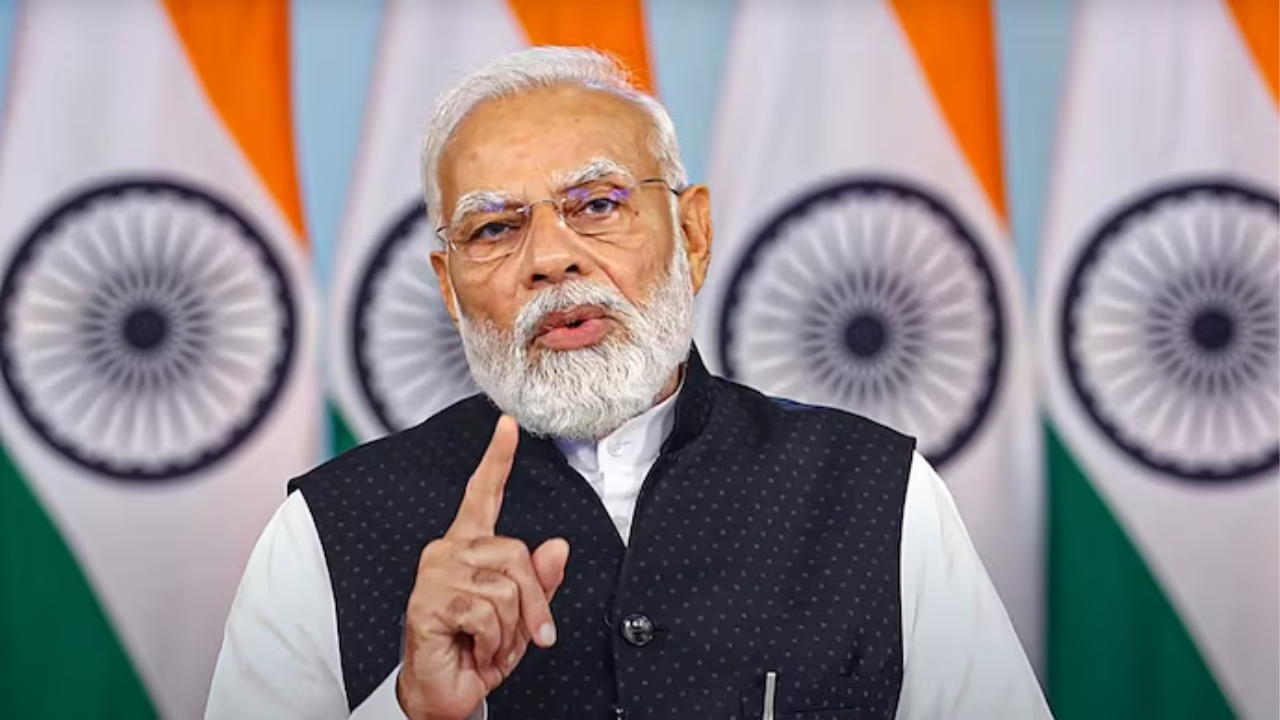 PM Modi praised the Festival of Democracy, emphasizing its aim to spotlight India's ancient democratic traditions and foster global dialogues on contemporary values.
In a resounding tribute to India's rich democratic heritage, Prime Minister Narendra Modi delivered a stirring video message to esteemed dignitaries at the Vaishali Festival of Democracy, held from September 15th to 16th, 2023, at Nalanda University in Rajgir, Bihar. This grand event welcomed ambassadors from Argentina, Nepal, Sri Lanka, Egypt, and Chile, providing them with a unique opportunity to delve into the historical riches of ancient Nalanda through guided tours, including visits to the Ruins of Nalanda University, the Shanti Stupa, and the Patna Museum.
Prime Minister Modi's Address
Prime Minister Modi's address began with a profound exploration of Vaishali, an ancient city in Bihar, whose name traces back to King Vishal of the Mahabharata era. He highlighted Vaishali as one of the earliest instances of a civilization practising democracy, referred to as Mahajan, and hailed Bihar as the probable birthplace of the world's first-ever republic.
"The ancient city of Vaishali stands as a testament to India's earliest experiment with democracy. This cradle of civilization, rooted in the principles of equality and justice, has much to teach us even in the modern era," Prime Minister Modi declared.
International Day of Democracy, a global reminder of the fundamental values of Democracy: PM Modi
He went on to emphasize the global significance of the International Day of Democracy, celebrated annually on September 15th. This day, he noted, serves as a global reminder of the fundamental values of democracy, underscoring the critical role democracy plays in empowering citizens and fostering peace on a worldwide scale.
"As we celebrate the International Day of Democracy, we are reminded of the enduring importance of democracy in upholding citizen participation and nurturing peace and harmony across the globe," Prime Minister Modi stated.
Prime Minister Modi expressed his gratitude for the Festival of Democracy organized by the Indian Council for Cultural Relations in partnership with Nalanda University. He emphasized that the event aimed to shine a spotlight on India's ancient democratic traditions and foster global dialogues on contemporary democratic values.
"The Festival of Democracy offers us a unique platform to celebrate our shared democratic values and engage in meaningful discussions about the future of democracy worldwide," Prime Minister Modi remarked.
In his video message, Prime Minister Modi delved deeper into the concept of "Ram Rajya," equating it with good governance and a society free from discrimination based on class or wealth. He reiterated that the essence of "Ram Rajya" was a society where everyone is equal, a principle deeply ingrained in India's democratic spirit.
The Prime Minister also traced India's democratic roots back over 2,500 years, highlighting the flourishing of elected republican city-states like Shakya. He noted that the principles of democratic participation were codified in inscriptions dating back to the 10th century, contributing to India's prosperity.
India's Democratic Credentials Still Intact After Centuries of Colonial Rule: PM Modi's Message
Prime Minister Modi acknowledged that despite centuries of colonial rule, the Indian people's democratic spirit remained resilient and re-emerged with India's independence, resulting in an unparalleled journey of democratic nation-building over the past 75 years. This journey, he described, involved unprecedented socio-economic inclusion, and remarkable advancements in healthcare, education, and overall human well-being.
"The India story resounds with a powerful message to the world: Democracy can deliver, it has delivered, and it will continue to deliver," Prime Minister Modi asserted.
In closing, Prime Minister Modi celebrated democracy as a spirit that upholds equality and dignity, embraces debate and discourse, and fosters a culture of diverse thoughts and expressions. He praised India for being blessed with these democratic values from time immemorial and the Indian people for responding to challenges in a democratic manner.
"India's proud democratic credentials shine bright, and every Indian can proudly say that India is indeed the mother of democracy," Prime Minister Modi proclaimed, concluding his inspiring address
Also Read: Chief Justice of India DY Chandrachud Commemorates Ram Jethmalani's Legacy in Memorial Lecture
Catch all the Latest Business News, Breaking News Events, and Latest News Updates on NewsX