In an effort to improve relations, Yellen criticizes China's treatment of US businesses
8 July, 2023 | Muskan Menghani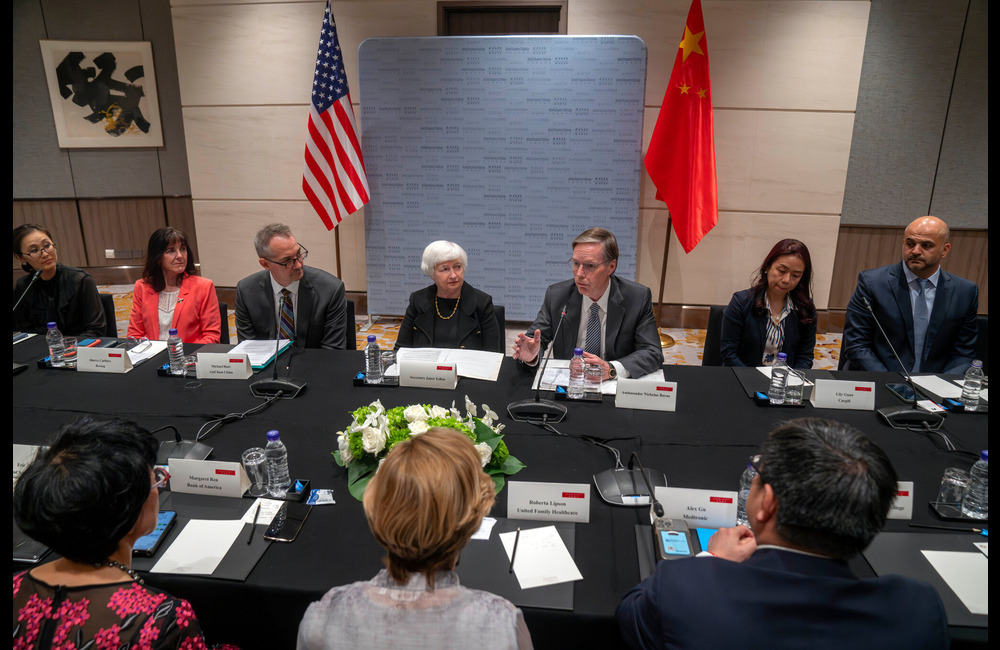 U.S. Treasury Secretary Janet Yellen criticized Chinese treatment of U.S. companies and new export controls on metals used in semiconductors during a visit on July 7 to Beijing to try to revive str...
"I am communicating the concerns that I have heard from the US business community, including China's use of non-market tools like expanded subsidies for its state-owned enterprises and domestic firms, and barriers to market access for foreign firms," said Federal Reserve Chair Janet Yellen.
During a visit to Beijing on Friday to try to mend strained relations, Treasury Secretary Janet Yellen criticised China's treatment of US businesses and new export controls on metals used in semiconductors. Speaking to a group of businessmen, Yellen defended US restrictions on technology exports that rankle Beijing by claiming they are essential for national security. She brushed off advice. The US economy is attempting to be "decoupled" from China's. According to a transcript made available by her department, Yellen stated that "the US seeks healthy economic competition with China."
I'm conveying the worries I've heard from the US business community about China's use of non-market tools, such as increased subsidies for its state-owned enterprises and domestic businesses, and barriers to market access for foreign companies," Yellen said.
Relations between the US and China are at their lowest point in decades as a result of disagreements over technology, security, Beijing's military buildup, and other irritations. According to the Treasury, Yellen met on Friday with Yi Gang, the departing governor of China's central bank, and Liu He, a former vice premier who had previously been her counterpart in financial negotiations. Premier Li Qiang, China's No. 2 leader, was to meet with her later. Treasury officials had earlier stated that Yellen wouldn't meet with Xi Jinping, the president of China. They stated that no resolutions to significant disputes were anticipated.
The Chinese finance ministry described Yellen's visit as a tangible step towards enacting a deal that Presidents Xi and Joe Biden made during their meeting in November to improve relations. No potential initiatives or compromises were mentioned. According to the ministry, trade wars or "decoupling and broken chains" will not produce any winners. We hope that the United States will take decisive steps to foster an environment that is conducive to the healthy growth of economic and trade relations.
Following raids on consulting firms, the expansion of national security law, and calls for greater self-sufficiency by Chinese leader Xi Jinping and other officials, US and other foreign companies are uneasy about their status in China. Punitive actions that have been taken against US companies recently "have particularly troubled me," Yellen said. The US restrictions on access to advanced processor chips due to security concerns have frustrated the Chinese government. The efforts of the governing Communist Party to advance telecom, artificial intelligence, and other technologies run the risk of being delayed or derailed.
Xi charged that Washington was attempting to obstruct China's progress in March. Beijing has been reluctant to respond in kind, possibly to prevent upsetting its own tech sectors. But this week, the government unveiled vague export restrictions on the metals gallium and germanium used to create solar panels and semiconductors. That declaration alarmed South Korea and other import-dependent nations. Businesspeople have expressed concern that as Beijing and Washington tighten trade restrictions and order companies to lessen their reliance on one another, the two largest economies in the world may split into separate markets with incompatible products.
They claim that will impede innovation and economic growth. I've made it clear that the US doesn't want a complete breakup of our economies, Yellen said. The two biggest economies in the world could not be separated without seriously affecting the world economy. Yellen defended US export restrictions and refuted China's claims that Washington uses them for economic gain. I also made it clear that the actions we take to safeguard our national security are intended to be specifically targeted, that they are founded on basic national security considerations and that they are not carried out to gain an economic advantage over China.
In the highest-level US visit to Beijing in five years, Yellen follows Secretary of State Antony Blinken, who met Xi last month. While relations would be stabilised, there was no agreement on how to improve the lines of communication between the two militaries. The secretary wanted to concentrate on bringing about global economic stability and confronting China's support for Russia during its invasion of Ukraine, Treasury officials told reporters earlier in Washington. The most recent incident started when President Joe Biden called Xi a dictator. The Chinese government complained, but Biden said he wouldn't change much about his direct remarks.