PM Modi Responds to Udhayanidhi's Claim of Hidden Agenda Against Sanatana Dharma
14 September, 2023 | Akshara Tyagi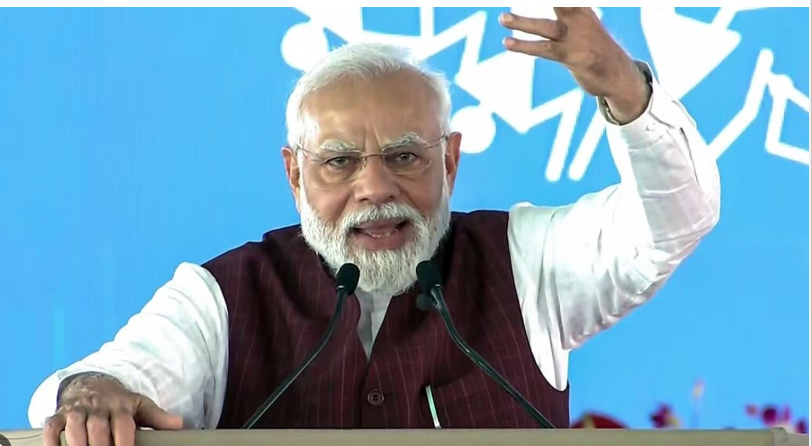 PM Narendra Modi delivered an extensive address on the controversy surrounding TN minister Udhayanidhi Stalin's remarks about Sanatana Dharma.
Prime Minister Narendra Modi delivered an extensive address on Thursday, addressing the controversy surrounding Tamil Nadu minister Udhayanidhi Stalin's remarks about Sanatana Dharma. Speaking before a sizable crowd in Bina, Madhya Pradesh, PM Modi expressed his belief that the INDIA alliance harbors a covert agenda aimed at undermining and ultimately extinguishing the cultural significance of Sanatana Dharma.
During his impassioned speech, Prime Minister Modi launched a vigorous critique of the opposition bloc known as the Indian National Developmental, Inclusive Alliance (INDIA), and in a rhetorical twist, he referred to it as the "INDI alliance." PM Modi emphasized that this alliance lacks a clear and distinct leader.
Furthermore, while addressing the enthusiastic gathering in the poll-bound state of Madhya Pradesh, Prime Minister Modi levied accusations against the INDIA bloc, suggesting that they are driven by an agenda to bring an end to the cherished 'Santan' culture of the nation. This speech and the accusations made therein occurred within the context of the impending elections in Madhya Pradesh, adding to the significance and impact of PM Modi's statements.
"At a time when Bharat is emerging as a world leader at global forums, some parties are trying to divide the country and its people. These people came together to form an 'INDI' alliance. Some people are calling it a 'ghamndiya (arrogant) alliance'.
They don't have a leader yet and there is a lot of suspense on who would lead them going into the Lok Sabha elections next year. They are working with a hidden agenda, which is to attack India's culture," PM Modi said.
Prime Minister Modi claimed that during the Opposition bloc's third meeting in Mumbai, they reportedly passed a resolution with the intent to "terminate the Santan culture" within the nation.
"This INDI alliance adopted a resolution to end our 'Sanatan' culture. They are bent on destroying the ideologies, cultures and traditions that have kept the country and our people together for centuries," the PM added.
Prime Minister Modi, after inaugurating numerous projects valued at over Rs 50,700 crores, including the 'Petrochemical Complex' at Bina Refinery and ten additional industrial ventures across Madhya Pradesh, addressed the gathering.
The ten projects for which he laid the foundation encompass a 'Power and Renewable Energy Manufacturing Zone' in Narmadapuram district, two IT parks in Indore, a substantial Industrial Park in Ratlam, and six new industrial zones across the state. He also highlighted that the Petrochemical Complex at Bina Refinery will play a pivotal role in fostering self-reliance (Atmanirbhar) for the nation.
"Laying foundation stones of Petrochemical Complex at Bina Refinery today will help make the country India Atmanirbhar. This new-age petrochemical complex will take Bina to new heights of development. It will help the setting up of new industries in the state while opening up new avenues for MSMEs. It also generates employment opportunities for our youth," he added.
Extending his thanks to Madhya Pradesh Chief Minister Shivraj Singh Chouhan, Prime Minister Modi conveyed his appreciation, stating, "I would like to express my gratitude to Shivraj Singh Chouhan and his administration for granting me the privilege of visiting and connecting with the state's residents.
Today, we are commencing projects with a cumulative value surpassing Rs 50,000 crores, an amount that exceeds the budgets of numerous states.
Also Read: Appointment of a New Chinese Ambassador to Afghanistan
Catch all the Latest Business News, Breaking News Events, and Latest News Updates on NewsX