Nipah virus: Kerala reports 1 new case, with 4 active cases among a total of 6
15 September, 2023 | Akshara Tyagi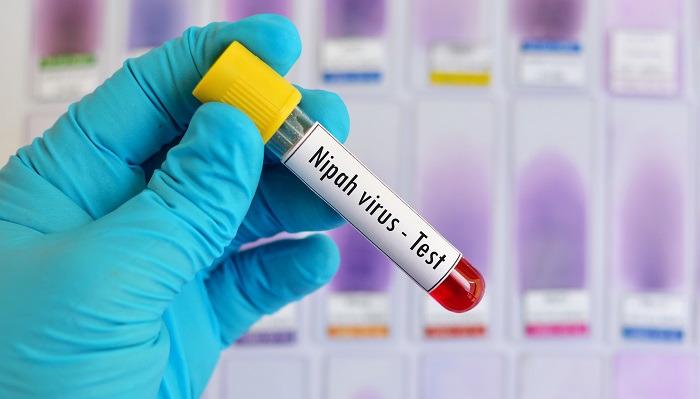 Another case of the Nipah virus has been confirmed in Kerala, involving a 39-year-old man in Kozhikode
Another case of the Nipah virus has been confirmed in Kerala, involving a 39-year-old man in Kozhikode. This brings the active cases of this brain-damaging virus in the state to four, according to the state health department's announcement on Friday. In total, Kerala has now recorded six cases of Nipah virus, including two fatalities.
The infected patient, a 39-year-old, is currently receiving medical care in a Kozhikode hospital, closely monitored by health authorities. The state government has escalated its efforts to contain the virus's spread, especially after two deaths in Kozhikode on August 30 and September 11. This marks the fourth Nipah virus outbreak in Kerala since 2018.
As a preventive measure, Kerala has taken swift action, closing some schools and offices. Quarantine zones have been established in affected gram panchayats within the Kozhikode area. Contact tracing is in progress, with 950 individuals on the list, including 213 considered high-risk, along with 287 health workers.
Currently, four high-risk individuals are hospitalized in a private facility, while 17 people are under surveillance at the Kozhikode medical college. Union Minister of State for Health and Family Welfare, Dr. Bharati Pravin Pawar, visited the Indian Council of Medical Research – National Institute of Virology (ICMR-NIV) in Pune to assess containment measures.
A multi-disciplinary team, led by Dr. Mala Chhabra and deputed by the Union Health Ministry, is supporting the state in public health measures to combat the outbreak. High-level teams equipped with BSL-3 (Biosafety Level 3) mobile units from the Centre and ICMR-NIV have arrived in Kozhikode for on-ground testing.
Kerala Health Minister Veena George reported a high-level state government meeting on September 14, followed by discussions with Union Government officials. She also mentioned the arrival of monoclonal antibodies required for Nipah virus treatment, requested from the Indian Council of Medical Research (ICMR) and delivered on September 15.
Furthermore, a fully-equipped mobile virology testing laboratory from the Rajiv Gandhi Centre for Biotechnology (RGCB), Thiruvananthapuram, has been dispatched to Kozhikode. RGCB Director Prof Chandrabhas Narayana highlighted the mobile unit's capability to deliver results within six hours and handle up to 192 samples per day.
Meanwhile, the neighboring state of Karnataka has issued travel advisories, urging the public to avoid unnecessary travel to affected Kerala areas. Surveillance efforts have been intensified in bordering districts and entry points to Karnataka.
The Nipah Virus, caused by fruit bats, poses a potentially fatal threat to humans and animals, with symptoms including respiratory illness, fever, muscular pain, headache, dizziness, and nausea. Kerala previously experienced Nipah virus outbreaks in the Kozhikode and Malappuram districts in 2018 and reported a case in Kozhikode in 2021.
Also Read: CM Stalin to Introduce Major Women's Income Initiative in Tamil Nadu Today
Catch all the Latest Business News, Breaking News Events, and Latest News Updates on NewsX