2024 Lok Sabha Elections: Opposition leaders arrive in Patna to form united front against BJP
23 June, 2023 | Malvika Vardhan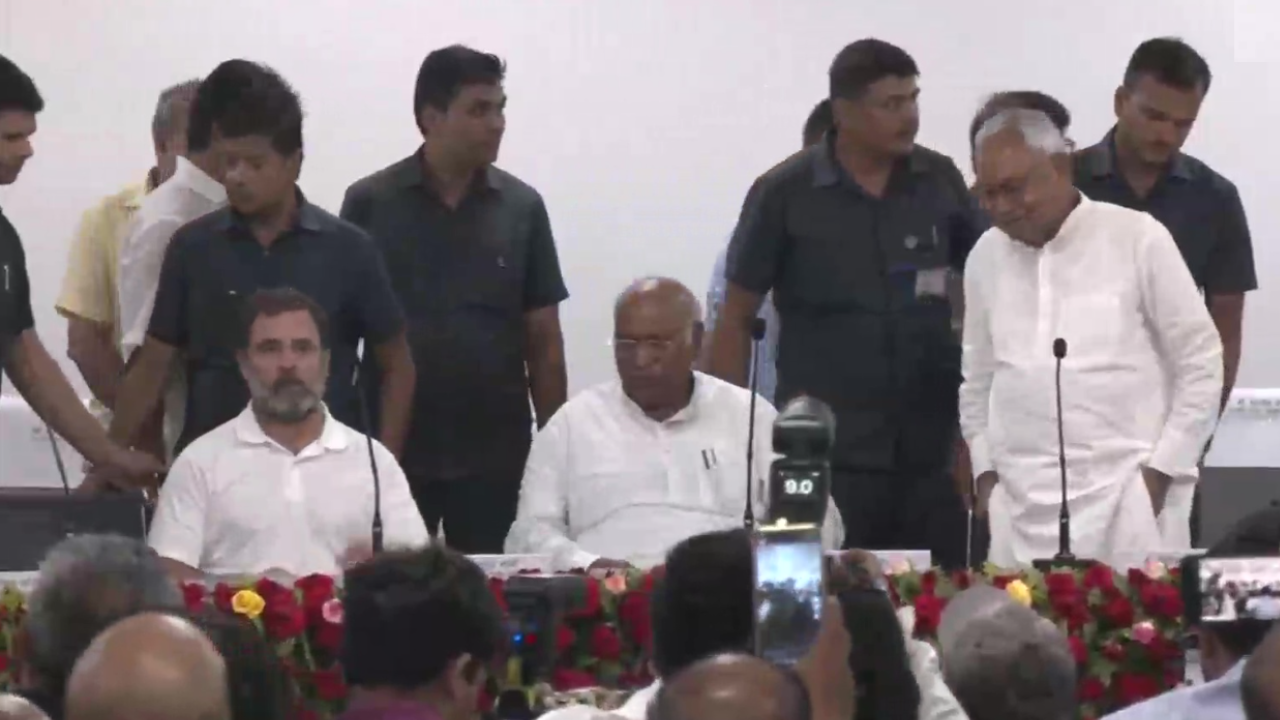 The Opposition press conference in Patna was aimed at discussing strategies and to work together for defeating BJP in 2024 Lok Sabha polls.
Leaders from various opposition parties, including Rahul Gandhi and Congress party president Mallikarjun Kharge, have arrived in Patna, Bihar, for an important conference hosted by Bihar Chief Minister Nitish Kumar. The purpose of the meeting is to form a united front against the Bharatiya Janata Party (BJP) in the upcoming 2024 Lok Sabha elections. The choice of Patna as the venue holds significance as it commemorates Jayaprakash Narayan's call for a total revolution in 1974, which resulted in the fall of Indira Gandhi's government.
Rahul Gandhi emphasized the ideological battle between the Congress' "Bharat Jodo" (Unite India) ideology and the RSS and BJP's "Bharat Todo" (Divide India) ideology. He accused the BJP of promoting hate, violence, and division while expressing the opposition's commitment to spreading love and unity. The opposition leaders aim to defeat the BJP by joining forces and working together.
However, Jayant Chaudhary, the president of the Rashtriya Lok Dal, was unable to attend due to a prior family commitment. Nevertheless, he expressed optimism about the conference being a significant milestone in opposition unity. The Bahujan Samaj Party (BSP) chief Mayawati was not invited to the meeting, leading to her sarcastic remark about maintaining friendly relations despite differing intentions.
The conference was attended by leaders such as Mamata Banerjee (West Bengal Chief Minister), Arvind Kejriwal (Delhi Chief Minister), Bhagwant Mann (Punjab Chief Minister), MK Stalin (Tamil Nadu Chief Minister), and Mehbooba Mufti (PDP leader), who arrived in Patna ahead of the event. Rahul Gandhi, Mallikarjun Kharge, Uddhav Thackeray (former Maharashtra CM), Sanjay Raut (MP), Sharad Pawar (NCP chief), and Omar Abdullah (former Jammu and Kashmir Chief Minister) also joined the meeting on Friday.
In summary, the Opposition conference in Patna aims to build a united front against the BJP. The leaders have gathered to discuss strategies and work towards defeating the BJP in the upcoming Lok Sabha elections.