Students of Odisha to get free ride on Vande Bharat Express: Ashwini Vaishnaw
14 August, 2023 | Anupam Shrivastava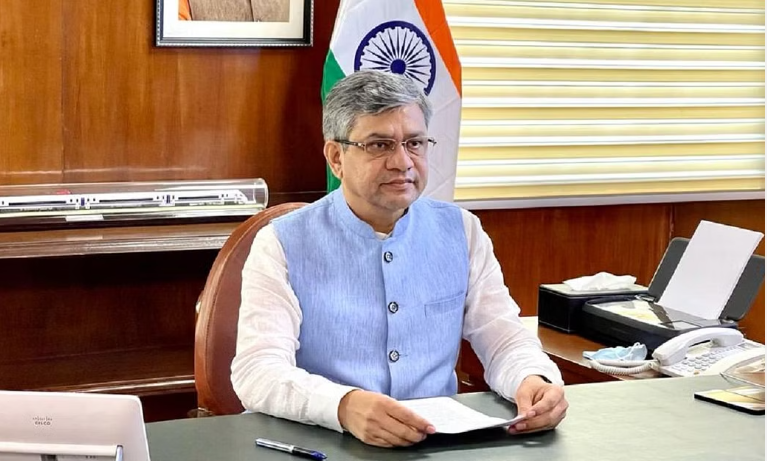 While giving his remarks on Vande Bharat, the Union Railway Minister also announced the entry of new Tejas rakes for Bhubaneswar Rajdhani train.
Union Railway Minister Ashwini Vaishnaw announced that a group of 50 students from the Saraswati Vidya Mandir school will be granted a complimentary journey on the Vande Bharat Express after being selected through a competition. The Minister marked the occasion by conducting the Bhumi Pujan (ground-breaking ceremony) of the Saraswati Vidya Mandir school on Sunday. He also had an engaging interaction with the students during the event.
Vaishnaw expressed, "When the students saw Vande Bharat's video, they had a desire to travel in the Vande Bharat Express. A competition will be conducted and of them, the 50 students who are selected will be given a ride," in a conversation with reporters.
The inception of Odisha's inaugural Vande Bharat train, linking Puri to Howrah, was inaugurated by Prime Minister Narendra Modi on May 18 through a virtual conference.
Commending the rejuvenation efforts at the Bhubaneswar railway station, the Union Minister expressed his admiration and stated that he would be visiting the station for an inspection on the following day. He emphasized the significance of enhancing passenger experiences and highlighted that the prestigious Bhubaneswar Rajdhani train will be equipped with a new 'Tejas' rake, an initiative aligned with Prime Minister Modi's vision for improved passenger facilities.
Earlier, Prime Minister Modi initiated the establishment of 508 railway stations' redevelopment under the Amrit Bharat Station Scheme through virtual conferencing from the national capital. Among these, 11 stations were designated for redevelopment in Khurda Road and a total of 25 stations in Odisha were included in the plan.
Numerous Union Ministers, Chief Ministers, and Governors participated in the foundation stone laying ceremony from their respective states, where the targeted railway stations are situated. This comprehensive project, estimated at around Rs 25,000 crore, aims to transform the appearance and functionality of these stations.
The 508 stations earmarked for redevelopment are distributed across 27 states and union territories. Uttar Pradesh and Rajasthan will each see the redevelopment of 55 stations, Bihar with 49, Maharashtra with 44, West Bengal with 37, Madhya Pradesh with 34, Assam with 32, and Odisha with 25, among others.
The initiative envisions modernizing passenger amenities, establishing efficient traffic circulation patterns, integrating different modes of transport, and providing clear signage for passenger guidance.
The overarching goal of the Amrit Bharat Station Scheme is the comprehensive redevelopment of 1,309 railway stations throughout the country.
Also Read: "Manipur violence is direct result of particular type of politics of division, hatred and anger": Rahul Gandhi