New 'standard map' of China Incorporates Arunachal Pradesh and Aksai Chin
29 August, 2023 | Akshara Tyagi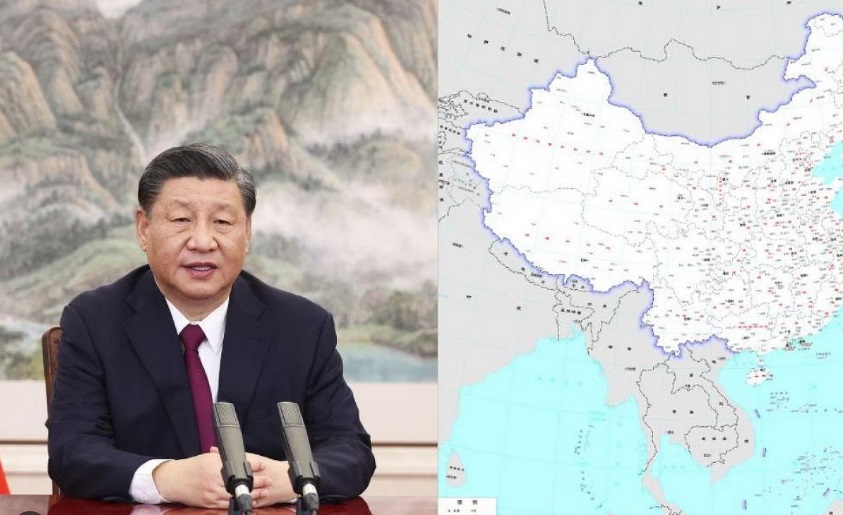 China unveils 2023 standard map, designating Arunachal Pradesh and Aksai Chin as South Tibet and asserting control over Aksai Chin
China has officially unveiled its 2023 "standard map," which designates Arunachal Pradesh and the Aksai Chin region as part of its territory. Released on August 28, the map claims Arunachal Pradesh as South Tibet and asserts control over Aksai Chin, occupied during the 1962 war.
Taiwan and the contested South China Sea are also depicted as Chinese territory on the new map. Additionally, the map reinforces China's claims within the nine-dash line, asserting a substantial portion of the South China Sea.
The unveiling took place during the celebration of Surveying and Mapping Publicity Day and National Mapping Awareness Publicity Week, organized by China's Ministry of Natural Resources in Deqing county, Zhejiang province.
During a meeting on the sidelines of the BRICS Summit in Johannesburg, South Africa, Prime Minister Narendra Modi and President Xi Jinping discussed unresolved issues along the Line of Actual Control in the Western Sector of the India-China border, as emphasized by Foreign Secretary Vinay Kwatra.
"The Prime Minister underlined that maintenance of peace and tranquillity in the border areas and observing and respecting the LAC are essential for the normalisation of the India-China relationship. In this regard, two leaders agreed to direct their relevant officials to intensify efforts at expeditious disengagement and de-escalation," Kwatra had said.
As per China Daily, a newspaper under the Chinese Communist Party's Central Propaganda Department, Wu Wenzhong, the chief planner at China's Ministry of Natural Resources, emphasized the significant role of surveying, mapping, and geographic information in advancing the country's development. These aspects fulfill various requirements across sectors, aid in natural resource management, and contribute to ecological and societal progress.
"The next step will be to accelerate the application of geographic information data such as digital maps and navigation and positioning in the development of the digital economy, such as location-based services, precision agriculture, platform economy and intelligent connected vehicles," Wu said, as per China Daily.
Zhejiang has recently concentrated on integrating the digital and tangible economies while actively advancing the digital economy's growth, as stated by Li Yaowu, deputy secretary-general of the Zhejiang Provincial People's Government.
China's territorial disputes extend beyond its border-sharing nations. Under the leadership of Xi Jinping, the Chinese Communist Party (CCP) has employed manipulative strategies to assert control over sovereign territories, disregarding international norms and engaging in expansionist endeavors.
China's claims now encompass portions of India's northeastern region, Arunachal Pradesh, asserting historical connections to greater Tibet. In April of this year, China unilaterally "renamed" 11 Indian sites, encompassing mountain peaks, rivers, and residential areas, as a measure of its desperation.
These tactics are not unprecedented; similar actions were taken by China in 2017 and 2021, leading to political tensions. During those instances, New Delhi rebuked China's expansionist intentions.
Previously, the official spokesperson for the Ministry of External Affairs (MEA), Arindam Bagchi, while commenting on China's attempt to show its domination in places belonging to India's Arunachal Pradesh said: "This is not the first time that China has attempted something like this (changing the names of areas in Arunachal Pradesh) and we have already condemned any such attempts.
Regarding Arunachal Pradesh, we had also said that Arunachal Pradesh is an inseparable part of India) and imposing invented names like these will not at all change the reality."
Also Read: President Droupadi Murmu Conveys Onam Greetings to the Public
Catch all the Latest Business News, Breaking News Events, and Latest News Updates on NewsX