Deceased Teenager's Grandmother Urges an End to the Overnight Riots in France
3 July, 2023 | Bhavnish Tawar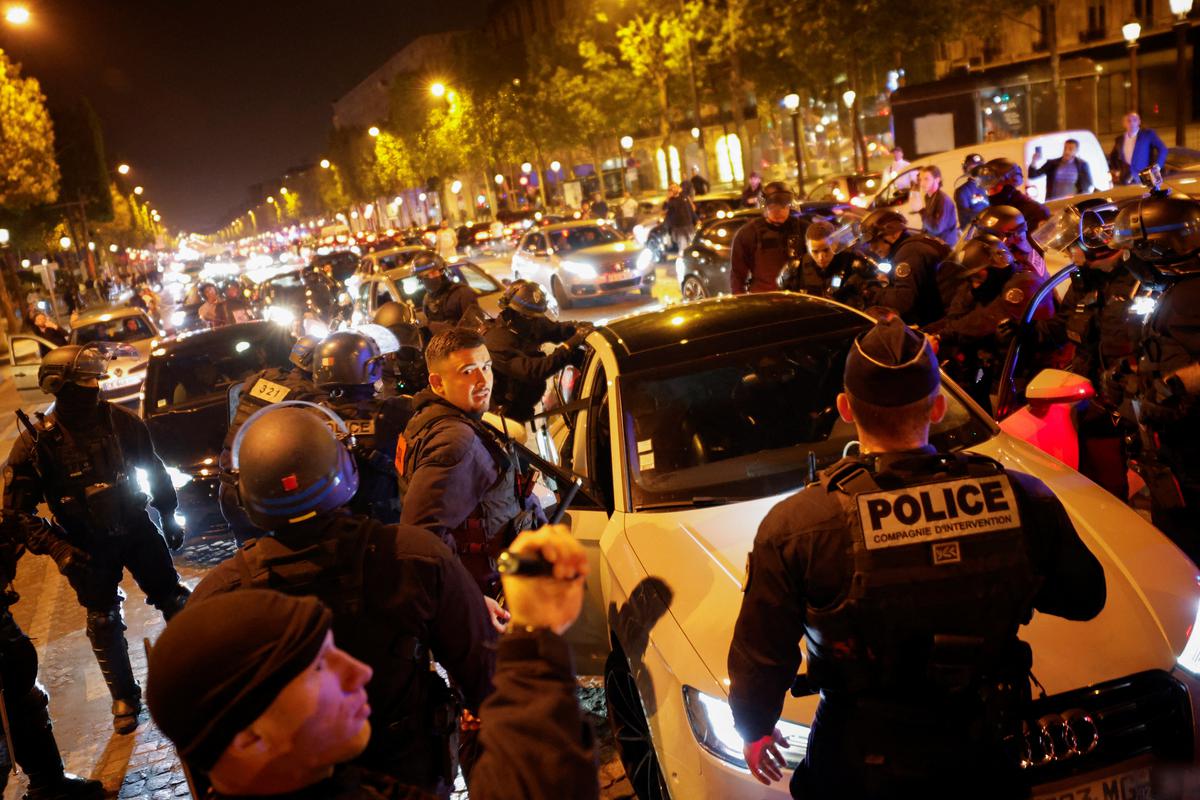 The grandmother, known as Nadia according to French media, implored the rioters to cease their activities.
The French police have detained hundreds of demonstrators following ongoing clashes for the fifth consecutive night in several cities across the country. These protests are in response to the fatal shooting of Nahel, a 17-year-old individual of Algerian descent, by a police officer in Nanterre, a prefecture in France. The tragic incident, which occurred on Tuesday, has sparked public outrage and led to violent confrontations with law enforcement. Nahel was laid to rest in a Muslim ceremony in Nanterre on Saturday.
The Interior Ministry of France has reported a significant increase in arrests, with 719 individuals apprehended during the fifth night of rioting, all directly linked to the police shooting of Nahel. This brings the total number of arrests to approximately 2,800 since the untimely demise of the teenager earlier in the week. As a result of these protests, numerous institutions, including educational facilities, police stations, government buildings, and retail establishments, have suffered from arson attacks and acts of vandalism.
Nahel's mother expresses anger towards police officer who shot at him
During an interview with France 5 television, Nahel's mother expressed her anger towards the police officer responsible for her son's shooting. However, she refrained from directing her frustration towards the entire police force. Nahel's grandmother, who tragically lost her own son in a police-involved shooting incident during a routine traffic stop in a Paris suburb, expressed her desire for the nationwide unrest to end. She believes that the rioters are exploiting Nahel's untimely death as a pretext to create chaos and called for peace.
In an interview, the grandmother, known as Nadia according to French media, implored the rioters to cease their activities. She acknowledged the irreparable loss of Nahel and the profound impact it has had on her daughter, who now finds herself devastated by the absence of her son. The family, while mourning their tragic loss, also calls for tranquillity and an end to the violence that has followed Nahel's death.
House of a Paris suburb Mayor attacked by rioters, wife and children injured
The mayor of a suburb of Paris said on Sunday that protesters had rammed a burning car into his home and then set the vehicle on fire, injuring his wife and one of his children, as violent demonstrations across France over the police killing of a 17-year-old stretched into a fifth night. "Last night, a milestone was reached in terms of horror and ignominy," the mayor, Vincent Jeanbrun, of L'Hay-les-Roses, a town south of the capital, tweeted. In a separate attack, the police said that rioters had tried to set fire to a car belonging to another mayor in La Riche, near Tours, southwest of Paris.