India harbors almost 75% of world tiger population
29 July, 2023 | Don Tomslee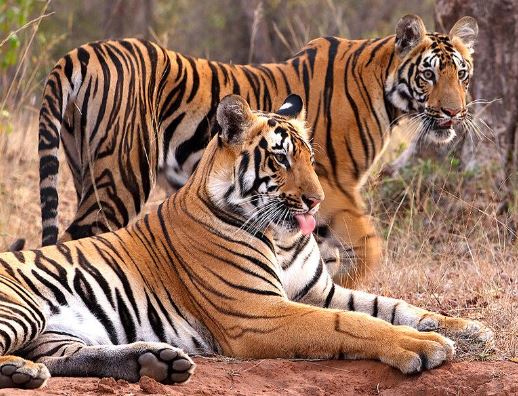 The successes in India can be attributed largely to the success of Project Tiger.
A recent study published on Global Tiger Day revealed that India's tiger population has seen a significant increase, reaching 3,925 tigers with an annual growth rate of six percent. The study, conducted by the Wildlife Institute of India, analyzed data from both camera-trapped and non-camera-trapped tiger presence areas. The average number of tigers is estimated to be 3,682, reflecting the commendable growth rate of 6.1 percent per annum.
According to the Ministry of Environment, Forest and Climate Change, India currently harbors almost 75% of the world's wild tiger population. The largest tiger population of 785 is in Madhya Pradesh, followed by Karnataka (563) & Uttarakhand (560), and Maharashtra (444). The tiger abundance within the Tiger Reserve is highest in Corbett (260), followed by Bandipur (150), Nagarhole (141), Bandhavgarh (135), Dudhwa (135), Mudumalai(114), Kanha (105), Kaziranga (104), Sundarbans (100), Tadoba (97), Sathyamangalam (85), and Pench-MP (77),
The Wildlife Institute of India conducted further data analysis from both camera-trapped and non-camera-trapped tiger presence areas, leading to the estimation of 3,925 as the upper limit of the tiger population, with an average number of 3,682 tigers. This reflects an impressive annual growth rate of 6.1 percent.
Since initiating "Project Tiger" in 1973, India has made substantial efforts to safeguard the species, resulting in a significant increase in the tiger population over the years.
Population increase in reserves
The tiger population in the Shivalik-Gangetic plains, which hosts several key tiger reserves, including Corbett, Rajaji, Pilibhit, Dudhwa, and Valmiki, has increased from 646 in 2018 to 804 in 2022.
Similarly, the number of the big cat has increased in Central India and Eastern Ghats, which has tiger reserves like Panna, Sariska and Kanha, from 1,033 in 2018 to 1,161 in 2022.
Nine tiger reserves, spanning an area of 18,278 square kilometres, were expanded to 53 reserves, totalling 75,796 square kilometres, or 2.3 per cent of India's total land area.
Population growth amidst 6.7% drop in 2022 and success of Project Tiger
According to an article from The Tribune on April 10, 2023, the Tiger population growth rate declined to 6.7 percent during the period 2018-2022, a significant drop from the growth rate of 33.2 percent recorded during 2014-2018, according to census data.
The rise in India's tiger population is a result of conservation efforts initiated by the country through "Project Tiger" launched in 1973. These measures have been successful in safeguarding the species and promoting their growth over the years. As of April 2022, India accounted for 75 percent of the global tiger population, making it a critical player in the preservation of these iconic animals.
With the tiger population nearly doubling, many reserves have reached their carrying capacity and are running out of space and prey base for the big cats there.
Despite the project's enormous success in tiger protection over the previous 50 years, challenges like poaching still remain, according to the Environment Ministry.
"Continued efforts to protect tiger habitats and corridors are crucial for securing the future of India's tigers and their ecosystems for generations to come," it said.
History of Project Tiger
Project Tiger was launched by the Indira Gandhi government on April 1, 1973, in a bid to promote conservation of the tiger. It came at a time when the population of tigers in India was rapidly dwindling, reaching an all time low due to unfettered hunting and habitat loss.
The successes in India can be attributed largely to the success of Project Tiger, which celebrated its fiftieth anniversary earlier this year.
The origin of International Tiger Day can be traced back to the 2010 Saint Petersburg Tiger Summit held in Russia. During this summit, several countries, including India, Russia, and China, made a commitment to protect tigers. Thirteen countries that are home to tiger populations came together to form Tx2, a collective initiative aimed at doubling the tiger population by 2022, which also aligned with the Chinese year of the tiger. Since that significant event, International Tiger Day has been observed annually, serving as a global platform to garner support for the conservation of these majestic and iconic creatures.
Chief Minister Shivraj Singh Chouhan expressed his joy and extended greetings to Madhya Pradesh for being recognized as the "Tiger State." In a tweet, he emphasized the importance of promoting tiger conservation and preserving their natural habitats to uphold the pride of being the Tiger State.
Union Forest Minister Bhupender Yadav also congratulated Madhya Pradesh on achieving this distinction. Praising the state's commitment to tiger conservation, he highlighted the involvement of local communities in intensive protection and monitoring efforts that resulted in the latest tiger estimation exercise recording 785 tigers in the state.