Jaipur: Protest over 'corruption', cops use water cannon to disperse BJP workers
13 June, 2023 | Amish Mahajan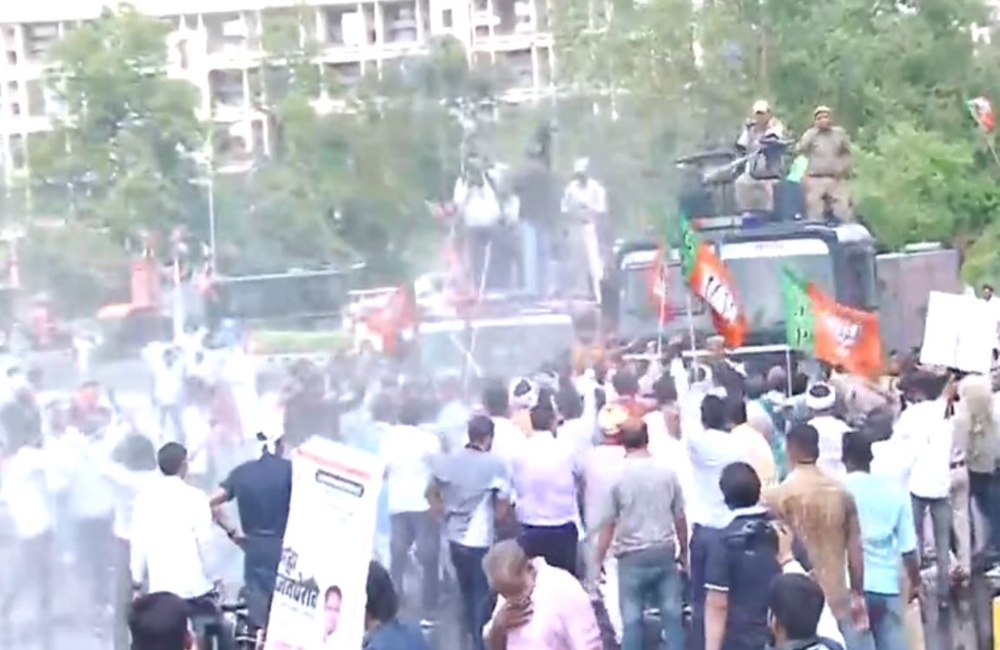 In Jaipur today, the Bharatiya Janata Party protested against the Ashok Gehlot government over allegations of corruption.
In Jaipur, the Bharatiya Janata Party (BJP) staged a protest today against the Ashok Gehlot government, alleging corruption. During the protest, the police employed water cannons and barricades to disperse the demonstrators. A video capturing the incident has also surfaced, showing the police using water cannons.
Accusing Rajasthan Chief Minister Ashok Gehlot of corruption, BJP Rajya Sabha MP Kirori Meena stated on Tuesday that her party would expose the corrupt practices of Minister Shanti Dhariwal, as well as the scandals related to mining and the Jal Jeevan Mission in the state. In her address to party workers before the protest, Meena claimed that there was a scam worth Rs 5,000 crore in the Department of Information and Technology (DoIT). However, when the Anti-Corruption Bureau sought permission to investigate, CM Gehlot refused.
Meena alleged that for the first time in the country, Rs 2.31 crore in cash and gold were discovered in a government building's cupboard. Last month, cash and gold were seized from a locked cupboard in the basement of Yojana Bhavan, following which the Jaipur police arrested a joint director of the DoIT. Meena further stated that corruption is rampant in the Gehlot government, citing the leak of sixteen competitive exam papers in Rajasthan within a year. He added that the Enforcement Directorate (ED) has initiated an investigation into the matter, causing fear in Gehlot.
Earlier this month, the ED conducted searches at several locations in Rajasthan in connection with the leaked exam papers case. In response, CM Gehlot accused the central government of misusing its investigative agencies and claimed that the ED's search in the state was expected as the assembly elections approached. He questioned why the ED was interfering when the state's Anti-Corruption Bureau (ACB) was effectively investigating the question paper leaks in the government's teacher recruitment exam.