Empowering Hearts and Transforming Lives: The Journey of Dr Durgaprasad Reddy B in Medical Excellence
13 August, 2023 | Anupam Shrivastava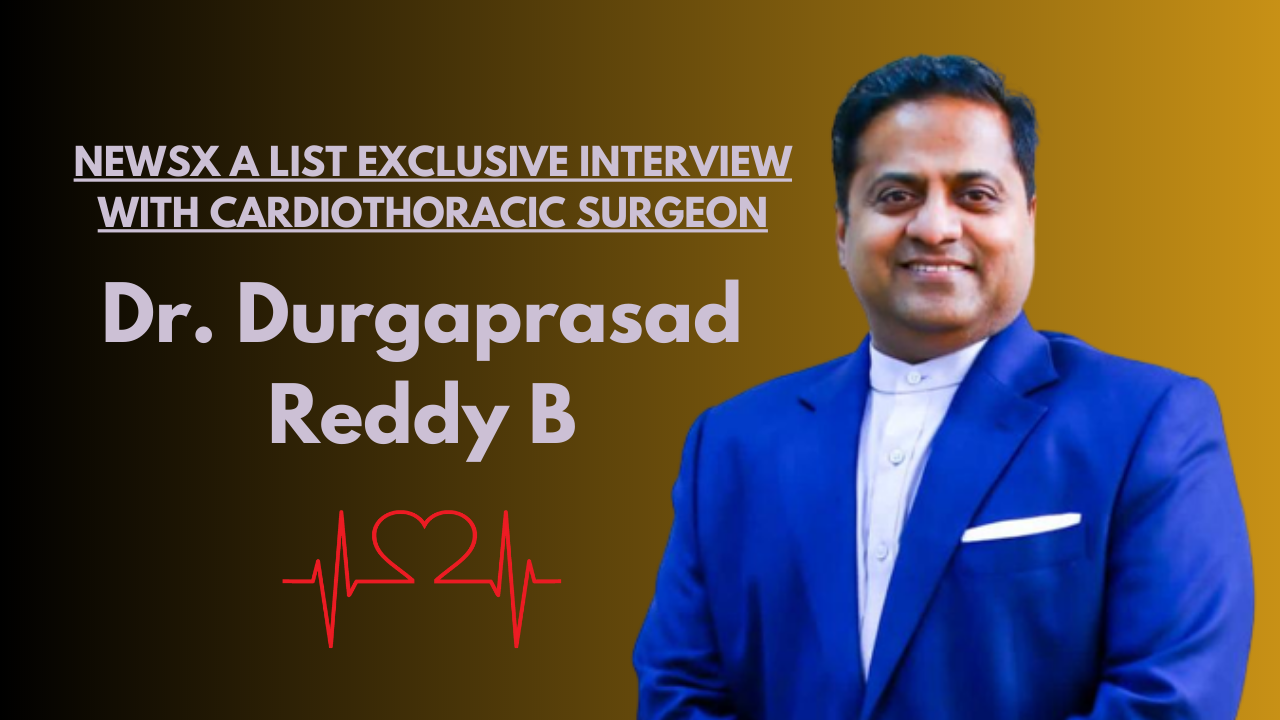 NewsX A List Catches Up with Esteemed Cardiothoracic Surgeon, Dr Durgaprasad Reddy B, whose philanthropic contributions extend beyond medical care.
Within the domain of medical science, we encounter individuals who not only attain excellence in their specialized domains but also transcend those boundaries to forge a profound impact on society. One such remarkable figure is Dr Durgaprasad Reddy B, a distinguished cardiothoracic surgeon, and a passionate advocate for preventive cardiology. His journey from being an academician to a surgeon with an unwavering commitment to patient care and innovation is truly inspiring. At NewsX A List, Dr Durgaprasad shared insights into his remarkable career, groundbreaking accomplishments, and his mission to promote heart health across India.
Dr Durgaprasad Reddy's journey is a testament to the power of patience and determination. Serving as the Professor and Head of Vydehi Institute of Cardiac Sciences in Bangalore, Dr Durgaprasad has been instrumental in training numerous students in postgraduate and super-specialty programs. His commitment to education extends beyond the classroom, as he believes that every surgical procedure is an opportunity for teaching and learning. "My main asset are my patients. All because of my patients, I am here now," he affirmed during the interview.
With a career spanning nearly 25 years, Dr Durgaprasad Reddy's contributions to cardiac surgery are unparalleled. Having performed around 17,000 cardiac surgeries, he has showcased exceptional expertise in both adult and pediatric cardiac cases. His proficiency is exemplified by his willingness to take on complex cases that other hospitals may have rejected. He proudly shared, "We have done close to 17,000 cardiac surgeries. It's a great number, and all because of the trust the management had and the trust patients had in us."
Dr Durgaprasad's dedication to improving patient outcomes has led to remarkable innovations in surgical techniques. He introduced the concept of "Concomitant Procedures," a revolutionary approach that utilizes a single conduit to address both coronary artery and peripheral artery diseases. This technique has not only reduced financial burdens on patients but has also minimized their time spent in intensive care units. Moreover, he has designed unique single patch closures for Atrioventricular canal defects, benefiting countless patients.
Beyond the confines of the operation theater, Dr Durgaprasad's compassion and commitment shine through his philanthropic endeavors. He is known for organizing screening camps across various states in India, focusing on early detection and preventive cardiology. These camps have been instrumental in identifying anomalies in patients, ultimately saving lives by addressing issues before they escalate. He humbly stated, "I do camps because of preventive cardiology… I want to pick up these people very early, that's why we do camps."
Dr Durgaprasad's philanthropic contributions extend beyond medical care. He has adopted villages, undertaking initiatives such as improving water supply, electricity, roads, and community facilities. He donates valves for poor patients and extends financial support for children in need of medical attention. His philosophy of giving back is rooted in the joy of making a difference in the lives of others.
As a beacon of guidance for aspiring surgeons, Dr Durgaprasad urged young medical professionals to embrace critical care areas like cardiac surgery. He emphasized the unique satisfaction that comes from curing patients and witnessing their successful recovery. His advice resonates deeply with his own journey, where his commitment to patient care and his passion for surgical excellence have driven his success.
Dr Durgaprasad's advice to the general population is simple yet profound: prioritize a healthy lifestyle, exercise regularly, and avoid harmful habits such as smoking and excessive alcohol consumption. He emphasized the importance of embracing traditional dietary practices and cautioned against adopting unhealthy Westernized habits.
Dr Durgaprasad Reddy B's journey from an academician to a pioneering cardiac surgeon is a testament to his unwavering dedication to patient care, education, and innovation. His groundbreaking surgical techniques, compassionate philanthropy, and advocacy for preventive cardiology have left an indelible mark on the medical field.
Also Read: Passionpreneur Movement: Dev Gadhvi's Inspirational Journey and Vision for Transforming Lives