Mumbai I.N.D.I.A alliance meeting today; Opposition logo unveiling scrapped
1 September, 2023 | Vishakha Ahuja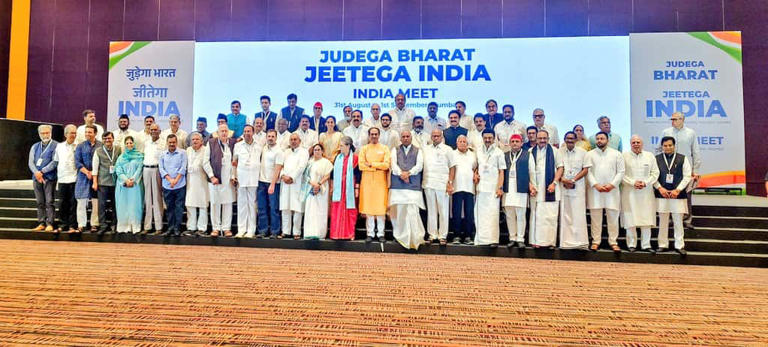 Mumbai's INDIA alliance meeting today; Opposition logo unveiling canceled.
The stage is prepared for the logo unveiling of the Opposition's I.N.D.I.A alliance on Friday. In Mumbai, 63 leaders representing 28 opposition parties have convened for the alliance's third meeting, focusing on establishing a coordination committee and refining the alliance's structure. The selection of a convener for the group is expected to be a contentious matter, as numerous leaders vie for the position.
Key figures from the opposition bloc, known as the Indian National Developmental Inclusive Alliance (I.N.D.I.A), engaged in intense discussions during the initial day of the third joint meeting in Mumbai on Thursday. Their objective is to strategize effectively against the ruling Bharatiya Janata Party (BJP)-led government in preparation for the 2024 Lok Sabha elections.
During this informal gathering, Chief Ministers Mamata Banerjee and Nitish Kumar urged alliance leaders to make prompt decisions, while Arvind Kejriwal, the Delhi Chief Minister, recommended initiating seat-sharing talks at the state level, according to reports. Additionally, some leaders within the bloc cautioned against an early general election, which is scheduled for April-May 2024.
The Opposition's Indian National Developmental Inclusive Alliance (I.N.D.I.A.) is expected to reveal an 11-member coordination committee composed of key members from Opposition parties. This announcement will occur during a formal gathering of 28 non-BJP parties at Mumbai's Grand Hyatt Hotel on Friday.
The I.N.D.I.A alliance, consisting of a total of 28 parties, is gathering in Mumbai, India's financial hub, for its third meeting on Friday, September 1. Reports suggest they are considering the establishment of a collaborative structure that encompasses a coordination committee, an election management secretariat, a shared research division, 10 spokespersons from various parties, a unified media team, and a committee to formulate a national agenda.
Additionally, the parties could settle on shared campaign themes and establish a coordinated timetable for public rallies and other outreach activities.
This development coincides with the ruling administration led by Narendra Modi announcing a special Parliament session scheduled for September 18 to 22.
Also Read: Nadda Holds Meeting with Kovind; Former President to Lead Committee Exploring 'One Nation, One Election'