Imran Khan accuses Pakistan govt of hatching plan to arrest him
4 July, 2023 | Anupam Shrivastava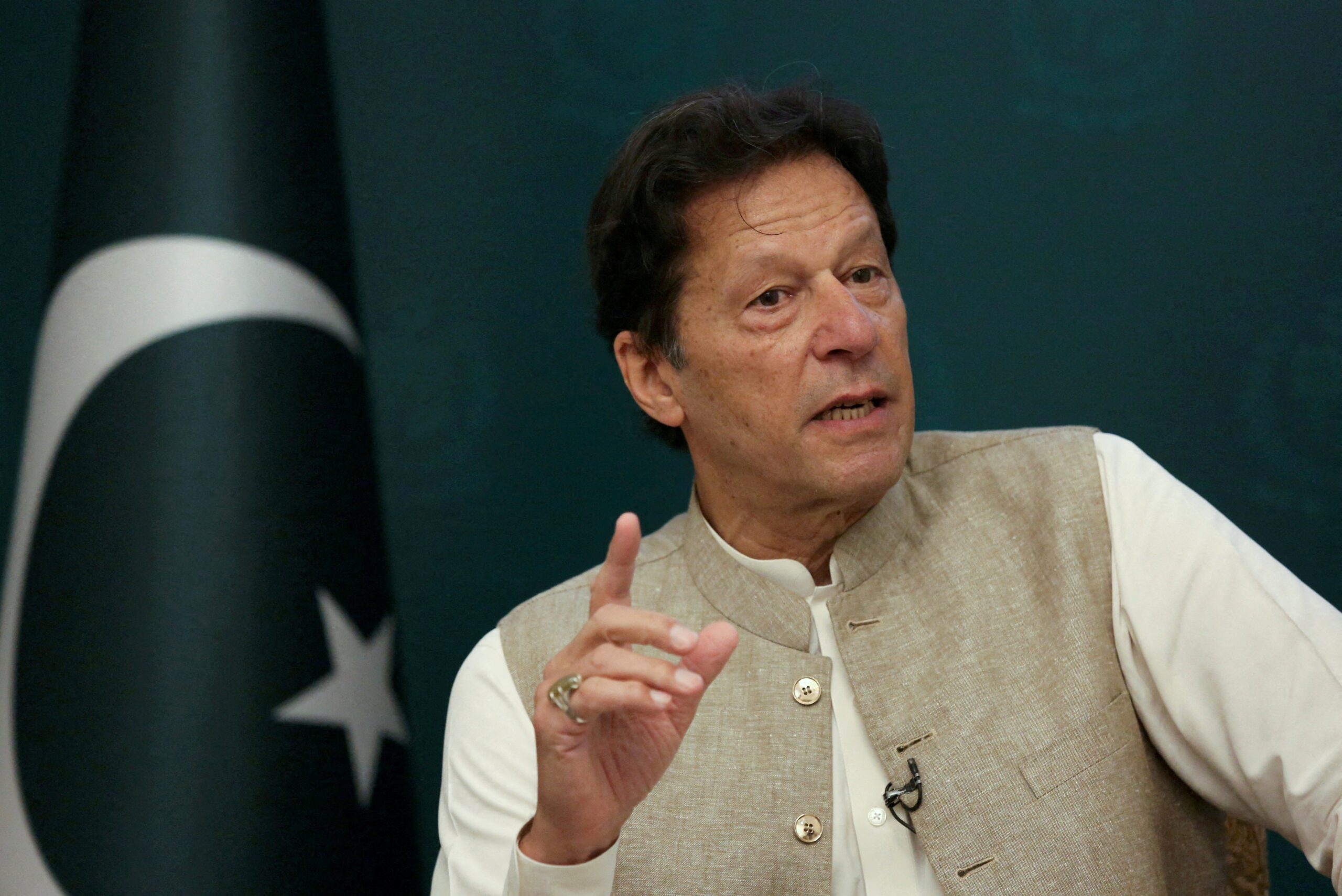 Imran Khan also appealed the PTI supporters to show defiance against Pakistani establishment's 'reign of terror' and to stand up for freedom.
Accusing the Shehbaz Sharif government, Imran, the former Prime Minister and Chairman of Pakistan Tehreek-e-Insaaf (PTI), claimed that the administration has devised a scheme to imprison him, and he believes that the entire incident surrounding his arrest was orchestrated in advance.
During his address to the nation, former Prime Minister Imran Khan refuted any allegations of misconduct in relation to the corruption cases filed against him and said, "I want the nation to know how a plan has been made to arrest me on the basis of false and baseless cases. A lawyer is killed in Quetta and without any investigation and proof. Shahbaz Sharif's advisor comes on TV on the same day and says that the murder was done by Imran Khan and later the video of the same lawyer's widow shows who did it".
"This is not politics…this is jihad. We are all slaves," Imran Khan further added.
Imran Khan was arrested by Pakistan's National Accountability Bureau (NAB)
Imran Khan, the former prime minister and leader of the PTI, was detained by the National Accountability Bureau (NAB) on May 9 inside the High Court in Islamabad on suspicion of corruption in connection with the Al-Qadir Trust, which he and his wife, Bushra Bibi, jointly own.
After his detention, Khan's party organized protests , several of which descended into violence. The government launched a crackdown, leading to numerous arrests around the nation. The perpetrators of the violence on May 9 are being tried in military courts.
"On May 9, I was arrested like a terrorist from the Islamabad High Court despite being on bail, and after that the cases were piled up while the Supreme Court also declared this arrest illegal. Is anyone going to answer?" Imran Khan questioned.
Imran went on to say "16 innocent Pakistanis were shot, 9 people are missing but there is no inquiry and no one is talking about it. Is this a free society? Do these Pakistanis have no rights? Aren't their wives and children family?"
Imran Khan urged the crowd to demonstrate "defiance" and take a stand for "Haqeeqi Azadi" (Real Democracy) prior to his speech. "Let's all raise the PTI flag to show defiance to those who are trying to crush Pakistan's biggest and only Federal party through this current reign of terror. We are standing up for our Haqeeqi Azadi." he told.
In his address, Khan strongly criticized the Shehbaz Sharif government, asserting that if given the opportunity to appear in an open court and address the nation through television, he could substantiate that his arrest was meticulously orchestrated in advance. He highlighted the manner in which he was apprehended, emphasizing that it was deliberately planned to incite agitation. Furthermore, he contended that the subsequent public reaction was exploited to suppress the PTI party, which had shown resilience and refused to be deterred.
Imran Khan compares France demonstrations with Pakistan clashes
Drawing parallels with the French demonstrations sparked by the tragic killing of a young boy, the Chairman of the PTI highlighted the stark contrast in the response. He remarked, "While numerous innocent civilians were targeted and subjected to gunfire without much attention, in France, a single shooting incident has ignited widespread consequences. This stark disparity reflects the true essence of a nation that upholds freedom."
Imran Khan leveled accusations against the Pakistani government, asserting that it had systematically dismantled the country's institutions. He provided a rebuttal, asserting that he was not involved in any wrongdoing related to the Al-Qadir case, Toshakhana case, and land scam. Khan contended that the alleged cheque payments in the land scam occurred after he had been ousted as Prime Minister due to a loss in majority.
He highlighted additional cases, stating, "They have filed an anti-corruption case against Bushra Bibi, claiming that a road was constructed in her village. Similarly, they have implicated both myself and my sister. These individuals, whom I consider to be foolish, allege that during my tenure as Prime Minister, I facilitated the acquisition of lands valued at 6 million PKR at discounted rates. However, if you examine the cheque numbers, the first cheque was issued on April 25, 2022, while the second one was dated June 2, both of which fall after my term as Prime Minister ended on April 9."
Imran refutes corruption charges levied by Pak government
The PTI Chairman emphasized that neither he nor Bushra Bibi could have received any funds in the Al-Qadir case since they serve as trustees of the charitable trust. He revealed that a proposal was presented to the cabinet regarding a settlement between the Malik Riaz family and the UK's National Crime Agency, which would bring 190 million pounds to Pakistan.
However, the condition was to keep the settlement confidential from the cabinet. If confidentiality was breached, Pakistan would have to defend its position in court, which could potentially prolong the case for 5-6 years. Given Pakistan's unfavorable track record in foreign cases, having already lost over 100 million USD, this situation was a significant concern.
Imran Khan refuted allegations of money laundering and defended the decision made by the cabinet, stating that the money in question has indeed arrived in Pakistan through a unanimous decision. Accusations have been made that he orchestrated this for the benefit of the Al-Qadir University, a charitable trust. However, Khan pointed out that as trustees, he and Bushra Begum cannot receive any funds from a charitable trust.
The Al-Qadir Trust case alleges that Imran Khan and Bushra Bibi obtained large sums of money and extensive land from a real estate firm to legalize a recovered amount of PKR 50 billion, which was returned to Pakistan by the UK during the previous PTI government, according to The News International report. He further stated that the Toshakhana gifts were sold "as per the rules" and that everything had been disclosed in the FDR.
According to Imran Khan, when the Prime Minister, President, or Army Chief receives gifts, they are sent to Toshakhana, where their value is assessed following a specific procedure called FDR (Financial Disclosures and Reconciliation). The gifts are initially assigned a value, which is then appraised. If the appraised value exceeds the initial value, there is an option to purchase the excess.
Khan stated that he followed this rule, accepting some gifts and declining others. He also clarified that any items he sold were declared to the Federal Board of Revenue (FBR) and subjected to capital gains tax. He questioned the validity of the allegations, pointing out that multiple cases have been filed by NAB, the Election Commission, and an FIR, suggesting an overlap and potential inconsistency in the charges.