Pak Minister Ishaq Dar: Talks conditional on Imran Khan's apology for May 9 violence
30 May, 2023 | Vaishali Sharma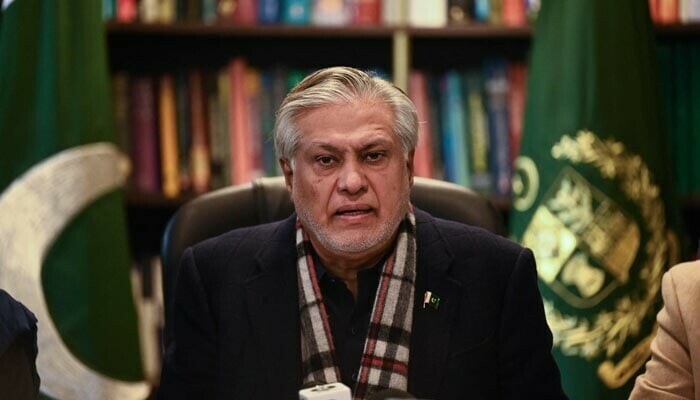 Ishaq Dar suggests negotiating with Imran Khan to end the political crisis if he takes "corrective measures" and apologises for May 9 violence.
During a Geo News program on Sunday, Dar made a statement in which he mentioned that talks with Imran Khan, the chairman of the Pakistan Tehreek-e-Insaf (PTI) party, were rejected by the ruling coalition, stating that discussions are held with politicians, not terrorists.
Following Khan's arrest and the subsequent violent protests on May 9, a crackdown on the PTI party has plunged it into a severe crisis, with numerous key party leaders resigning daily. Notable figures who have left the party include Secretary General Asad Umar, senior leader Fawad Chaudhry, and former Minister Shireen Mazari.
Dar suggested that negotiations could take place if Khan takes corrective actions and apologizes to the nation for the violence that occurred on May 9. He pointed out that prior to that day, the government had engaged in negotiations with the PTI in good faith, and both sides had reached agreement on all issues except the election date.
The minister emphasized that peaceful protests are a right for everyone, but attacks on armed forces installations cannot be tolerated. The violent protests on May 9 resulted in the vandalism of several military sites, including the Lahore Corps Commander House, the Mianwali airbase, and the ISI building in Faisalabad. The mob even breached the Army headquarters (GHQ) in Rawalpindi for the first time. These incidents led to numerous arrests, with the Army describing it as a "dark day" in the country's history.
Railways Minister Khawaja Saad Rafique stated that talks with Khan are currently not possible due to the prevailing situation. He mentioned that while there used to be an environment and agenda for discussions on any issue, the current atmosphere is not conducive to talks.
Earlier this month, the National Assembly passed a resolution vowing to prosecute those involved in the May 9 riots under existing laws, including the stringent Army Act and the Official Secrets Act.
Imran Khan, a former cricketer turned politician, was removed from power in April of the previous year after losing a no-confidence vote. He alleged that his ousting was part of a US-led conspiracy targeting him due to his independent foreign policy decisions regarding Russia, China, and Afghanistan.
Read Also: Cambodian King Norodom Sihamoni visits India for maiden state visit
Follow us : Twitter