PM Modi, Japanese counterpart Kishida visit Buddha Jayanti Park in Delhi
20 March, 2023 | Pragati Singh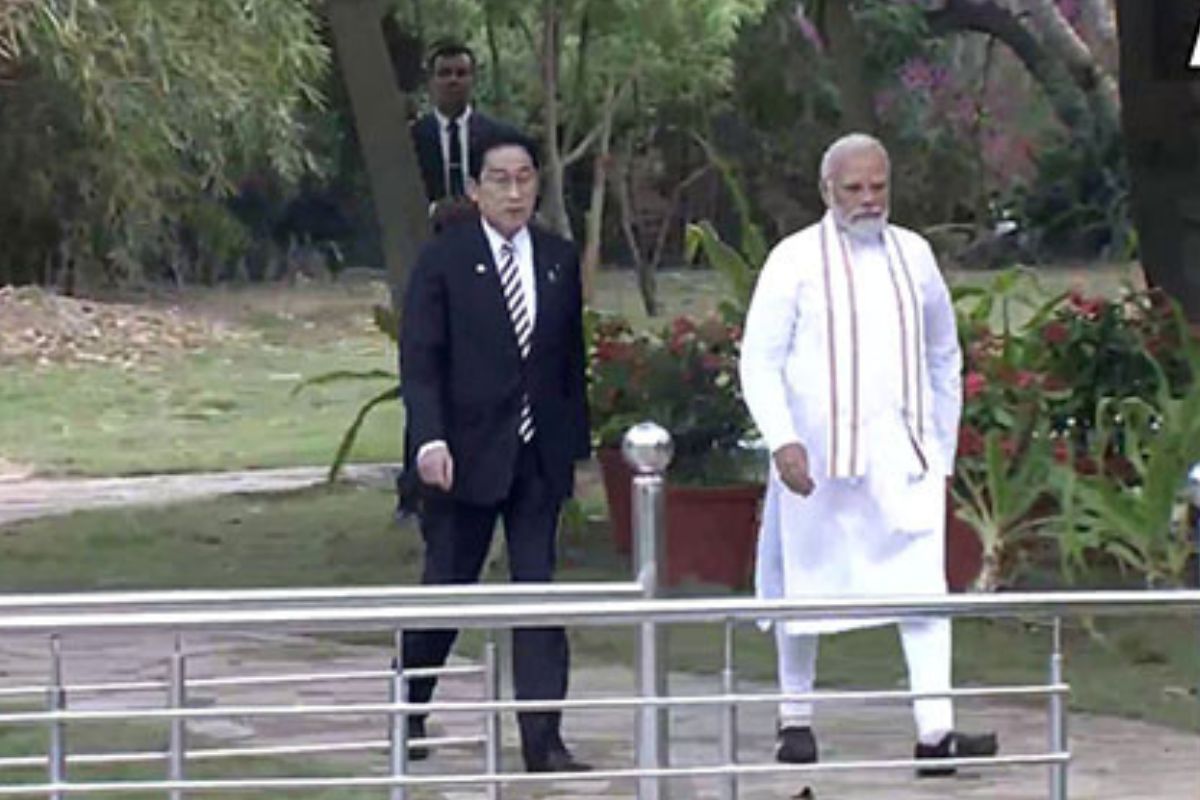 Kishida invited PM Modi to the G7 leaders summit in Hiroshima in May of this year.
Prime Minister Narendra Modi and Japanese colleague Fumio Kishida paid a visit to the Bal Bodhi Tree at Delhi's Buddha Jayanti Park today. The two leaders were walking around the park after worshipping and pouring flowers on the Bal Bodhi Tree.
PM Fumio Kishida met with PM Modi at the Hyderabad House after arriving in New Delhi early this morning for a two-day visit. Kishida invited PM Modi to the G7 leaders summit in Hiroshima in May of this year.
After the meeting, PM Modi stated in a joint statement, "Today, Japanese Prime Minister Fumio Kishida invited me to the G7 Leaders' Meeting in Hiroshima, Japan, in May. I am grateful to him for this.
"I welcome Japanese PM Fumio Kishida to India. In the last one year, PM Fumio Kishida and I have met several times and every time I've felt his positivity and commitment to the India-Japan bilateral relationship. His today's visit will be beneficial to maintain this momentum," he added.
PM Modi described today's meeting as a "wonderful chance" to collaborate while keeping both nations' priorities in mind. PM Modi expressed his delight at the prospect of welcoming his Japanese colleague again in September for the G20 Summit. PM Modi stated that he discussed India's G20 aims and ambitions with Kishida. PM Modi stated after the meetings that the summit intends to give the global South a voice and improve the India-Japan partnership.
He said, "I have spoken to him regarding India's G20 priorities in detail. Our main priority is to give voice to the needs of the global south." He said that the culture that believes in "Vasudhaiv Kutumbakam" believes in taking everyone along.
In a joint statement after meeting PM Modi, Kishida called India an "indispensable partner" of Japan. He said, "It gives me great pleasure to be able to unveil my new vision on the soil of India which is our indispensable partner in realising a free and open Indo-Pacific." In the joint press statement, the Japanese PM said, "I formally invited PM Modi to G7 Hiroshima Summit and on the spot, my invitation was immediately accepted."
Speaking about the economic cooperation between Japan and India, Kishida said, "Our economic cooperation with India which continues to grow rapidly will not only support the further development of India but also create significant economic opportunities for Japan. In this regard, we welcome that steady progress is being made towards realising 5 trillion yen of public & private investment in financing from Japan to India in 5 years."