TMC Sends a New Letter to Delhi Police Requesting Permission for City Rally
7 September, 2023 | Shubhi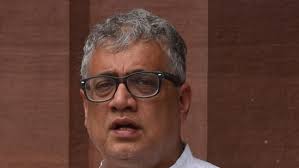 Derek O'Brien, a Trinamool Congress member, has requested permission from the Delhi Police to hold a protest against the federal government at three different locations in the city.
Trinamool Congress MP Derek O'Brien has sent a new letter to the Delhi Police, seeking authorization for a protest against the central government to take place at three different locations in the national capital. This protest, involving laborers from West Bengal who have not received their wages under the MGNREGA scheme, is planned for October 2 and 3. The designated protest sites include Lodhi Street, outside Union Minister Giriraj Singh's residence, Krishi Bhawan, and Jantar Mantar.
In a letter dated August 31, 2023, Derek O'Brien had initially requested permission for the All India Trinamool Congress to stage this protest from 10 AM to 6 PM on October 2 and October 3, 2023, specifically at Krishi Bhawan. However, as of now, there has been no response to that request. The recent letter, written to the Deputy Commissioner of Police on Wednesday, seeks an expedited update on the matter.
Shashi Panja, the Party Spokesperson and State Minister, expressed concerns about the blockage of MNREGA funds in West Bengal, which has adversely affected the men and women involved in the program. Abhishek Banerjee, the TMC National General Secretary, had previously announced plans for a protest in Delhi to address this issue. However, the Delhi Police, which falls under the Home Ministry, has not granted permission for the protest. The TMC finds this unacceptable and intends to stage a demonstration in response.
The TMC had requested permission for a rally and protest at Delhi's Ramlila Maidan on October 2, marking Mahatma Gandhi's birth anniversary. Earlier this month, TMC's national general secretary, Abhishek Banerjee, announced the "Delhi Chalo" campaign, declaring the party's intention to take to the streets of Delhi on October 2 in protest against the central government's withholding of dues owed to the West Bengal government.
Also Read: Joe Biden will land in Delhi tomorrow and meet with PM Modi