Himachal Assembly Polls 2022 Updates
12 November, 2022 | Pravina Srivastava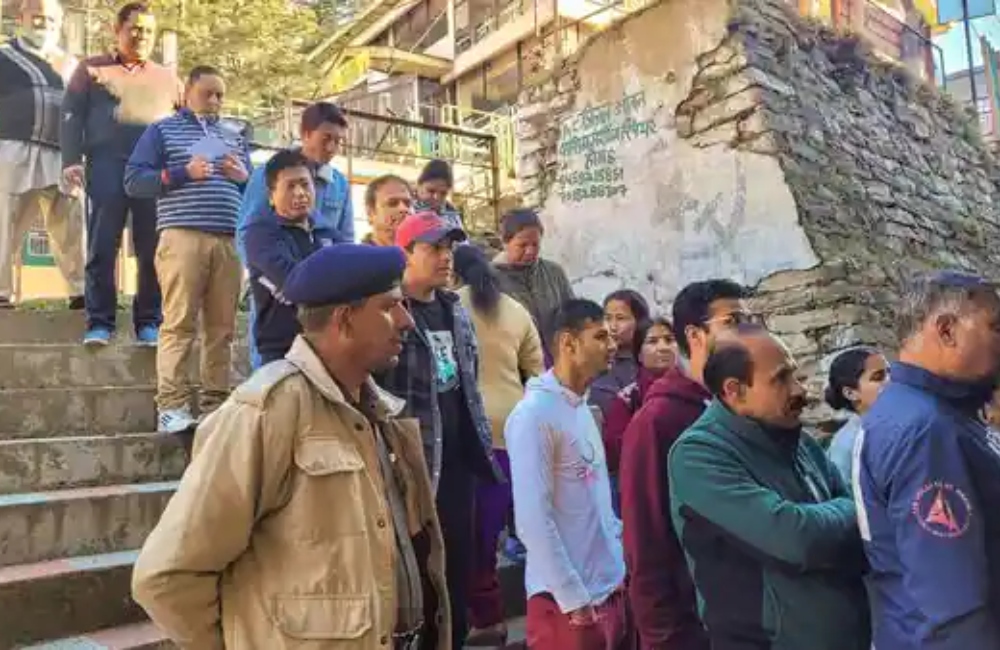 Himachal Polls: NewsX keep you posted during this day as we bring exclusive ground reports from Himachal Pradesh.
The fate of the 412 candidates who are running for office will be decided by the votes of the 55,92,828 electors who have casted their ballots till 5 p.m. today. NewsX will keep you posted during this day as we bring exclusive ground reports from Himachal Pradesh.
1. BJP president JP Nadda voted in the Himachal Pradesh Assembly elections on Saturday at Vijaypur, Bilaspur. He was accompanied by his wife Mallika Nadda, who also casted her vote there.
"With the environment I've been seeing since the morning, I believe people have enthusiasm, and that zeal is focused on a worthy cause. I urge everyone to vote in great numbers "said Nadda.
BJP places a lot of importance on the Bilaspur seat as JP Nadda, party's president, resides there.
2. Union Minister Anurag Thakur voted in Himachal Pradesh state assembly elections in Hamirpur. Prior to his voting, minister also criticized Congress.
Speaking to the press, Anurag stated, "In addition to Uttarakhand, UP, Manipur, and Goa, this time it will also happen in Gujarat and Himachal for the formation of our government. Congress frequently makes false promises, and the people are aware of this."
3. Former state Chief Minister, Prem Kumar Dhumal voted in the Himachal state assembly elections on Saturday in Hamirpur.
4. Election enthusiasm can be seen in all age groups in Himachal today, 105-year-old Naro Devi casts her vote at the Ladhan polling place in Churah assembly seat of Himachal Pradesh's Chamba district .
This elderly woman chose to use the electronic voting machine (EVM) at the polling place today even though the Election Commission of India (ECI) offered an optional option for voters above 80 to vote using ballot papers at their residences. In Himachal Pradesh, voting for 68 seats in the legislature began at 8 am today and will last till 5 pm.
5. Hans Raj, the deputy speaker of the Himachal Pradesh legislature, is running again from Churah, whilst the Congress nominated Yashwant Singh. NK Jaryal of the AAP is also a contender from this seat.
6. As the state heads to the elections to choose 412 candidates for 68 assembly seats, Congress leader Priyanka Gandhi Vadra urged people in Himachal Pradesh to "vote with full awareness in weaving the destiny of Himachal."
7. Along with his mother Pratibha Singh, Congress MLA Vikramaditya Singh voted. He predicted that the BJP will lose the next general election just like they did in the last byelection. The mother-son team prayed at Shimla's Shani Mandir before making their way to the polling place.
According to Pratibha Singh, Congress is sure that it would win 40 to 45 seats in Himachal, "We urge the people of Himachal Pradesh to vote for progress and employment. Only Congress can advance it in the state since they have always worked for progress and the future."
8. Vipin Singh Parmar, the head of Bharatiya Janata Party and the speaker of Himachal Pradesh Assembly, voted in the Sullah elections today.
BJP's Vipin Parmar will compete against Jagdish Sapehia of Congress and Jagjivan Pal, an independent and ex-Congressman. Parmar had lost to Paul in the 2012 Assembly elections. In contrast, Parmar beat Congress candidate Jagjiwan Paul in the 2017 Assembly elections by a margin of more than 10,000 votes.
9. Former CM of Himachal and BJP leader Shanta Kumar voted in the Assembly elections on Saturday in Palampur.
10. Asha Kumari, a current Congress MLA who is running against the BJP for the Himachal Pradesh Assembly, casted her ballot in Dalhousie.
A fierce contest between the two parties is expected in the Chamba district's Dalhousie seat, where the Aam Aadmi Party is attempting to make a name for itself. BJP's Chamba district president Dhavinder Singh Thakur and AAP's Manish Sareen are Asha Kumari's opponents.
11. Congress MLA Sukhvinder Singh Sukhu voted in Nadaun Assembly elections in Himachal's Hamirpur.
Former state party chief Sukhwinder Singh Sukhu defeated Vijay Agnihotri of BJP in 2017 Assembly election, has been retained by Congress.
12. Himachal BJP leader Suresh Kashyap voted in Pachhad seat in the Sirmaur district on Saturday during the current Assembly elections.
Reena Kashyap, a former leader of Congress who is now running as an independent, has been nominated by BJP after she beat Gangu Ram Musafir in the 2021 by-election. After three consecutive electoral defeats, Musafir became a rebel for the Congress party and provided the ticket to former BJP leader Dyal Pyari after being refused ticket. He had made it known that he will run as an Independent.
Musafir had lost the by-elections in 2021 by a slim margin of little over 2,700 votes.